Today my baby turns four. I'm experiencing all the cliches, time and whatnot, but I'm learning to let go of those and just enjoy where I am while I'm there. With my youngest turning four, it means we have more freedom and flexibility to go out and do things. It comes with more opinions but also funnier conversations. Asking Kaitlyn what she wanted to do to celebrate her birthday was one such conversation. She wanted three things: a woodland fairy party, a pinata, and pigs in a blanket (which she didn't know the name for and watching her trying to describe the bread-wrapped mini hot dogs with such passion was priceless). So, we made her almost-four-year-old dreams came true and brought her vision to life in our backyard on a hot May afternoon.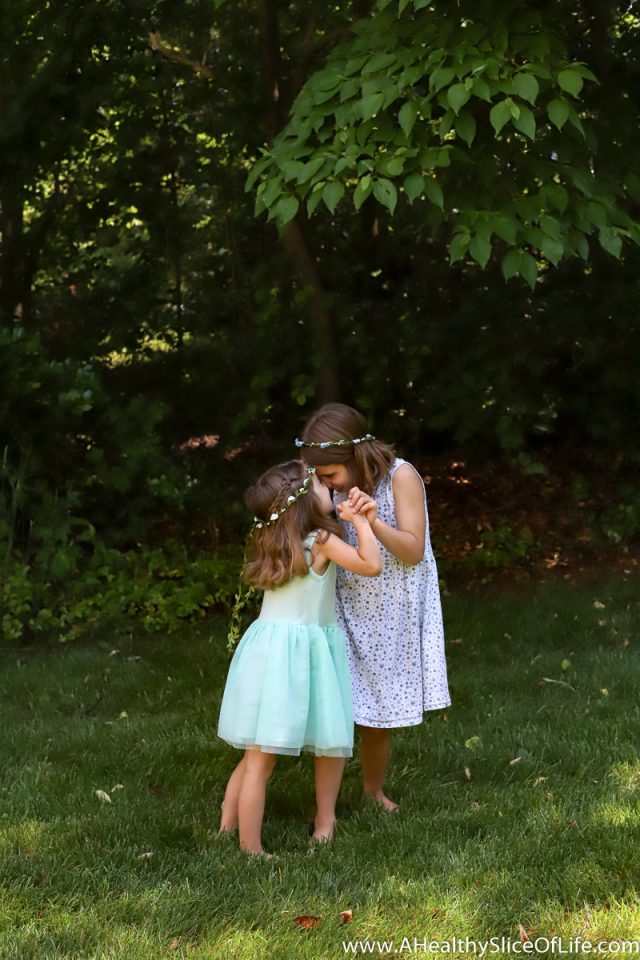 This year we decided to keep it small. I told Kaitlyn that we were making her party list one evening. I decided we would invite whoever she was able to name, then cut it off there. Gone are the days of throwing "kid" parties and really just inviting all my friends. That was tempting, but those parties get big fast, so we decided we'd stick to just who she named. 5 friends, each with a sibling, brought our count to 12 kids, including Hailey and Kaitlyn, which was just perfect.
The party was at 1:00 PM, so we provided plenty of snacks, plenty of mini bottles water for the kids, and plenty of water, La Croix, beer, and Prosecco as options for the adults. We baked cupcakes and a cake that morning from box mixes and made homemade buttercream to top them with. Why oh why did it take me so long to realize this semi-homemade trick is the way to go?!
We really wanted to keep most of the party outdoors (because… 12 kids and paint) so we set up all the fun outside. The craft was a Terracotta pot painting station where each child could decorate their own pot, let it dry, then pick a succulent to plant and take home with them as a party favor.
Since the day was predicted to be in the low 90s, I sent a message to all the parents asking them to bring bathing suits for the kids, as we decided to set up sprinklers and inflate water balloons (please tell me you've seen these amazing quick-fill, self-tying water balloons?!) to keep everyone cool. Hailey and Kaitlyn colored fairy pictures and taped them up around the yard. I took extra cupcake toppers and tucked them inside potted plants so we would have fairies hidden all over. Kaitlyn (and I) really loved how it all ended up coming together.
The party began just after 1:00. The first stop is always the food, but quickly the kids migrated to the backyard where we kicked things off with the craft station. Thanks to friends that helped with paint and brush cleaning, it went fairly smoothly. As the pots dried, the kids took off running around and the party took on a life of it's own. Music, water balloons, sprinklers, pinatas, and kids just enjoying the glorified play date filled the afternoon while the parents sat around chatting and watching the kids entertain themselves. It was a hot, but really peaceful afternoon!
I had filled the pinata with glow sticks, mini-snakes that glowed in the dark, packs of fruit snacks, lollipops, and raisins. It was only about half full, but the kids didn't mind, as swinging at it is most of the fun anyway! We were able to do cake outside, which kept most of the mess outside too, and by late afternoon, the kids were fully immersed in their own fun, creating make-believe games and running laps around the house in their bathing suits.
It really felt like old fashion fun and being that we kept the party at a manageable size, I was able to relax and enjoy the whole day as well.
The party finally wound up in the early evening with happy kids that realized that it is indeed lake weather. While most of the kids kept it classy in their bathing suits, the birthday girl celebrated turning four years old with a dip in the water in nothing but her undies! Pure joy! …though I'm hoping she outgrows this type of celebration before she turns 18.
Happy birthday to our sweet Goose. Kaitlyn, you are a tiny firecracker of pure joy and sass. You can lie straight-faced which worries me to no end, but you are the sweetest, most cuddly little girl and your impromptu "hey mommy…. I love you"s have me wrapped around your little finger (and I think you know that). You are smart as a whip, but I've stopped correcting any of your words because I secretly hope you call it "bessert" forever. Happy birthday Kate-Kate!
Party Resources
Bohemia Flower Crown Headbands – 9 crowns
Fairy Cupcake Toppers – 24 pieces
Fairy Party Bundle – 12 seven inch plates, 12 napkins, 12 cups with butterfly toppers
Painted Clay Pot Craft Resources
4″ Terracotta Clay Pots – 6 Pots
Fully Rooted Succulent Plants in Mini Pots – set of 12
18 Piece Multicolored Acrylic Paint Set
Preschool Multi-Type Paint Brush Set – 24 piece
Acrylic Spray Paint to Seal Painted Pots