I was joking with my mom and dad this past Friday about how our family has overdone May. It houses my dad's birthday, my niece's birthday, Kaitlyn's birthday, mine and David's anniversary, and Mother's Day. Whew– so many wonderful things to celebrate, and for that I am grateful, but between those and the other end of school and season changing commitments, it's a lot!
Still, all of these are worth celebrating, so a month or so ago, David and I decided to throw a backyard cookout for friends and to throw in a birthday cake for good measure. Thus, Kaitlyn's 3rd birthday party was planned!
I've spent the past week hitting refresh on the 10 day forecast, somewhat obsessively, hoping that the rain scheduled for Saturday would disappear. Cloudy and cool I could do, but rain would mean cancelling.
Local friends, I was extremely impressed with the service and quality of Jump Start Rentals
Somehow the stars aligned and not only did the rain hold off, but the sun came shining out, making it the most gorgeous 70 degree spring day we've experienced yet.
I'm so appreciative for the 4 sets of helping hands the morning of the party (my mom and dad, not the girls who were obviously running in circles all morning) because set up took a little longer than I anticipated.
We went with a backyard cookout theme, mostly because I already had a roll of plastic table covering in the attic, but also so we could make a cutesy drink menu to go with it.
I can vouch for those Lawn-Mowgaritas!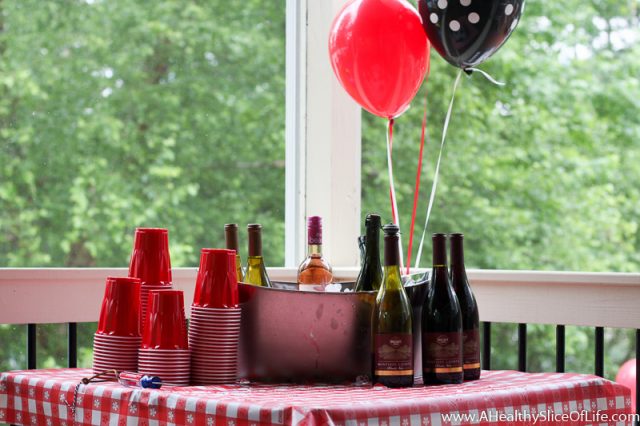 I don't consider myself a great party decorator, but thanks to Hobby Lobby, there were some fun accessories to help bring things together.
And you can't discount the bubble blowing machine that became one of the biggest hits of the party.
Still, the most important aspect to any party is the people. Sometimes I think I'm an introvert because I definitely need alone time to charge, but there is no doubt that I get fulfilled by spending time with good people that have become part of my "tribe."
Once the party got going I was more consumed by socializing and keeping track of the kids than snapping pictures, so I'm grateful for friends that snapped a few to send my way!
As for the birthday girl herself, she had a ball.
She got the Moana cake she hoped for and stayed decked out in Belle attire, complete with tiara, for the entire party.
I sure love this little fire cracker and watching her grow is such a privilege.
The party went off without a hitch, except for one small incident that involved Hailey's 4th (not-as-wiggly) tooth flying out of her mouth while on the bounce house. Many thanks to Eliza for finding it and for Julie for totally saving the Tooth-fairy with the gold dollar coins Ryan had in the car. Crisis averted and now Hailey and her friend are toothless twins, which I find completely adorable!
We closed out the evening saying goodbye to the sun with friends and roasting a few stale marshmallows the kids found in the pantry. All in all, complete party success.
Also, a word to the wise, always plan a party for the day before Mother's Day. It will totally get you out of the bulk of the clean up! (wink wink, xoxo, love you David!)
Kaitlyn's 1st Birthday Celebration // Kaitlyn's 2nd Birthday Party
Now you tell me, throwing parties- love it or stress about it?
I still get prep-party jitters but it's becoming less and less over time!
I hope all you wonderful moms felt celebrated this weekend. Happy Mother's Day!