The theme of the weekend was relaxed and celebratory and I'm thrilled that it turned out just like I'd hoped. Nana and Papa John arrived Friday afternoon which sent Hailey into a tailspin of excitement. We spent Friday afternoon playing outside and baking cakes so we could have Saturday free to celebrate the birthday girl. And celebrate we did!
Saturday morning started with a trip to Patterson Farms to pick our own strawberries. While most of us understood the concept, pick and put in your basket…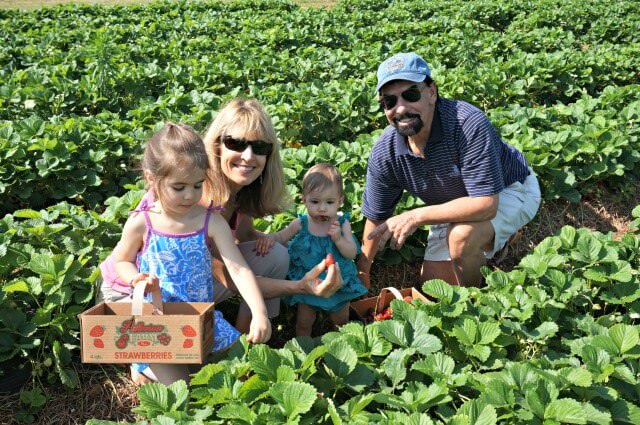 Kaitlyn was more set on the method of- shove as many strawberries as you can into your mouth at once.
Although messier, her strategy did look fun! Because of that, we began the adventure all thoroughly covered in strawberry juice, but we powered through the mess to enjoy all Patterson has to offer, like baby goats, playgrounds and slides and cow rides.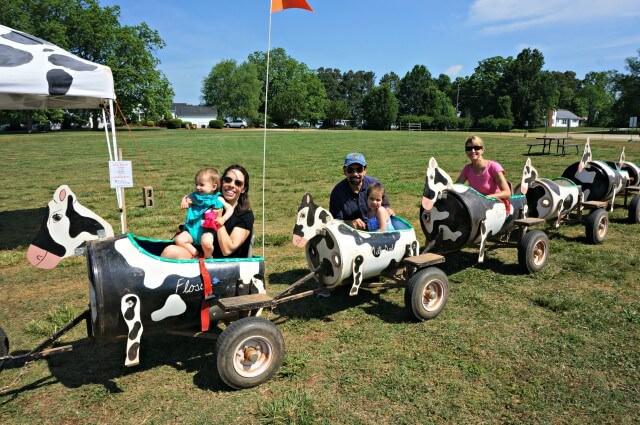 The busy morning worked as planned and we had two tired girls once lunch time rolled around. They both crashed hard for naps, leaving time for us to get started on party prep as David arrived home from the airport.
Soon enough the girls were up and the fun began.
I don't often splurge on cutesy outfits, but I couldn't resist a special frilly number for Kaitlyn on her birthday. I may be biased, but my goodness she looked sweet!
We played (photoshoot) outside for a little bit, then it was party time.
I wanted to forgo the stress of a big party and stuck to inviting just Hailey's best friend (and her sweet sister and cousin) over to make it feel like a party, which worked out so well. Conveniently her mom is one of my best friends too, so win/win! The girls watered the garden, picked mint leaves and just enjoyed running around while the adults organized dinner and chatted.
The birthday girl was the center of attention and she ate it up.
She also ate up corn… raw corn. Because what the birthday girl wants, the birthday girl gets and she'd burst into tears if I tried to take it away.
We all ate on the porch, happy for beautiful spring temperatures that lend themselves to outdoor eating that can be cleaned up with a hose.
Then, it was time for cake! We all sang happy birthday as Kaitlyn grinned and soaked it up, then with enthusiasm and focus, she dug in.
She was far more into it than Hailey was on her first birthday, but still was happy to share.

We all chowed down on cupcakes, then followed it up with a little more play and present opening and just like that, the party was over and I had a sweet and sassy one year old.
Though no matter how many birthdays she celebrates, she will always be my baby.
Happy birthday sweet Kaitlyn!
Do you enjoy throwing parties?
Or does it stress you out?
I always think I enjoy throwing them, but end up getting worked up about it. I'm working on it because I really do love having people over!