Oh yes… if only scratch and taste computer screens existed.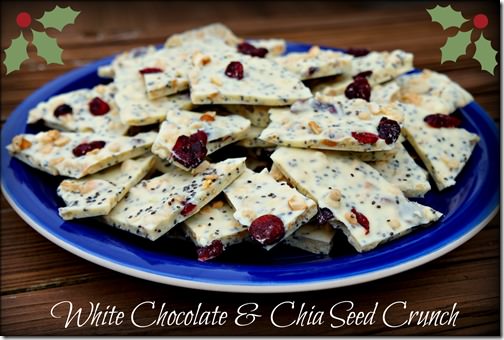 This is most definitely a holiday treat, but with a few redeeming qualities, including chia seeds. I feel like the Frank's Red Hot Sauce lady when it comes to chia seeds because I seriously put that sh*t on everything!
Vulgarity aside, this white chocolate chia crunch bark is crispy, sweet and oh so addicting.
The mixture of cashews, craisins, crispy rice cereal and chia seeds is quite the combo. If you're looking for a cleaner version of Rice Krispies to use, check out Erewhorn or Nature's Path varieties.
I don't have a double boiler or the supplies necessary to make one, so I melted my chocolate in a pot over low heat while stirring often. It worked just fine.
I will say that having a spatula licker at the ready is a necessary component to the recipe though.
If you don't have one of those, I know a toddler who would be eager to volunteer.
Once you set the mixture in the fridge for a quick 30 minutes, it's ready to devour. Have containers ready to fill and giveaway though, because it's truly addicting.
Of course, you could always just do what I do and tell yourself it's totally good for you because it has chia seeds in it. I'm cool with that.
White Chocolate Chia Crunch
Ingredients
1.5 lb high quality white chocolate
½ cup roasted and salted cashews, chopped
1 cup crispy rice cereal
½ cup dried cranberries
2 Tbsp chia seeds
Instructions
In a medium pot over low heat, melt white chocolate while stirring often.
In a large mixing bowl, combine remaining ingredients and mix well. Set ¼ c of the mixture aside.
Once chocolate is melted and has a smooth texture, pour it into the mixing bowl with the other ingredients, making sure to scrape the sides of the pot to get all the chocolate in the bowl.
Mix well.
Pour mixture onto a parchment paper lined baking sheet.
Spread into a thin, even layer, picking up and tilting the baking sheet as needed to ensure equal distribution.
Sprinkle remaining ¼ cup of toppings over the chocolate.
Place baking sheet in fridge for 30 minutes or until chocolate in solid.
Remove from fridge and break into pieces.