These slightly-sweet and very satisfying carrot cake lactation cookies are a great treat to bring new moms, as it helps stimulate milk production thanks to the addition of brewer's yeast and rolled oats.
Can I confess something? When Kaitlyn was a newborn, and nearly never let me put her down, I — like so many new moms! — found myself eating on the fly, grabbing snacks off of Hailey's plate or finding things in the kitchen that I could eat one-handed.
More than once, these lactation "breakfast" cookies also served as lunch, dinner and between-meal snacks, with a few pieces of fruit on the side.
I made the cookie only slightly sweet and full of goodness like carrots, raisins, nuts and coconut oil to make it a delicious and decently nutritious option for a new breastfeeding mom to grab as part of breakfast or for a great one-handed snack.
The secret with these, as with other lactation cookies is the addition of brewer's yeast.
It stimulates milk supply, as do rolled oats, which are also in these cookies.
I did learn not to have more than two at a time — while taste-testing, I once ate three, and WOW-ZAH, my milk was out. of. control. (I wasn't up for experiencing that again.)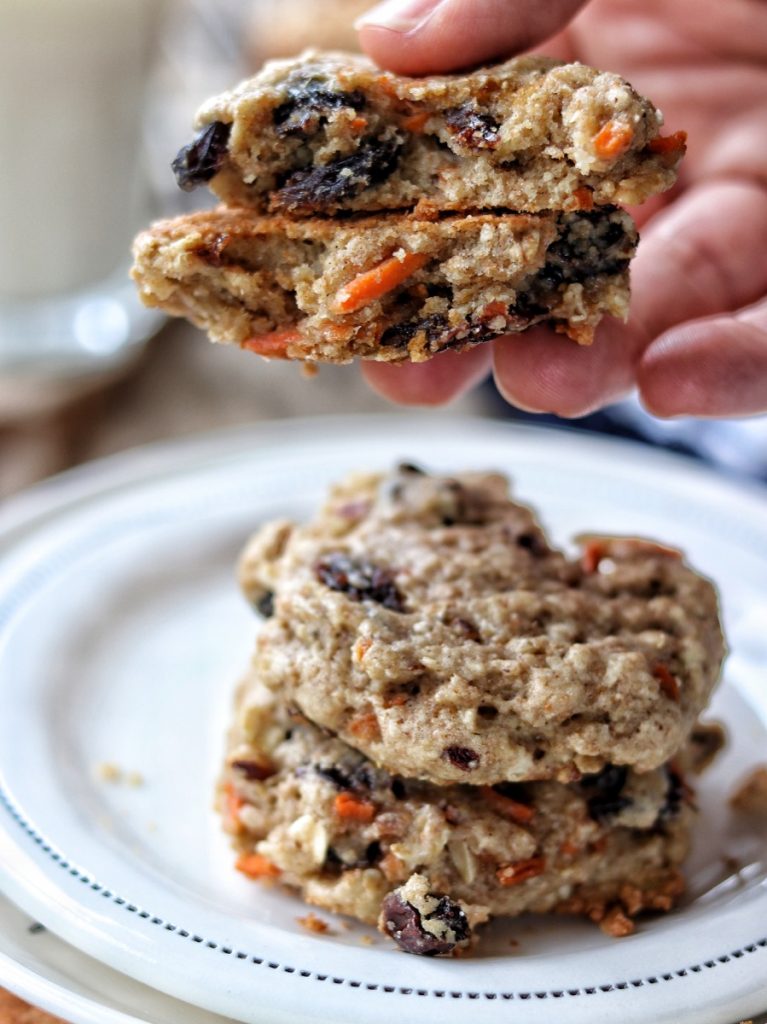 The cookies come together fairly quickly in a typical mix your dry ingredients…then add your wet ingredients and stir kind of way.
(Look at little Hailey helping me in the kitchen!)
You could also mix, form and freeze the dough balls to bake on an as-needed basis.
So whip yourself up a batch (whether you are breastfeeding or not… I had to convince David that they wouldn't cause him to spontaneously lactate) or bring some to a new mom who will certainly appreciate and devour any food , but will really appreciate a helpful cookie!
Print
Carrot Cake Lactation Breakfast Cookies for New Moms
Author:
Prep Time: 10 minutes
Cook Time: 10 minutes
Total Time: 20 minutes
Yield: 12 cookies 1x
Category: cookie
---
Description
This slightly-sweet and very satisfying carrot cake inspired cookie is a great treat to bring new moms, as it helps stimulate milk production thanks to the addition of Brewer's yeast and rolled oats.
---
1/2 cup all purpose flour
1/2 cup whole wheat flour
1/2 cup rolled oats
1/2 tsp baking powder
1/4 tsp salt
1/2 tsp cinnamon
3 Tbsp granulated sugar
1/3 cup brown sugar
2 Tbsp Brewer's yeast
1/4 cup coconut oil, warmed until liquid
1 egg
1 tsp vanilla extract
1/2 cup grated carrots
1/2 cup raisins
1 tsp unsalted butter
1/3 cup pecans
---
Instructions
Preheat oven to 350 degrees.
Melt the butter in a pan on the stovetop over medium heat, then add the pecans. Stir occasionally for 2-5 minutes until the nuts are toasted, then remove them from the heat.
In a large bowl, mix together flours, oats, baking powder, salt, cinnamon and Brewer's yeast.
In a separate bowl, mix egg, sugar, vanilla and coconut oil. Slowly mix in dry ingredients and stir until well combined.
Stir in carrots, raisins and toasted pecans.
Spoon tablespoon-sized scoops onto an ungreased cookie sheet and form into flat round cookie-shaped discs.
Bake 8-10 minutes and let cool.
---
Notes
You will taste the Brewer's yeast in these cookies. If it's too strong, you can decrease the amount to 1 Tbsp, but remember that it's the key to stimulating milk production, so you need to keep it in!
You can mix this by hand, but you'll find it easier to get the ingredients blended properly if you use a mixer.
Watch the pecans carefully while toasting them — they burn easily!
(Note: updated with new photos and small recipe tweaks in June 2018)