We are going on a road trip… a big one! The girls and I are driving from North Carolina to Montana with my mom. It's a trip we've been planning for a year now and we are super duper excited.
While I'll be sharing adventures on Instagram stories like always, I also am wanting/thinking about doing some live-style blogging along the journey, too. Like daily recaps? Is that something that sounds fun or like overkill? I'm still contemplating…
Anyway, a road trip isn't complete without finding the perfect family audiobook! Who's with me?!
We are big audiobook fans and listen to them almost anytime we are in the car. To indicate which ones we have listened to and can vouch for, I'm adding a * next to the titles below. The other audiobooks listed are recommendations I have received from you guys when I asked for the best adventurous audiobooks for kids ages 7-10 years old.
So whether you are getting ready for a road trip yourself or just need a good one to listen to as a family during down time, I hope this list is helpful!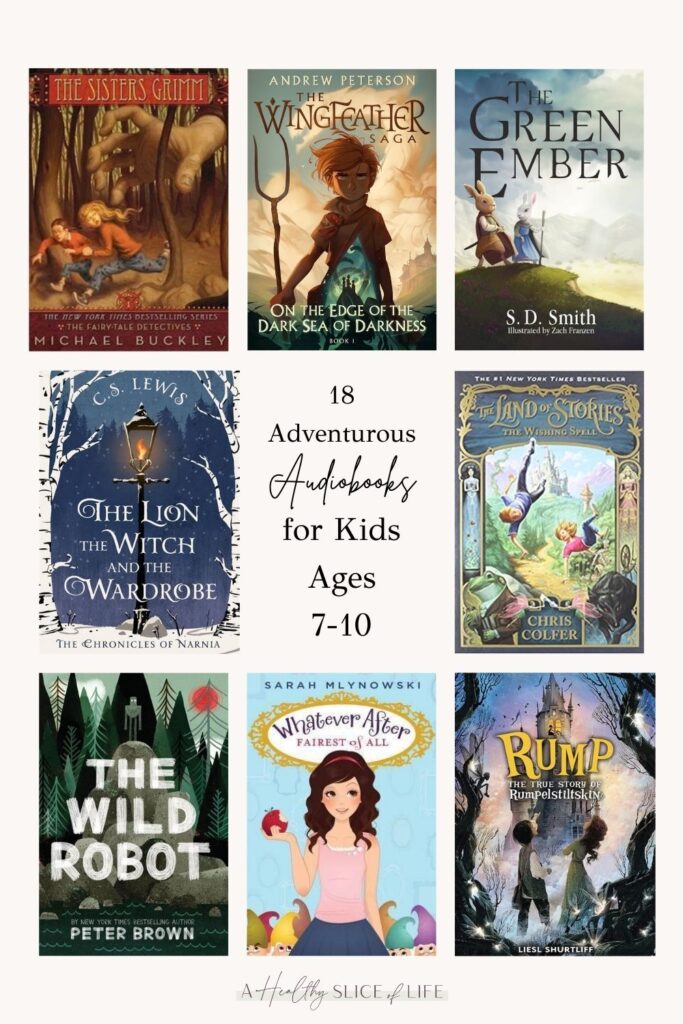 *The Land of Stories Series – Through the mysterious powers of a cherished book of stories, twins Alex and Conner leave their world behind and find themselves in a foreign land full of wonder and magic where they come face-to-face with the fairy-tale characters they grew up reading about.
*Rump (also, Red and Jack from the same series) – In a magic kingdom where your name is your destiny, 12-year-old Rump is the butt of everyone's joke. But when he finds an old spinning wheel, his luck seems to change. Rump discovers he has a gift for spinning straw into gold. His best friend, Red Riding Hood, warns him that magic is dangerous, and she's right. With each thread he spins, he weaves himself deeper into a curse.
To break the spell, Rump must go on a perilous quest, fighting off pixies, trolls, poison apples, and a wickedly foolish queen. The odds are against him, but with courage and friendship—and a cheeky sense of humor—he just might triumph in the end.
*Whatever After (series) – Tag along with Abby and her brother Jonah as they explore your favorite fairy tales. The thing is…these stories might not go exactly the way you remember. When the siblings go through their magic mirror portal into a fairy tale, they inevitably mess up the story and have to set things right again before returning home.
*The Chronicles of Narnia – The Chronicles of Narnia have enchanted millions of readers for over sixty years, for here is a world where a witch decrees eternal winter; where there are more talking animals than people; and where battles are fought by Centaurs, Giants, and Fauns.
*Matilda – Honestly, any Roald Dahl books would be great, but we especially loved Matilda. Matilda is a sweet, exceptional young girl, but her parents think she's just a nuisance. She expects school to be different but there she has to face Miss Trunchbull, a kid-hating terror of a headmistress. When Matilda is attacked by the Trunchbull she suddenly discovers she has a remarkable power with which to fight back. It'll take a superhuman genius to give Miss Trunchbull what she deserves and Matilda may be just the one to do it!
*Beezus and Ramona – Having a little sister like four-year-old Ramona isn't always easy for Beezus Quimby. With a wild imagination, disregard for order, and an appetite for chaos, Ramona makes it hard for Beezus to be the responsible older sister she knows she ought to be…especially when Ramona threatens to ruin Beezus's birthday party. Will Beezus find the patience to handle her little sister before Ramona turns her big day into a complete disaster?
*The Wonderful Wizard of Oz – Follow the adventures of young Dorothy Gale and her dog Toto as they get swept away into the magical land of Oz , where they encounter characters and places you may remember from the movie – and several more that never made it to the big screen – on an unforgettable journey to the Emerald City.
*Little House on the Prairie – The adventures continue for Laura Ingalls and her family as they leave their little house in the Big Woods of Wisconsin and set out for Kansas. They travel for many days in their covered wagon until they find the best spot to build their little house on the prairie. Soon they are planting and plowing, hunting wild ducks and turkeys, and gathering grass for their cows. Sometimes pioneer life is hard, but Laura and her folks are always busy and happy in their new little house.
You might want to start with the first book in the series, Little House in the Big Woods.
Wingfeather – Janner Igiby, his brother, Tink, and their disabled sister, Leeli, are gifted children as all children are, loved well by a noble mother and ex-pirate grandfather. But they will need all their gifts and all that they love to survive the evil pursuit of the venomous Fangs of Dang, who have crossed the dark sea to rule the land with malice. The Igibys hold the secret to the lost legend and jewels of good King Wingfeather of the Shining Isle of Anniera.
Wingfeather is our pick for our road trip after SO many people raved about this series. It's supposed to be witty, adventurous, and incredibly well written. We can't wait!
Bud, Not Buddy – It's 1936, in Flint Michigan. Times may be hard, and 10-year-old Bud may be a motherless boy on the run, but Bud's got a few things going for him:He has his own suitcase full of special things.
He's the author of Bud Caldwell's Rules and Things for Having a Funner Life and Making a Better Liar Out of Yourself. His momma never told him who his father was, but she left a clue: flyers advertising Herman E. Calloway and his famous band, the Dusky Devastators of the Depression!!!!!!
Bud's got an idea that those flyers will lead him to his father. Once he decides to hit the road to find this mystery man, nothing can stop him – not hunger, not fear, not vampires, not even Herman E. Calloway himself.
How to Train Your Dragon – Chronicles the adventures and misadventures of Hiccup Horrendous Haddock III as he tries to pass the important initiation test of his Viking clan, the Tribe of the Hairy Hooligans, by catching and training a dragon.
The Sisters Grimm – Orphaned sisters Sabrina and Daphne are sent to live with their newly discovered grandmother, Relda Grimm, in the strange town of Ferryport Landing. The girls soon learn a family secret: that they are descendants of the famous Brothers Grimm, whose book of fairy tales is actually a history book. When a terrorizing giant goes on a rampage through the town, it's up to the Sisters Grimm to stop him and to solve the mystery of who set the giant loose in the first place. Was it Mayor Charming, formerly Prince Charming, who desperately wants his kingdom back? The Three Not-So-Little Pigs, the shifty town cops? Or one of the many other fairy-tale characters who seem to have it out for the Grimms?
Percy Jackson – Percy Jackson is a good kid, but he can't seem to focus on his schoolwork or control his temper. And lately, being away at boarding school is only getting worse–Percy could have sworn his pre-algebra teacher turned into a monster and tried to kill him.
When Percy's mom finds out, she knows it's time that he knew the truth about where he came from, and that he go to the one place he'll be safe. She sends Percy to Camp Half Blood, a summer camp for demigods (on Long Island), where he learns that the father he never knew is Poseidon, god of the sea. Soon a mystery unfolds and together with his friends–one a satyr and the other the demigod daughter of Athena–Percy sets out on a quest across the United States to reach the gates of the Underworld (located in a recording studio in Hollywood) and prevent a catastrophic war between the gods.
The Doll People – Annabelle Doll is eight years old-she has been for more than a hundred years. Not a lot has happened to her, cooped up in the dollhouse, with the same doll family, day after day, year after year. . . until one day the Funcrafts move in.
Series of Unfortunate Events – Are you made fainthearted by death? Does fire unnerve you? Is a villain something that might crop up in future nightmares of yours? Are you thrilled by nefarious plots? Is cold porridge upsetting to you? Vicious threats? Hooks? Uncomfortable clothing?
It is likely that your answers will reveal A Series of Unfortunate Events to be ill-suited for your personal use. A librarian, bookseller, or acquaintance should be able to suggest books more appropriate for your fragile temperament. But to the rarest of readers we say, "Proceed, but cautiously."
The Green Ember – Heather and Picket are extraordinary rabbits with ordinary lives until calamitous events overtake them, spilling them into a cauldron of misadventures. They discover that their own story is bound up in the tumult threatening to overwhelm the wider world.
Upside Down Magic – Nory, Elliott, Andres, and Bax are just four of the students in Dunwiddle Magic School's Upside-Down Magic class. In their classroom, lessons are unconventional, students are unpredictable, and magic has a tendency to turn wonky at the worst possible moments. Because it's always amazing, the trouble a little wonky magic can cause . . .
The Wild Robot – When robot Roz opens her eyes for the first time, she discovers that she is all alone on a remote, wild island. She has no idea how she got there or what her purpose is–but she knows she needs to survive. After battling a violent storm and escaping a vicious bear attack, she realizes that her only hope for survival is to adapt to her surroundings and learn from the island's unwelcoming animal inhabitants.
As Roz slowly befriends the animals, the island starts to feel like home–until, one day, the robot's mysterious past comes back to haunt her.
Like books? You might find these posts helpful!