Book recommendations for kids sounds like such a simple topic, but there are so many things to take into consideration: reading level versus age/grade, quality of content, interests, etc. I am guilty of grabbing a book for my child, not reading it myself, then being surprised at some of the material in the pages when they ask me about it afterwards. Oops.
However, now having a 10 year old who is an avid reader and an 8 year old who I am constantly looking for ways to excite and engage to read on her own more, I've read my fair share of beginning chapter books. The beginning chapter book series listed here are aimed towards 6, 7, and 8 years olds for reading on their own (understanding abilities differ greatly in early reading) and with appropriate content.
You could certainly use these as read alouds, too, but I'm constantly looking for books they can read to themselves, so this list is shared with that goal in mind. However, if you are looking for great read aloud or audiobooks for this age, check out our favorite audiobooks for kids ages 7-10!
I'm adding some other recommendations from YOU at the end of the post, too. I can't personally vouch for them (yet!) but they sound great and Ive got them on my list to try out. Thank you so much for the recommendations and if I missed any of your favorites, please share in the comments.
Our Favorite Chapter Book Series for 7 Year Olds
Craftily Ever After– Emily, Maddie, Bella, and Sam are four friends with one major thing in common: they love to craft and create! Whether it's making art with balloons or racecars with recycled materials, they're always coming up with fresh new ideas. Join them on their crafty adventures as they form new friendships, prepare for the school talent show, deal with a total tie-dye disaster, and create a robot! With easy-to-read language and illustrations on almost every page, the Craftily Ever After chapter books are perfect for emerging readers.
The Kingdom of Wrenly– Join Prince Lucas and Clara as they search for the queen's lost necklace, go on a quest to save a scarlet dragon, tame a sea monster, and discover who is behind the watery curse that is destroying the kingdom's crops. With easy-to-read language and illustrations on almost every page, the Kingdom of Wrenly chapter books are perfect for beginning readers.
Piper Green– Every year, Piper Green looks forward to a visit from the Sea Star, a community boat that docks at Peek-a-Boo Island and hosts a dinner. And best of all? Piper and the other kids get to serve the meal. Most years, Piper has to settle for being "mashed potato girl." But this year her mom made dessert, and everyone knows that being Pie Girl is the best role to have. But when a doctor makes a surprising diagnosis, Piper's dream of being Pie Girl may be in jeopardy. Will a gift from the fairy tree help save the day?
Ella Diaries– WARNING: You are about to read my UTTERLY BIGGEST SECRETS. Can I trust you? OK then, I'm Ella, and this is my diary. The Ella Diaries series explores the real issues girls face at school and home. Ella is resourceful, caring and real, and the writing is sharp and funny. With the requisite doodles, pros and cons lists, and just the right amount of snark, each book is it's own juicy diary.
Billie B Mystery– The Billie B. Mystery series features a strong, smart girl protagonist; engaging, real-life mysteries; and, demonstrates reasoning and problem-solving skills while showcasing teamwork and cooperation. Early readers will enjoy the larger font and illustrations throughout the series, designed with them in mind.
King and Kayla– With simple, straightforward language and great verbal and visual humor, the King & Kayla series is perfect for newly independent readers. King and Kayla model excellent problem-solving skills, including working as a team, gathering facts, making lists, and evaluating evidence.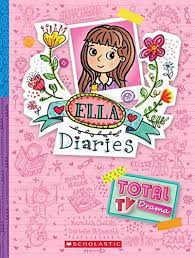 Nancy Drew Clue Crew– Parents need to know that Carolyn Keene's Nancy Drew and the Clue Crew series is a great mystery series for young readers. In the original Nancy Drew series, she was 16, then in a later version, 18. Here she's 8 and in third grade. The writing is engaging but not too complicated: The clues in the mysteries are easy to remember, so some readers will solve the mystery before the Clue Crew does. There's nothing edgy or scary in the cases the girls take on — The mysteries the Clue Crew solves are gentle, and not a bit scary — no crawling in dark warehouses for this Nancy Drew. It's all about runaway horses and missing gadgets and disappearing snowmen. Any hurt feelings are addressed quickly, and the emotional conflicts only rise to the level of "not invited to her birthday party." The Crew members have a reasonable amount of independence for third-graders; they are allowed to walk up to five blocks without an adult or to roam unsupervised at the fair as long as they use the buddy system.
Mercy Watson– Foiling a robber, driving a car, squeezing into a tutu—is there anything the porcine wonder won't do in her single-minded pursuit of treats, buttered toast, or just a rollicking fun time? And who knows what other adventures twinkle in her mischievous eyes? Here, for Mercy Watson's loyal fans and new friends, comes a big fat paperback collection of pig tales that will have readers squealing with delight.
Rainbow Magic Fairies– Each story follows best friends Kirsty Tate and Rachel Walker as they help their fairy friends resolve a problem involving bad guy Jack Frost and his goblin minions. Each story follows best friends Kirsty Tate and Rachel Walker as they help their fairy friends resolve a problem involving bad guy Jack Frost and his goblin minions. Though the stories are all pretty similar, they're a fine introduction to fantasy adventures for young kids; there's always some kind of suspense or mild peril, but it's always resolved quickly and painlessly. And Kirsty and Rachel are model tweens — respectful, polite, helpful, and clever (they usually use their brains to outwit the bad guys, rather than brawn) — who value their friendship and their secret alliance with the fairies.
Nancy Clancy– Kids who grew up with Jane O'Connor's Fancy Nancy picture books can spend some quality time with their BFF because Nancy Clancy stars in her own chapter books! Fans of Nancy Drew's Clue Crew will be happy to see a new Nancy join the ranks of super sleuths. Robin Preiss Glasser illustrates Nancy's story with liveliness, wit, and fanciness.
The Princess in Black– Fans of princesses and superheroes, rejoice! Here comes a handy boxed set offering an irresistible introduction to Princess Magnolia and her monster-fighting alter-ego, the Princess in Black. Humorous and action-packed, these early chapter books written by Shannon and Dean Hale and illustrated by LeUyen Pham are a hit with young readers. Look out for inconvenient monster alarms, royal birthday parties, and a case of monstrous cuteness.
Your Favorite Beginning Chapter Book Series
Dragon Masters, Critter Club, Katie Kazoo, Switcheroo, Stilton Geronimo, Ivy and Bean, Heidi Heckelbeck, A to Z Mysteries, My Weird School, Imagination Station, Mia Mayhem, Ranger in Time, The Last Firehawk, Zoey and Sassafrass
These are linked to Amazon affiliate links for ease and convenience, but I 100% think it's always worth it to check the library first to see if it's a series that interests your child. If it is, search for it on Thriftbooks first; I've found some great deals there on gently used books.
Once I know one of children like the book, either by reading it aloud to them or them reading it on their own, I do tend to like to own a couple of the series because I've observed they like to reread them on their own, especially when just starting out and growing their reading confidence.
You may also like: Tips for Raising Kids Who Love to Read