Summer is a glorious time to be a kid! There are so many fun activities you can do both inside and outside. On sunny days it's great to play outside by splashing in the pool, jumping rope, or going to your local park. On rainy days, or when it's too hot to be outside, sitting down with some of the best summer read aloud books for kids is a fantastic way to keep the fun of the season alive.
Looking for an audiobook option? Check out these audiobook favorites for ages 7-10.
I know many are jumping back into school, but that doesn't mean the summer season has passed us by yet; it's still 90 degrees here in North Carolina. Sneak one more of these sensational summer read aloud options in before pumpkins take over!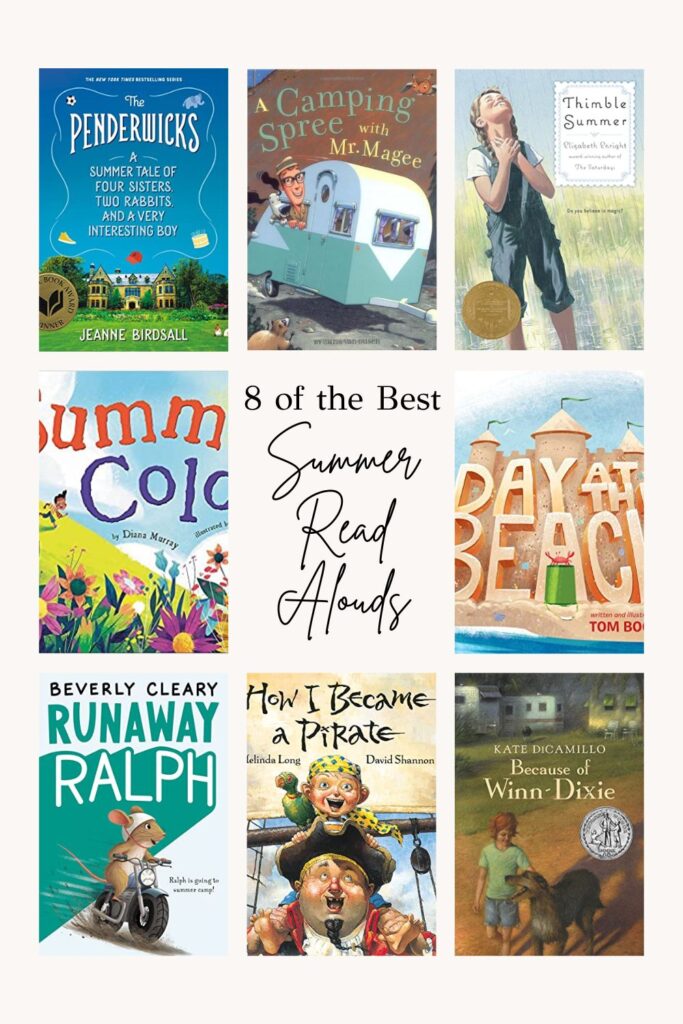 Because of Winn-Dixie- Kate DiCamillo (Ages 8 and up)
This award-winning chapter book is a classic tale of hot summer days and the love of a dog. When Opal goes to the store for groceries one day, she returns home to her dad with a new dog—Winn-Dixie. Opal has a life-changing spring, making new friends, and finding the bravery to ask her dad questions about her Mom who she never knew. Read this heartwarming story with your kids to discover how Winn-Dixie makes young Opal's summer one she'll never forget.
Thimble Summer- Elizabeth Enright (Ages 8 and up)
This Newbury award-winning book tells the tale of a young girl in the 1930's who discovers a
silver thimble moments before a rain comes that washes away a drought that was harming her family's farm. After that, magical things begin happening and all she can think is that somehow, the thimble is a good luck charm and is responsible for filling her summer with adventures.
*Note: This book was written in a time where hitchhiking was much more common and it
includes a scene where someone hitchhikes. It's worth mentioning to your kids that this is a
fictional story, and that hitchhiking is very dangerous and should never be done.
How I Became a Pirate- Melinda Long (Ages 4 and up)
A young boy named Jeremy sets sail on a passing pirate book in this beautifully illustrated summer tale. Jeremy is building a sand castle when the pirates spot him and he allows them to whisk him away on an adventure—as long as he's back before his soccer game. The pirates need someone with his digging skills in order to bury their treasure. Jeremy learns all sorts of things that pirates do, but also things they don't do (pirates don't read bedtime stories or give hugs). In the end, Jeremy realizes that although being a pirate is fun, he misses his old life with his family.
Day at the Beach- Tom Booth (Ages 4 and up)
This is a wonderful picture book for kids. When Tommy and his sister Audrey go to the beach in the summer, they always build sand castles together. This year is different. Tommy decides that he's going to build a sand castle all by himself and it's going to be the best one he's ever made. In a story about siblings, creativity, and co-operation, Tommy learns he can build a better sandcastle with his sister's help than he ever could on his own.
Summer Color- Diana Murray (Ages 4 and up)
This beautifully illustrated picture book helps kids marvel at the wonderful range of colors they can see in the summer. Follow along with the two young kids in the book as they explore their backyard and discover all the shades and colors summer has to offer. Then, head outside with your own kids and make some summer discoveries of your own!
The Penderwicks: A Summer Tale of Four Sisters, Two Rabbits, and a Very Interesting Boy –
Jeanne Birdsall (Ages 7 and up)
As the title would suggest, this National Book Award winner is one of the best summer read
aloud books for kids! Four sisters and their father go on vacation in the summer and to their surprise, they're staying at a wonderful estate that's full of adventure. While there, they meet a boy who becomes the perfect adventuring companion. The best part about the Penderwicks family is that they're part of a series, so if your kids enjoy this story, they'll love following this unique family through all of their other adventures!
A Camping Spree with Mr. Magee! – Chris Van Dusen (All ages!)
Kids of all ages will enjoy the frolicking adventures of Mr. Magee and his dog, Dee. This is another story that's part of a series, so the fun with Mr. Magee can continue long after this book is done. Your kids will laugh along with the antics of Mr. Magee as he goes on a simple camping trip that turns into a wild adventure in a heartbeat when a marshmallow loving bear comes sniffing around. From tearing down a mountainside, to being swept away on a raging river, to teetering on the edge of a waterfall, Mr. Magee and his dog will keep you on the edge of your seat in this wacky camping adventure.
Runaway Ralph- Beverly Cleary (Ages 8 and up)
Ralph is a young mouse with a motorcycle that's sick and tired of listening to his parents and
following their rules. So, this mouse takes matters into his own hands, hops on his motorcycle, and runs away to a summer camp down the hill. Unfortunately for Ralph, life outside his home isn't quite what he expected. Before he can return home, he meets a friendless young boy named Garf. Ralph realizes that neither one of them will make it out of summer camp alone, so they team up and together find a way to enjoy their summer. Runaway Ralph is the second in a trilogy of books about young Ralph and his motorcycle.
Summer is a wonderful time to be outside. However, on days where you can't be outside, a great way to embrace the fun of the season is to enjoy some of the best summer read aloud books for kids. Whether you're reading as a family, or your kids are doing some independent reading, they're bound to fall in love with some of the cute, heartwarming, and hilarious stories from this list. Let me know which ones were your kids' favorites!