We love to homeschool along with the rhythm of the seasons, and while we love reading aloud anytime of the year, there is something extra cozy about it in winter. A cold, gray day was just made for cozy blankets and captivating stories.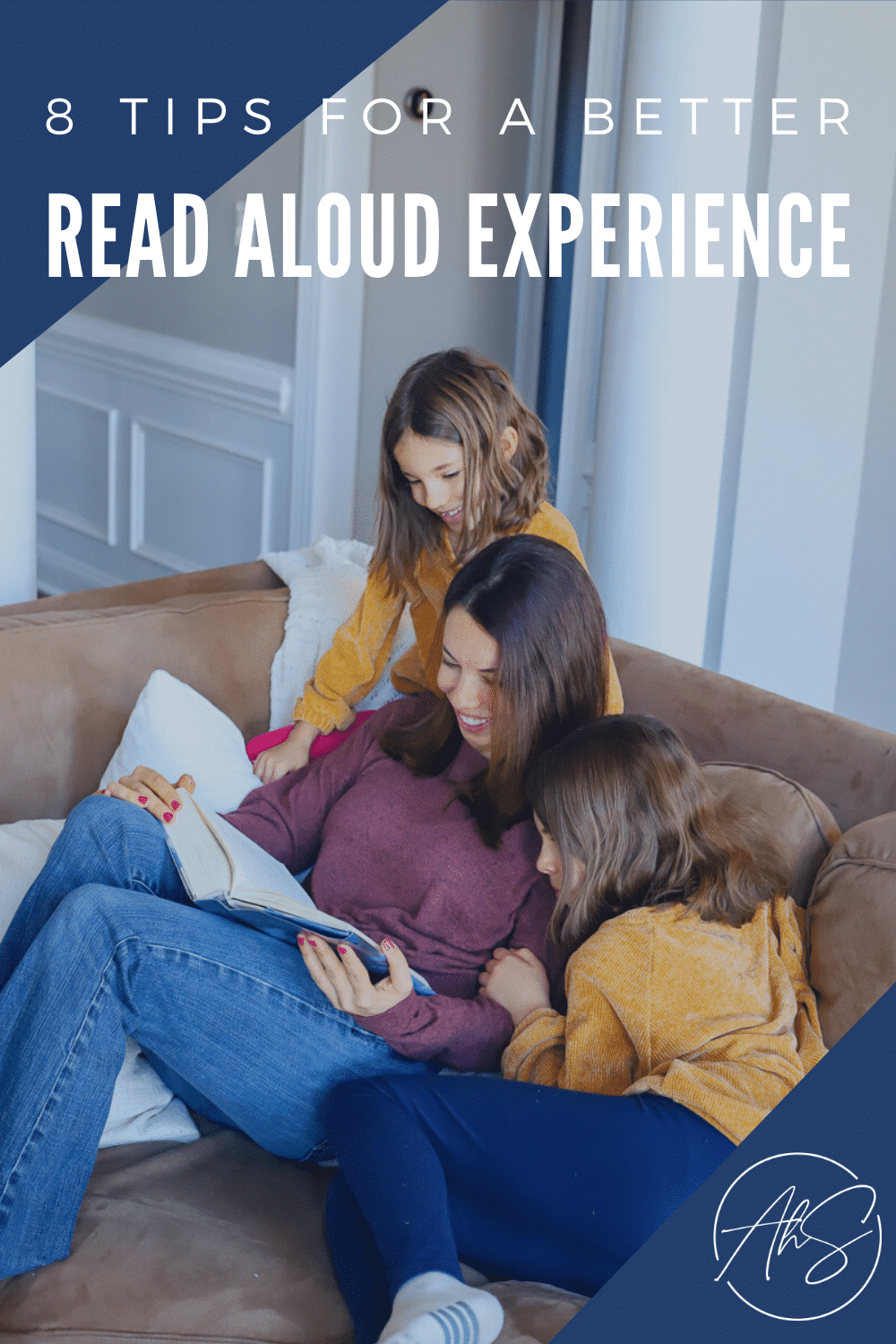 Hailey is 9 now and Kaitlyn is 6 and our excitement for read alouds is stronger than ever. Here are the tips I've learned and implemented over the years that have maximized the experience for all of us, making it one of our favorite times of each day.
1 Pick the time of day that is right for your family. Find a cozy spot and relaxed time that is conducive to listening. Time of day doesn't really matter, as long as it works for you. I find meal times work well for us because I have a captive audience and it helps them to stay in their seats. We also love the evenings, after brushing teeth and putting on pajamas.
2 Read with enjoyment and embrace the silly fun of using voices. If that's your thing. But don't let your disdain of doing voices stop you from embracing reading aloud. Easy ways to add interest to the text is to vary between high voices and low voices, loud voices and soft voices. I'm also a fan of southern voices, because it's one of the few accents I feel I can pull off. Make the sound effect that is written out; like knocking on a door, a loud boom, or a whistle. My kids love that!
3 Choose the right books. They won't all be homeruns, but it's nice to focus in our the type of stories your children like (adventure! fantasy!), and then pick books they might not pick on their own because they find the text or length intimidating. Choosing books just beyond their reading level will introduce them to more sophisticated words and sentences encourage them of their abilities to read such a book on their own.
*HELPFUL TIP* Reading to multiple children? Pick a book that is the right fit for your oldest child. It will help the younger children become stronger listeners and keep the oldest child engaged.
Around age four, a lot of kids are ready for the beginner chapter books. A few of our favorites are The Princess in Black, Mercy Watson, and The Kingdom of Wrenly.
4 Have realistic expectations. Expect a little crazy and interruption. Young children will not always sit still and quietly for a long reading session. I might argue that they rarely do. To help with this, keep in mind that reading aloud sessions can be any length of time- 10 minutes at the breakfast table to begin or 40 minutes if it's a rainy and lazy afternoon.
One of the best tips I ever embraced was that busy hands can help children listen better. Blocks or magnatiles can be noisy, but coloring or Play-Doh are wonderful activities to keep little hands busy while listening. Snacks work, too, and a big bowl of popcorn only adds to the fun vibe.
*MOM HACK* Keep their hands busy by brushing your hair. This little trick I learned from my mom works and the girls know I will keep reading for much longer if they are brushing my hair. It feels so good!
5 Start slow and build your way up. Picking books that are age-appropriate for content and length helps. Keep in mind that chapter length doesn't have to dictate reading time. You have full permission to only read half a chapter if that is what works for time, energy, or attention allotment. I'm the queen of half chapters when it comes to reading the Harry Potter series, especially when we first began with Kaitlyn as age 4.
6 Quit a book if you need to. This one is controversial but I stand by it. If you've given it a few chapters (because we all know it can take a few chapters to get into it) and nobody is enjoying it, pick a new book. We want read aloud time to be a pleasurable time, and if you find you or your children want to skip it because of book choice, it's time to pick a new one and move on.
7 Chat about the books. Some of our silliest and most cherished inside jokes come from the books we have read aloud together. During and after the books, talk about them. Were they surprised by anything that happened? Who was their favorite character and why? What would they do if they were in the hero's position? Often time they focus in on small parts I didn't even find significant or come up with creative or outlandish solutions to the conflict. Maybe as the girls get older we'll even turn it more into a book club atmosphere, with snacks and fun drinks, of course.
8 Celebrate finishing a book together. We record our read aloud adventures in our Read Aloud Family Journal. We record each girl's favorite part and they draw a picture representing it. It has become one of my most prized possessions because it represents hours of time we've spent together.
If there is a movie, we watch it! Sometimes it's with a simple bowl of popcorn, but on some of our longer read alouds, we've gone all out.
I hope to keep the reading together tradition going for as long as possible. Shoot, I'll read to them when they're heading off to college if they'll let me! Need help choosing a book? Check out these 8 authors your 4-6 year old will absolutely love! Also, Read Aloud Revival is one of my favorite resources to visit when I need some direction.
Happy reading and memory making!