When September hits, no matter whether it is still 90 degrees or not, my culinary minds starts getting geared up for fall foods. One of my favorite flavors for the last months of the year is curry. Not only because curry is delicious and comforting, but because it cooks up quickly, too!
Curry is a generic word for a dish seasoned with spices that typically include turmeric, cumin, coriander, ginger, and chili pepper. The use of a curry powder blend in this recipe gives this red lentil and carrot curry dish a sweet warmth and creates a depth of flavor in a simple way.
You can make season almost anything as a curry dish, but it's one of my favorite flavor profiles to use with vegetarian dishes. For a more elaborate vegetable curry dish, try this Thai Red Curry Recipe from Cookie and Kate; it's a go-to for me. And if you're after a simple and quick, hearty and comforting curry, give this red lentil and carrot curry a try!
The nutrition is strong in this dish with the anti-inflammatory powers of turmeric, the germ fighting power of garlic, the healthy fat of coconut milk, and the added vegetable boost of carrots and spinach.
Partnered with red lentils, which are full of folate and magnesium, this dish cooks up quickly on a busy weeknight, goes great over hot buttered rice or cauliflower rice, and kids love it scooped up on naan bread.
This red lentil and carrot curry dish is satisfying and nourishing, versatile and delicious. I often even eat it cold out of the fridge the next day. I hope you enjoy it as much as I do!
If you're in the mood for more comforting and nutritious dinners, check out this Immunity Boosting Golden Soup, Slow Cooker Butternut Squash Dal, Coconut Curry Zoodle Soup, or Chicken Sausage, Kale, and Tomato Pasta.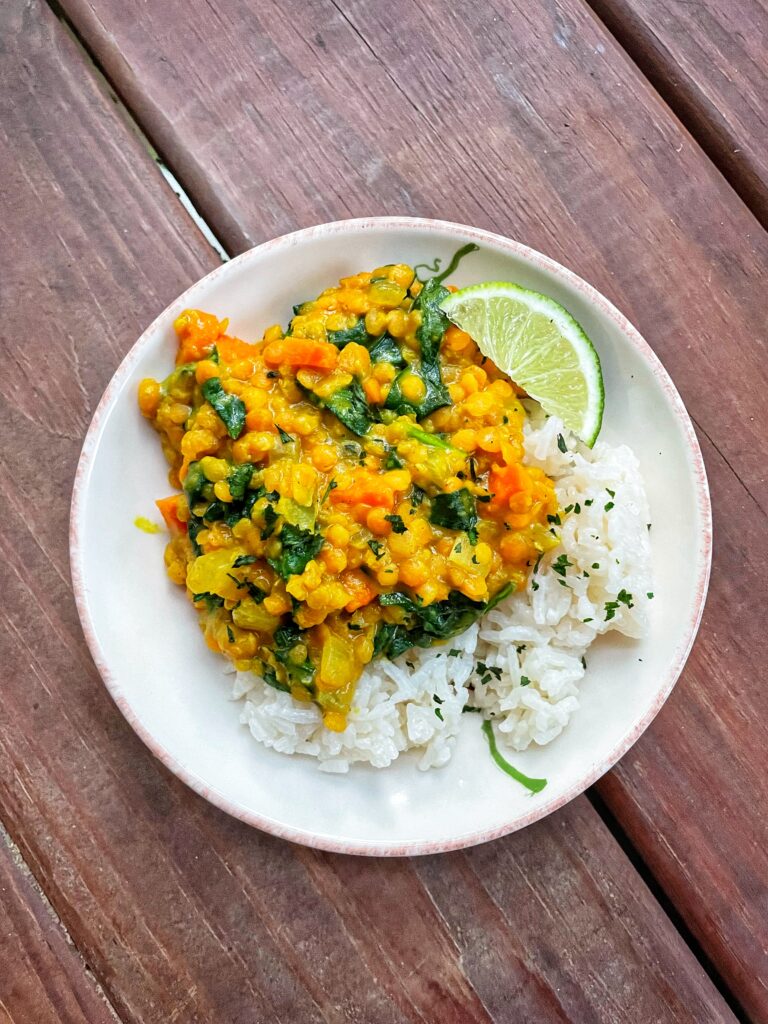 Print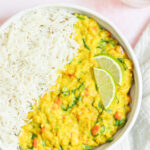 Red Lentil and Carrot Curry Recipe
---
Description
This nourishing curry recipe is perfect for when you need something comforting and delicious on the dinner table quickly!
---
3 Tbsp olive oil
3 garlic cloves, minced
1.5 tsp grated ginger
1 small onion, small diced (about 1 c)
2 large carrots, small diced (about 1 c)
1.5 Tbsp curry powder
1 tsp turmeric
1.5 c red lentils
1.5 tsp salt
1 c vegetable broth
1 can full fat coconut milk
3 oz chopped baby spinach
Juice of half a lime
---
Instructions
In a large pan, heat oil over medium heat.
Add onion and carrots. Sauté 4 minutes until onions are beginning to soften. Add garlic, ginger, curry powder, and turmeric to the pan and sauté for 1-2 minutes more, until fragrant.
Add lentils, salt, broth, and coconut milk to the pan. Bring to a boil while mixing well, then cover and reduce heat to a gentle simmer. Let simmer for 20 minutes, then remove from heat.
Take off the lid, add spinach and lime juice and stir to combine. Serve over hot buttered rice.
---
Notes
If you'd like a thinner consistency, slowly add 1/2-1 c more of vegetable broth as the curry simmers, stirring well, until it reaches your desired consistency. Adjust seasoning as needed and enjoy as a soup!