Though it's delicious enough to serve as the star of an at-home date night, it's one the whole family is going to want in on. This chicken sausage, kale, and cherry tomato pasta dish is savory and delicious.
It's one of David's favorite meals and finding a one pan dinner (plus a pot of boiling water, so two technically?) that fills him up and is one the kids both want to eat too is a rarity. Perhaps it's the added cream? I mean, it sure doesn't hurt!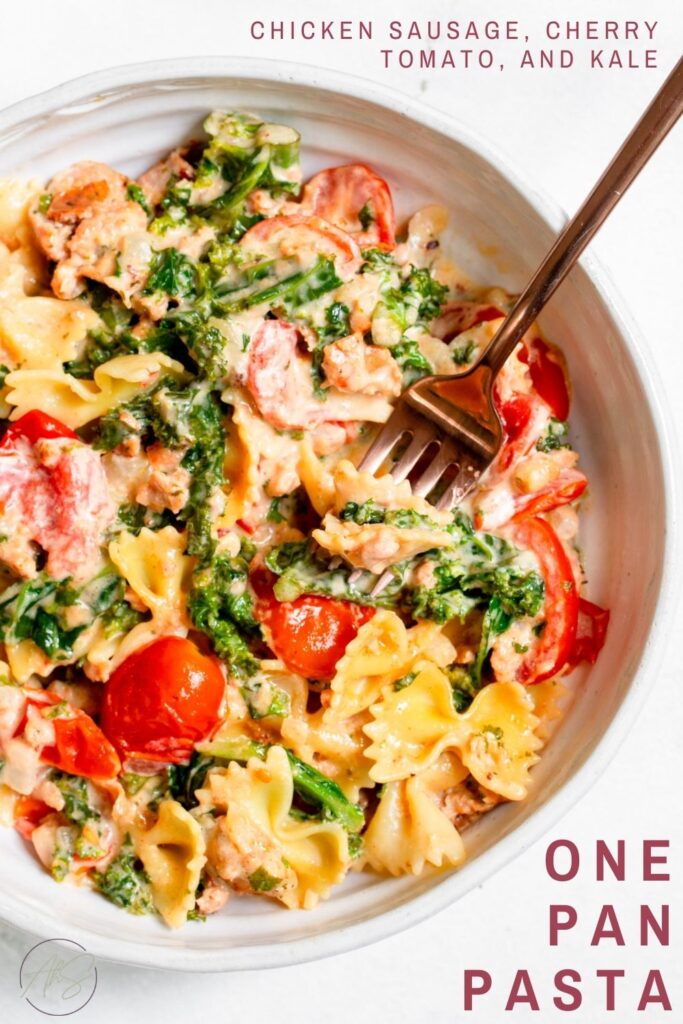 Serve this dish completely on it's own (it can handle it) or pair with some crusty bread to help scoop up as much sauce as possible. Or add some lightly dressed greens on the side to lighten things up a bit.
However you serve it, I hope you enjoy this dinner as much as we do!
Print
Chicken Sausage, Kale, and Cherry Tomato Pasta
Author:
Total Time: 30
Yield: 6 servings 1x
---
Description
A savory, one pot meal the whole family will devour. This hearty, delicious dish is a fast and easy weeknight dinner option.
---
12 oz bowtie pasta*
1 lb ground Italian chicken sausage
1 Tbsp olive oil
1 small onion, diced
3 garlic cloves, minced
2 c halved cherry tomatoes
4 c chopped kale, ribs removed
1 c heavy cream
1 cup reserved pasta water
1 ounce grated parmesan
Salt and pepper
---
Instructions
Start a large pot of boiling water and cook pasta according to directions, reserving 1 cup of pasta water.
In a large skillet, heat 1 Tbsp of the olive oil, add sausage, and cook 5 minutes, until browned and crumbling.
Add the remaining 1 Tbsp of olive oil, garlic and onions, sauté for 1-2 minutes. Add tomatoes and kale and heavy cream, cook for 4-5 minutes until kale is wilted.
Turn off heat, sprinkle with salt and pepper. Add drained pasta and mix together, adding reserved pasta water as needed.
Sprinkle on 1 Tbsp of parmesan, serve warm.
---
Notes
*I used brown rice jovial bowtie pasta, but any will do