Yesterday Hailey was invited to visit a horse barn with a friend and eagerly accepted. This ended up giving me an entire afternoon alone with Kaitlyn. I had grand plans of knocking out a bunch of organization tasks I have on my list with help from my littlest buddy.
We started off strong with the coffee (/whiskey?) station that desperately needed to be weeded out. Pictures don't do justice to the peace of mind this brought me by easing my fear that an i love mom mug was going to fly out at my face every time I opened the cabinet.
It didn't take long after this though to find a distraction from our to do list.
But when your two year old asks "please you paint my fingers mommy?" you just can't deny her.
From there we moved to Kaitlyn's room. I've known I've needed to undertake the tedious task of combing through the girls' drawers and closets to sort into the proper bins (donate / secretly throw away when they aren't looking / save for Kaitlyn fall 2017 / save for Kaitlyn spring 2018… #littlesisterproblems) for a while now.
I decided to start with her bedroom nook, which really is hers despite the fact that pictures of toddler Hailey still hang on the wall.
At least the drawers are cleaned and sorted and the diaper pail and changing pad (which haven't been used in…???) are gone. I'll get to a more comprehensive and updated wall hanging at a later date.
When we turned to the closet, we hit the jackpot- my old dance and Halloween costumes.
Needless to say, we got a little distracted.
Between costume changes and impromptu dance parties, I somehow managed to pull all the bins out of the attic to properly sort the chaos formerly known at Kaitlyn's closet.
Sure we created a disaster in our wake, but we sure had fun!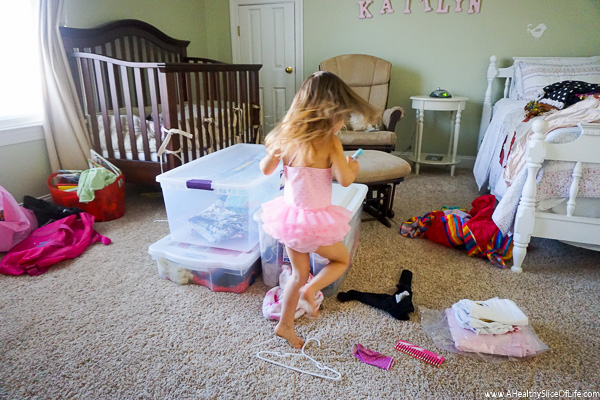 The afternoon made me realize that I don't really have a lot of one on one time with Kaitlyn. I'm grateful for the two mornings a week we hang out while Hailey is in school, and I appreciate how well my girls play with each other, but this entire afternoon felt like a special treat. We could make everything into a game and she ate up the focused attention.
Yes, I totally set up my camera timer to try and capture this time with my baby girl. #sap
Plus I had time to teach her about the more important things in life, like the art of the perfected selfie.
It made me realize how big my little girl is getting. She is the almost age that Hailey was when Kaitlyn was born. I remember thinking how big Hailey was at 2 years and 9 months when she became a big sister. To be honest I have had a lot of waves lately of excited to be moving into the next phase of parenting coupled with lows of accepting the fact I won't be having anymore babies. I don't even think it's truly an ache for more kids, but just another reminder of how short the years can be. I feel I've been able thus far (a whopping 26 days into 2017, but still) to keep my priorities where I want them to be. I'm hoping I can keep it up and savor as many of these quiet afternoons as possible.
And I hope it's still many years to come before she tires of helping me make dinner!
No big closing thoughts here; just an ordinary, but beautiful, afternoon with my Kaitlyn.
What is a recent ordinary-looking moment that felt special to you?