Our November focus on gratitude is in full swing! To go along with it, I've been actively trying to pare down on commitments. We've taken a hiatus from tennis lessons until spring, soccer has concluded, and I'm trying to leave more unplanned breathing room in our days to just be. My once-a-week sitter, who I love, is leaving us, but I'm figuring it out. Life is all about just doing the next right thing, a famous quote from my wise dad. I'm keeping that advice in mind as I navigate through a few things happening in my life right now. I'm honing in on the things I consider priorities, understanding that I can not control everything, and trying to enjoy each day for what it is and where I am at that moment. And yesterday was a good day!
Kaitlyn came down, like clockwork, at 7:05 AM. We've had some solo time in the mornings lately since Hailey is basically 15 years old now, judging by her sleeping habits. As I put on the tea kettle I saw the girls' candy apples from Farm Day and decided it would be fun to start the day off being a cool mom. Caramel apples for all! (plus a freezer burrito for me)
We ate, got dressed, then finally Hailey shuffled into the kitchen at 8:30 AM to join us. We had to hustle a bit, but still got Kaitlyn to preschool by 9:05 AM. Hailey and I dropped off a Girl Scout permission slip at a friend's house then headed to Burn Boot Camp.
I owe you an update! I've mostly been waking the girls up to go to the 8:00 AM class before preschool drop off. Though I loved being done with my workout by 5:30 AM when I was joining the rooster crew, I found I needed that early hour at home and missed seeing my friends at the 8:00 AM class, so I've adjusted. Yesterday though, I wanted Hailey to sleep in (Halloween hangover is legit!), so we hit up the 9:30 speed and agility class.
If you want to do it too, read the board left to right like a book, completing two rounds. It was a good one!
Back at home I showered quickly and we dug into math.
Math is the only area I'm curious about how what we are doing compares to what kids in the classroom are doing. I started with the introductory level Math-U-See (primer) because I wanted to begin in a place of confidence, but now I feel like we are stuck in some basics when we should be moving on? I'm not sure whether to keep going or skip ahead.
Anyway, we did math for a while, worked on the calendar, and completed a handwriting lesson before moving to the kitchen to read a chapter of our book while I ate lunch and Hailey finished her caramel apple.
My lunch was quinoa, a handful of power greens, grape tomatoes, leftover Aidell's BBQ chicken meatballs, and some Primal Kitchen honey mustard. Random!
We picked up Kaitlyn and made a quick run by Publix.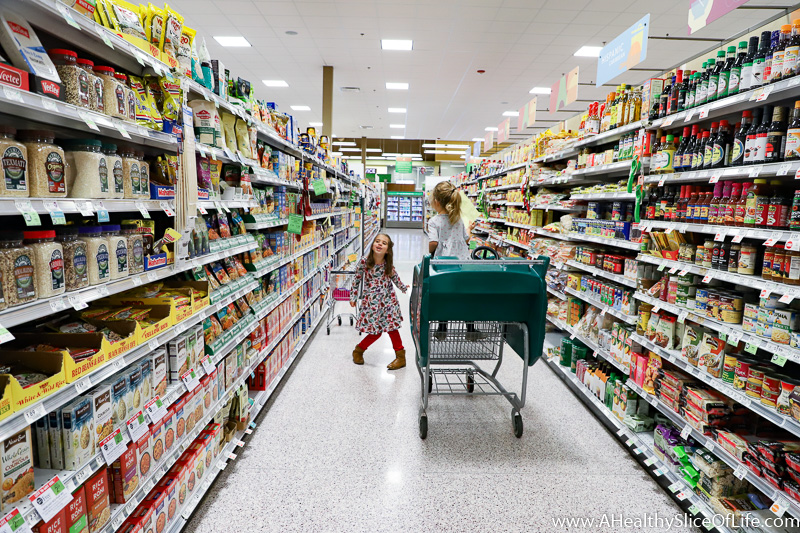 I should clarify; I only needed about 8 items, but there was nothing quick about it. We made a stop in the toy section and the girls spotted free balloons, and apparently they enjoy aimlessly wandering the aisles to look at food, just like their mother.
Back at home, we got to baking Pumpkin Crumb Muffins. The recipe is a great one for kids, in my opinion, because it involves whisks (which the girls love) and a very simple process. Plus, the girls loved drizzling the icing over top. They are so good!
After they cooled, we loaded a few into baskets to deliver to neighbors. How Pollyanna of us, right? The girls loved it though, as they've really been into interacting with our neighbors recently, and it went along with our focus this month on giving.
The weather was incredible so we spent some time just wandering outside. Our neighbor recently had a tree blow over in a storm. It was a beautiful tree, full of white blossoms in spring and gorgeous leaves in fall and we can see from our upstairs window. It's always been Hailey's favorite tree. I had told her that the storm had blown it over, but she must not have comprehended, because when we walked over to see them men cutting up the fallen limbs, she burst into tears.
Sweet girl had crocodile tears streaming down her cheeks, so we took that as a sign to head back inside.
Back home we caught up on our November gratitude journals. I'm enjoying hearing what the girls come up with. I'm trying to direct them to be specific (because oftentimes EVERYTHING! is their answer) and I'm getting a kick out of what they come up with. Yesterday's choices were Hailey being grateful for caramel apples and Kaitlyn being grateful for baking muffins.
The girls took a shower while I attempted a sheet pan dinner. I roasted sweet potatoes (in olive oil, salt, and garlic powder) at 400 degrees for about 20 minutes, then added broccoli (also with salt and garlic powder) and steelhead trout (marinated in this delicious mixture) to the pan and roasted an additional 15-20 minutes.
I loved the meal! The girls loved the sweet potatoes and broccoli. Hailey ate all her fish, but Kaitlyn tried one bite and that was enough. I guess that's what I get for trying to reduce the amount of brown sugar in the marinade 😉
We read a couple books after dinner and the girls were in bed at 7:00 PM. I intended to catch up on a lot of computer tasks, but David had a work event and I was tired so the only thing I caught up on was two episodes of This Is Us.
And that's it- a long, rambling day in the life right now! Of course no two days look alike, but I wouldn't mind if more looked like this (well maybe not the David working late part, but the the rest of it ;)).
You can find previous day in the life posts here.
What's going on in your life right now?