It's Christmas Eve Eve (which David assures me isn't a real thing). It's also grocery shopping day for me, as I cross my fingers that they stores are still well-stocked. Certainly I'm not the only one that waits until the last minute, right? I'll report back.
And if you happen to see me out, forgive my frazzled look as I'll be attempting the shopping with one baby strapped to me and an overly-excited preschooler running circles around me. Fa la la la la la la latte me.
Anyway, I took time yesterday to plan out what we'll be eating and bringing to various Christmas celebrations and wanted to share in case you are like me and still looking for some last minute ideas.
Christmas Eve Potluck Lunch/Dinner
Without family nearby to join us, we will be joining a group of good friends for an afternoon celebration before church. The main dishes are being supplied, so I'm planning on bringing either this Holiday Appetizer Wreath with a dipping sauce (clearly a crowd-pleaser)
or a rosemary wreath with fresh mozzarella, olives and grape tomatoes (a Brittany-pleaser).
Plus a 6-pack of beer in this adorable beer greeting card. The card is attached to the festive carrier- cute, right?!
Christmas Morning
Since I will be busy playing with toys, I don't want to spend a lot of time in the kitchen. I figure we'll brew coffee and hot chocolate, then pop in a sausage, hash brown casserole
or a pan full of pumpkin cinnamon rolls.
and mayyyyyyybe a few coffee ice cubes in Baileys for good measure.
Christmas Dinner
I first considered a spiral ham because this slow cooker version just sounded awesome.
Then I thought about a holiday lasagna because how nice to be able to make it ahead of time!
However, David's parents are joining us and in the spirit of a little splurge for a special day, I've opted for prime rib. I'm considering using the Pioneer Woman's Prime Rib recipe but with a bone-in cut if I can find one.
Plus my mom's sweet potato casserole, roasted Brussels sprouts and fresh rolls. I want to try making these with my bread machine.
For drinks, I'll probably default to delicious wine, but I'm tempted to switch things up a bit with either this festive cranberry mojito (no source found)
or a little sparkling action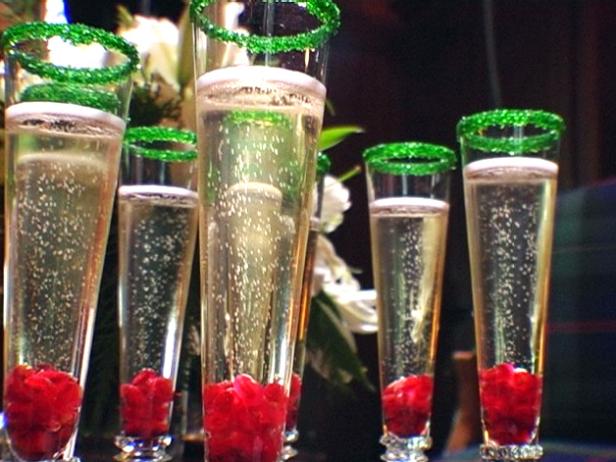 …how fun would those be with sparkling apple cider for the kids? I might save that for New Year's Eve!
Christmas Dessert
This all depends on the time I have, but I'd like to make pecan pie
but we'll see. I don't want to be overly ambitious and kill my holiday spirit. But that's what the Baileys is for right?
Cheers!
Speaking of holiday spirit, I know you all are running around and soaking it up, so I think I'll be joining you and stepping back from the blog for a couple days in order to focus on family. Merry Christmas!
What are you most excited about eating over the next couple of days?