With the help of a bread machine, homemade hamburger buns are really easy to make! A good bun makes all the difference in taking a burger from fair to outstanding, so pull out a few simple ingredients and wow your family with this bread machine hamburger bun recipe!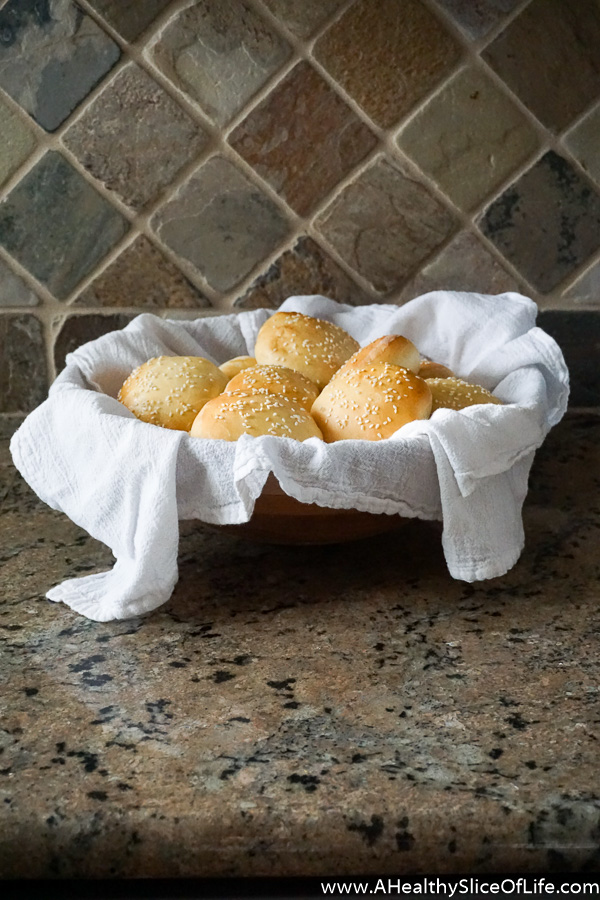 With the excitement of the predicted snow I only focused on getting enough food for the weekend, which was pretty silly. I've now been housebound for 3 days and though I'm not complaining (sometimes I have serious homebody tendencies), I haven't had my usual weekly planned dinner to go to each night.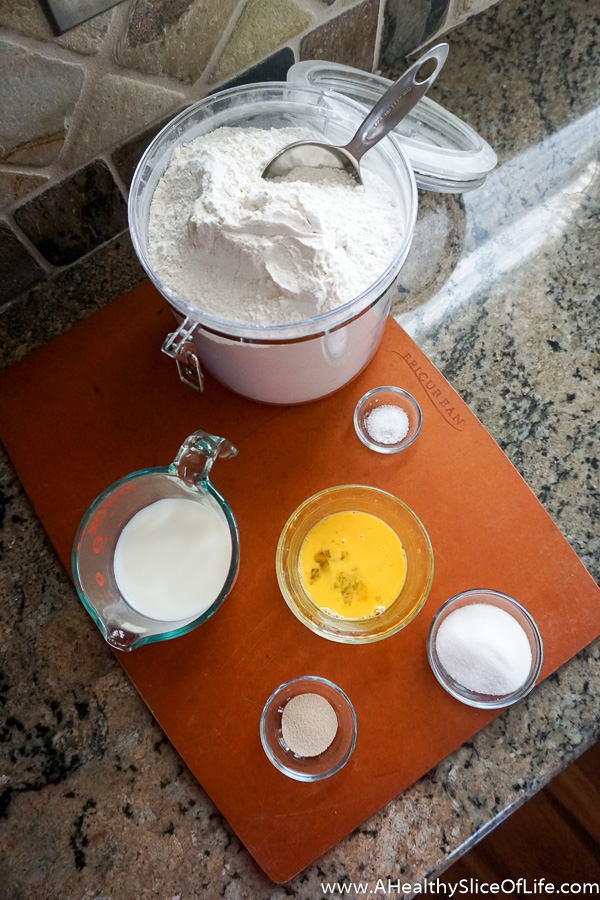 Lucky for us, David was gifted some items from Omaha Steak for Christmas which included burgers. I figured they'd be perfect to chow down on while watching the National Championship! The only problem was I didn't have buns and really didn't want to risk the icy neighborhood roads with the girls in tow if I could help it.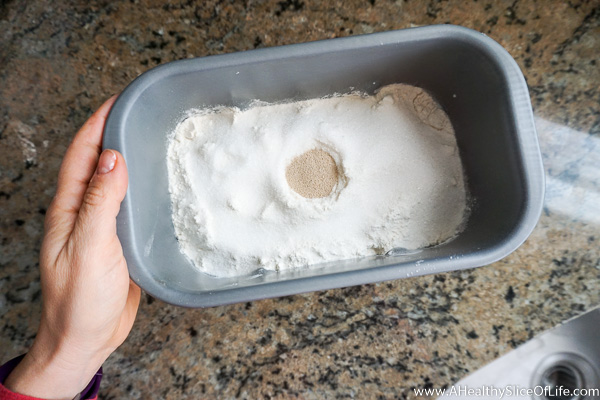 Then I saw my neglected bread machine hiding in the back corner of the pantry and remembered how easy it was to make homemade rolls and buns.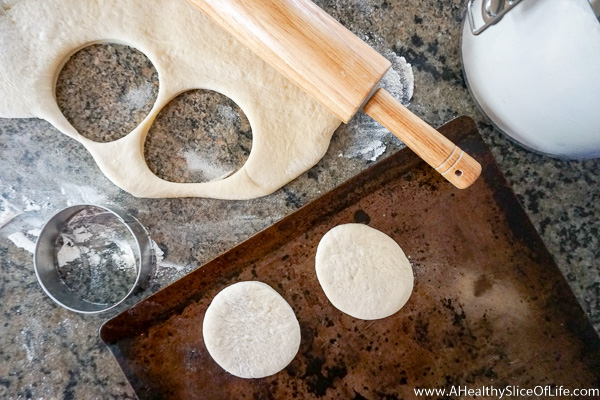 So despite this being the worst time of year to post a bread recipe, with all the Whole30 challenges underway, I am daring to go against the grain (or rather, dive into the grain) and share with you this super simple way to make your own hamburger buns.
Any bread machine with a dough setting will work. I was gifted this one a few years back and have been really pleased with its consistency and quality, especially on the dough cycle (which is what I use it for 80% of the time).
Though the entire process takes 3 1/2 hours, the hands on time is minimal- maybe 20 minutes? That leaves plenty of time to still play with the kiddos or maybe even let them "help."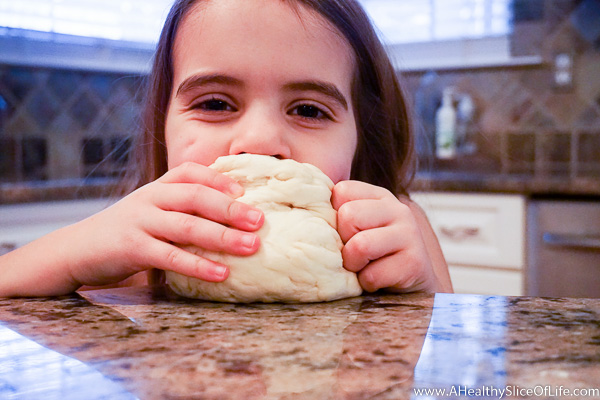 And the result? Perfectly fresh, fluffy, homemade hamburger buns.
Bread Machine Hamburger Bun Recipe
Ingredients
1¼ c milk (I used 2%)
1 egg, beaten
¼ c sugar
¾ tsp salt
3¾ c bread flour
1¼ tsp yeast
1 egg white
2 Tbsp sesame seeds
Instructions
In the bread machine, place the following ingredients in order: milk, beaten egg, bread flour, sugar, and salt.
Make a small indentation in the middle of the ingredients and pour the yeast into the hole.
Push bread machine to dough setting and hit start.
Once the cycle is complete (1 hour and 50 minutes on my machine), place dough onto a floured surface and roll out to ½ inch to 1 inch thick (1/2 inch will create slightly thinner buns while 1 inch will create large, fluffy buns).
Using the open mouth of a mason jar or a3.5" round cookie cutter, cut out 12 circles and put them on two baking sheets.
Place the baking sheets in a warm place and allow to ride until they double in size (about one hour).
Preheat the oven to 350 degrees.
Using a pastry brush, brush the tops of each bun with the egg white wash and sprinkle on sesame seeds.
Bake 10-12 minutes until baked through and slightly golden on top. Remove from oven and allow to cool. Enjoy!
Making them at home allows you to determine your size preference: 4″ dough circles for full size burgers, or use a large biscuit cutter (2 1/2 inches) for slider sized buns.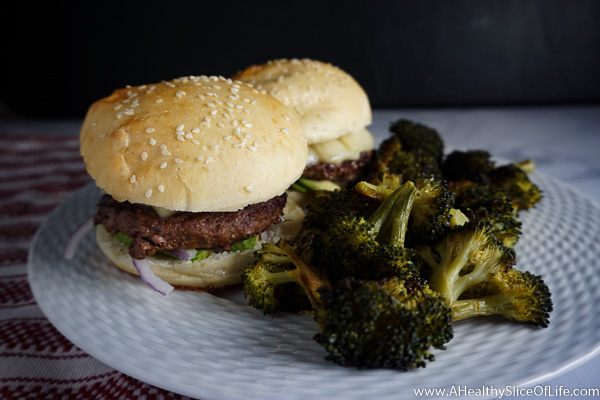 We ate our burgers as I pictured, watching the Tigers play the Tide.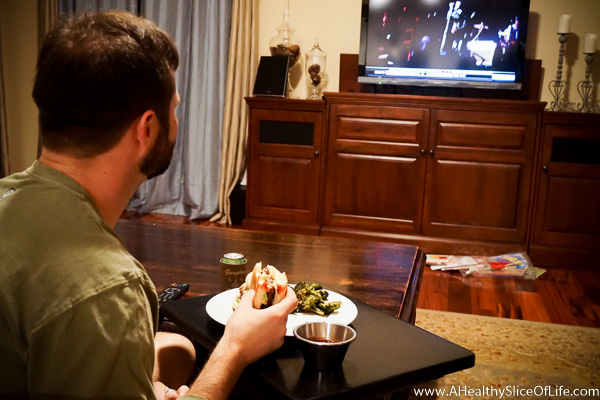 I have to shout out a hearty congratulations to Tiger Nation! Wow. What a fun day to be a Clemson fan and what a hard working team to cheer for- they earned it!
If you are on the fence about a bread machine, I feel like I should also tell you what incredible pizza dough it makes! We use it for all our homemade pizzas and it nails it with ease every single time. Yay machines!
Do you have a machine in your kitchen that you love?