This post is brought to you by a Healthy Slice of Life Sponsor
I love getting emails from y'all and use them as a compass to guide me towards topics you find interesting. One of the most common topics I get questions about it baby-led weaning. Obviously, we as parents care a whole lot about our children. How to introduce solid foods is a big question in many new mom's minds, and concerns about safety is definitely a top runner.
At 6 months old, the gag reflex in babies is located further forward on the tongue. This acts as a natural safe-guard against choking, as the baby is more apt to gag (which is not choking) and spit out a food that he or she is not prepared to handle before it gets to the back of the throat. Because of this, learning to eat solid foods closer to 6 months of age can actually be safer than delaying it a few months when the gag reflex has moved further back.
Still, I get a lot of emails asking if it is OK to take a blended approach to introducing solids. The answer is NO.
I'm kidding (winky face).
The answer is that you should do what makes the most sense for you and your family and for some moms, that means taking a blended approach between traditional spoon-feeding and baby-led weaning.
With Kaitlyn (and Hailey) I took a direct baby-led weaning approach, starting with baked sweet potato slices and steamed broccoli florets. However, Kaitlyn has experienced a spoon before, as I've helped her eat yogurt a few times, and she's even slurped down a few purees (how many people are kicking themselves for not creating the genius little pouches or fruit and veggie puree? Just me?). I keep pouches in my purse at all times in case Kaitlyn needs a snack on the go.
Clearly I'm not opposed to more spoon-friendly foods and think that a blended approach to introducing solids can be a great method if it helps mom and dad feel more comfortable with the process.
Whatever approach you take, I do think that sticking with whole foods is a great idea. For that reason, I was impressed when Plum Organics sent me their new line of Hello Meals to check out.
They are made entirely of real food, which you can see by reading the ingredient list or you can just look directly at the mix. Hello broccoli!
Plum Organics, a brand I trust and that I've used since Hailey was a baby, recently released a new option for babies that are 6 months and older called Hello Meals. They are made with whole grains, real fruits and veggies and a hint of herb or spice. I'm talking REAL food like oats, quinoa, spinach, basil, pumpkin, chia seeds, banana and more.
It's simple to add a bit of hot water, stir and in a few minutes you have a complete meal for your baby that is certified organic and nutrient-dense.
Personally I loved that there is still some texture to the meal too. If you are uncomfortable starting with a piece of steamed broccoli, I think this is a great middle ground, as your baby will still get to experience texture beyond a super smooth puree.
On their website, Plum Organics has some great videos showing how easy it is to mix in additional foods to create an endless combinations of nutritious meals from one of their 2 dinner or 2 breakfast combinations. I loved that concept and thought how great the mixes would be to keep on hand as a base for more advanced baby-led weaning meals, like muffins.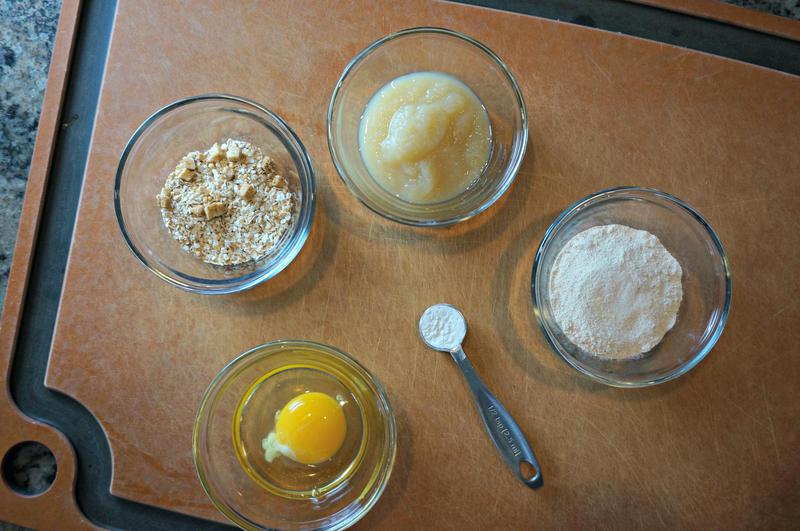 When I saw the Apple Cinnamon and Quinoa Oatmeal pouch, I immediately thought of muffins. Easy to assemble, perfect for little hands to hold and packed full of goodness, including added protein and fat of an egg.
Three little muffins means that breakfast is covered for a day or two and I felt good knowing how these were full of real food, nothing artificial.
Without any added sugars, these muffins are not very sweet, which I prefer for baby meals.
Print
Apple Oat Muffins for Baby-Led Weaning
Prep Time: 5 mins
Cook Time: 14 mins
Total Time: 19 mins
Yield: 3 muffins 1x
---
Description
These muffins are easy to assemble, perfect for little hands to hold and packed full of goodness, including added protein and fat of an egg.
---
1 Packet Plum Organics Apple Cinnamon Quinoa Oatmeal
1/4 cup unsweetened apple sauce
1/4 cup whole wheat flour
1/2 tsp baking powder
1 egg
---
Instructions
Preheat oven to 425 degrees.
Mix together wet ingredients. In a separate bowl, thorough combine dry ingredients.
Combine wet and dry ingredients and mix well.
Spoon batter into three silicone baking cups or a greased muffin tin.
Bake for 14 minutes, until baked through.
Let cool and serve.
---
I've given them to Kaitlyn whole or cut in half with a little butter.
With either method, she enthusiastically approves.
Whether you prefer traditional spoon feeding or baby led weaning, these pouches make a great staple to keep on hand. I'm looking forward to using the Broccoli and Cheese Pasta pouch to create a simplified version of these broccoli cheddar quinoa bites, bypassing the finely chopping/food processing of the broccoli step.
If you are interested in trying these out, here is your chance, as Plum Organics is offering a giveaway!
One of you will receive 4 boxes of Hello Meal packets (1 box of each flavor) plus a variety pack of 15 of Plum Organics puree pouches.
The giveaway will run through next Friday.
To enter, leave a comment telling me which Hello Meals variety you are most excited to try!
This post is sponsored by Plum Organics.