Isn't it funny how kids just sense when you're about to talk about a parenting topic, and change their behavior?
I first wrote this post when Hailey was just about two weeks shy of her fourth birthday. Whatever the opposite of mercury in retrograde is happened at my house by some amazing happenstance. Pleases, thank yous, yes ma'ams, how can I help yous and gentle hands were in full swing and I knew it had to be because I was planning on writing about my experience with my threenager here on the blog!
See, we got pretty lucky with the twos. When everyone complained about the terrible twos, I held my breath and waited for the terribleness that never came. Sure we had a doozy here or there, but overall there wasn't anything shockingly tough. People said just wait, if you don't get the twos, you get the threes (shudder).
People were right.
Ok, a little drama for effect, because at almost-four, Hailey was mostly an incredible sweet, thoughtful and kind girl (says her mom). However, the tail-end of her three year old year came with some challenges I wasn't expecting to face until she was 14.
Back talk, eye rolls, throwing and crying tantrums occasionally had me wondering WHO IS THIS CHILD AND WHERE DID I GO WRONG?!
At home, I usually handled these no problem, but when she was rude in the presence of others, I could feel my eyes sting with frustration and embarrassment. I put a lot of effort into trying to teach her to be kind, considerate and respectful, so when those traits that she often embodies disappeared into this air, it could be hard to swallow.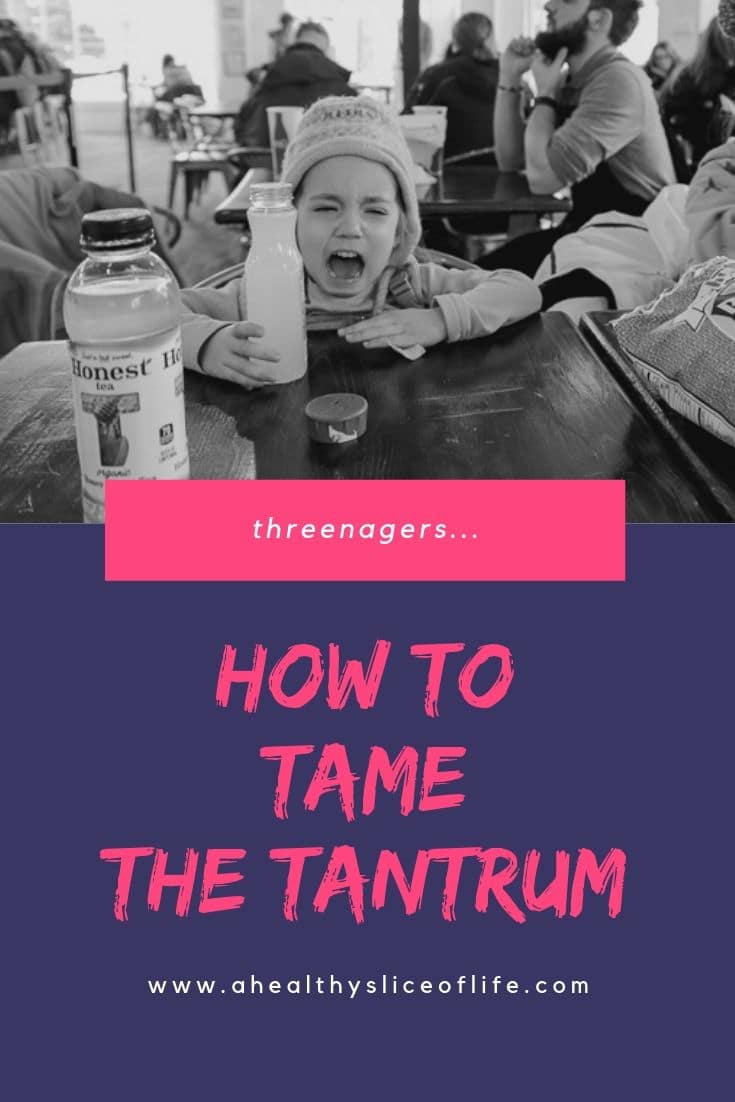 Over time (isn't parenting a never-ending-learning process?), I learned how to best handle these situations and have found a system that is providing the results I am after (no yelling, learning from mistakes, making up). Here's my system.
7 Steps to Taming the Tantrum
Cue tantrum/arms flailing/voice yelling/etc
Step 1: I send her to her room.
We don't really do time out around here anymore because it was a struggle trying to keep her on the stairs. Since I see the purpose of time out as a time to let us both chill out and collect ourselves, the stairs weren't serving their purpose. Instead, I calmly but firmly say GO. TO. YOUR. ROOM. and don't leave until I come in there. She doesn't skip off willingly most of the time, but she goes, screaming along the way. If she resists, I will explain if she isn't in her room by the time I count to three, there will be a consequence. That usually gets her moving.
Step 2: Wait for the crying to subside.
Luckily she makes this easy to gauge, as her tears aren't soft sniffles. Sometimes she is quiet within a few minutes, other times it can take 15-20. I've learned that going in while she is still upset gets us nowhere, so I wait.
Step 3: I go in calmly and sit next to her.
Usually I get a sniffle in response to me presence.
Step 4: "What choice did you make? Was it the right one?"
I think the wording of this is pretty important. I never want her to feel that she is inherently bad, I've read enough child/parenting self help articles to know that, so I'm very purposeful on asking her which behavior was the wrong choice. Then I wait. Usually she will tell me through sniffles (I hit you, I yelled at Kaitlyn, I threw my toy, etc). If she says she doesn't know, I tell her that the bad choice was XYZ, then I ask her again so she can repeat it to me.
Step 5: "What were you feeling?"
Ah, you know I love talking about feelings with her. I help her put a name to her frustration, anger, sadness, tiredness, jealousy, etc. Often a breakthrough comes at this point and she may cry again and hug me.
Step 6: "What choice should you make next time?"
I have her tell me an alternative action she can take next time she is feeling that same emotion. Instead of snatching a toy from her sister she can ask to trade or wait for her turn. Instead yelling at me while I am on the phone she can come over and put her hand on my leg, and wait until I acknowledge her, etc.
Step 7: Big hug, I love you and put it behind us.
Sometimes I think the hardest part of parenting is moving on from an incident. Sometimes she really gets me going and I feel incredibly frustrated/annoyed at her behavior, but I know I have to be the adult, so after our talk, I always give her a big hug, tell her how much I love her, then we leave it there. My tone changes back to jovial and we hop up to go back to playing.
[Tweet "7 steps to taming the tantrum (do you ask these questions?)"]
Do I handle things in ways I'm proud of every single time? No, I've tried to hold her in time out before and might have let my voice get too loud one or twice when I've sent her to her room, but I get the best results when I follow the steps above, so I strive for those.
Understandably tantrums occur more often when she's had too much stimulation or not enough sleep. Now that she doesn't nap (she still has 2 hours of quiet time), the evenings are hit or miss behavior wise as she adjusts to making it all day with no nap. But by using this process, I see definite improvements in behavior and less frequency of tantrums, which is good for everyone.
Parents, how do you handle tantrums?
Were the terribles twos or threenager years more challenging for you?