I love hearing what other moms feed their kids. This is not only because discussing the details of what the girls ate bores David to tears, but because I love seeing how other moms do it, day in and day out. While I love making fun kid-specific food like these broccoli cheddar quinoa bites, these corndog bites or even these cauliflower mini pizza bites, honestly, the majority of the time, our meals aren't that cutesy or fun. So I thought I'd show you a 3 day diary of what my kids ate in real life. Prepare to be underwhelmed.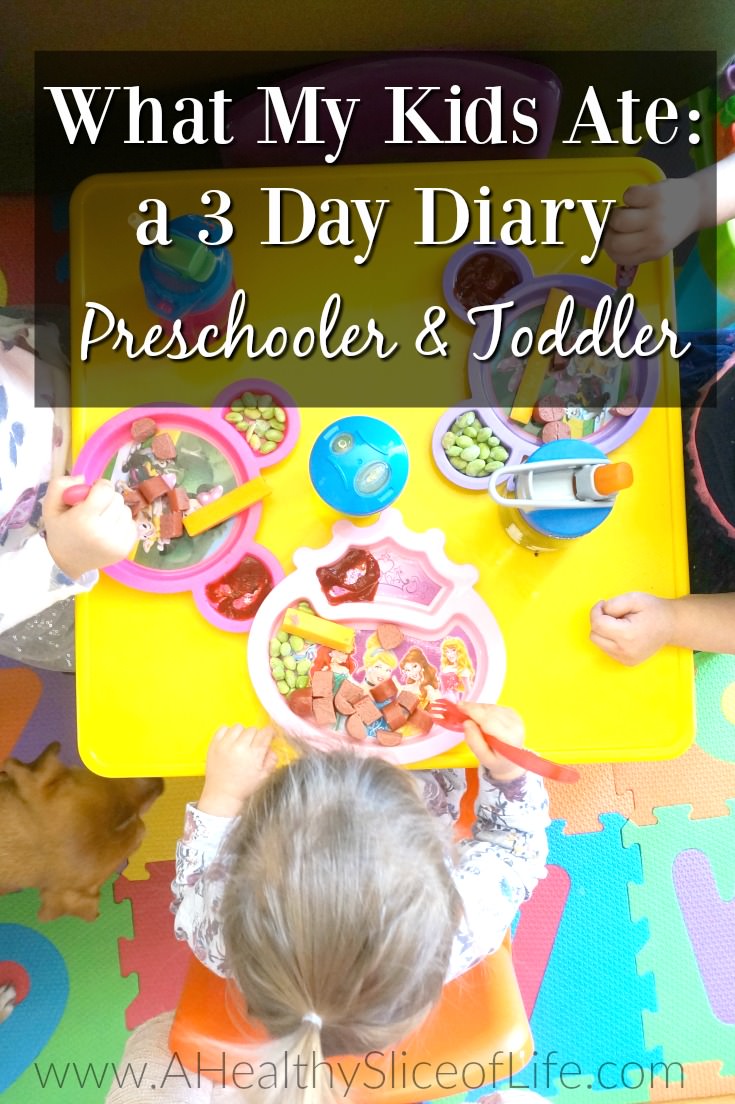 For reference, my kids are 4 years old (Hailey) and 21 months (Kaitlyn).
DAY ONE
Breakfast: smoothie containing frozen banana, coconut water, orange juice, spinach, frozen berries, frozen mango, avocado oil and chia seeds.
Both girls demolish their smoothies.
Lunch: Greek quinoa salad with cucumber, kalamata olives, grape tomatoes and feta with a Greek dressing, applesauce, crackers and hummus.
Hailey eats half her quinoa, all her applesauce and all her crackers. Kaitlyn eats everything.
Snack: Yogurt and energy oat bites each.
Hailey finishes all her (regular) yogurt and 2 oat bites. Kaitlyn eats a bite or two of her coconut yogurt and 2 oat bites.
Dinner: Lemon herb halibut, loaded mashed potatoes, asparagus and bread.
Both girls eat everything except the potatoes. Neither one likes them. Hailey eats another full slice of bread.
DAY TWO
Breakfast: Smoothie requested again. This time it contains frozen banana, peanut butter, dark cocoa powder, spinach, unsweetened almond milk and a date.
Both girls drink the whole thing.
Lunch: Kaitlyn takes a packed lunch of two oat bites, Glutino animal crackers, carrots, grape tomatoes and apple.
She never eats well at "school," so I try to put in small, snacky things. Still, she comes home with only the tomatoes eaten and a slice of apple has a bite out of it. Once we get home though, she eats both oat bites, one animal cracker, one carrot and another bite of apple.
Hailey has leftover mac 'n cheese, veggies and ranch dip and crackers.
She eats all the crackers, half the mac and cheese, all the celery and two carrots.
Dinner: Mom's spaghetti recipe over wagon wheels with broccoli.
Hailey asks for "my favorite dressing" (that's what she calls it) to dip her broccoli in (so Kaitlyn wants it too), then they both lick their plates clean.
DAY THREE
Breakfast: Scrambled eggs with spinach, banana and toast.
The spinach isn't typical, but it was my weak spin on green eggs and ham for Dr. Seuss's birthday. Hailey eats half her eggs and all her toast and banana. Kaitlyn eats one bite of eggs, the interior of her toast (leaves the crust) and all her banana, plus half of mine.
Lunch: Our morning runs longer than anticipated so we grab smoothies at Clean Juice. Hailey opts for simple: oranges, strawberries, coconut water and honey.
They both drink the entire thing.
Snack: Unpictured, but they both eat an oat ball and half a larabar.
Dinner: Simple tuna fish salad, crackers, apple slices, veggies and ranch dip.
I don't actually know how much they ate because I was at a Girls on the Run meeting, but typically they both like the tuna salad!
And that's it!
I told you, not super exciting or diverse, but it's a real snap shot of what meals look like around here. Tonight we are having roasted purple cauliflower and that would have been a lot more fun to picture, but c'est la vie.
What are some foods that typically stay on repeat at your house?
Which ones get switched up?
What is your family's favorite meal?
I try to switch up the fruit and vegetable each week, so where we have apples in this example, next week it may be kiwi or mandarin oranges that go all week. Same with vegetables.