I consider myself an equal opportunity grocery store shopper. During any given month, it isn't unusual for me to visit my local Publix, Food Lion, Lowe's Foods, Target grocery section, local farmers market, Healthy Home Market, and Walmart for odds and ends. I am a self-proclaimed grocery store nerd and have waited over an hour in line (with kids!) to attend the grand openings of Lowe's Foods, Publixs, Whole Foods, and more. I'm giddy at the thought of our local Aldi getting a complete makeover and finally getting to experience the Aldi glory I hear about so often. I have no shame in my geeked-out-for-groceries game. I feel fortunate to have so many options to choose from and thoroughly enjoy shopping for good food to feed my family.
Back in the day (pre-kids obvi), I would bounce around to 2-3 stops on a single grocery trip, in search of the highest quality for the best price. Those afternoons of leisurely shopping are gone now. Now I get the bulk of my weekly groceries at one place- Whole Foods Market. I know their reputation for being super expensive and when I hit up the hot bar and prepared items mecca, my bill certainly shoots through the roof! However, if I stick to the basics- dried goods, produce, stocking up when meats go on sale- it's comparable price and higher quality almost every single time. With time limited to a one stop shop most of the time, it's important I find a place that has everything I'm after, produce that will last more than 1 day and an environment I can quickly navigate.
Being that I'm pretty open about what I spend and how on groceries, I had a post request for my favorite Whole Foods items. I hope that by sharing 20 items I buy regularly at Whole Food, it may give a little insight into my grocery store style. You know, for anyone else out there who may nerd out over food shopping as much as I do… Bueller… Bueller?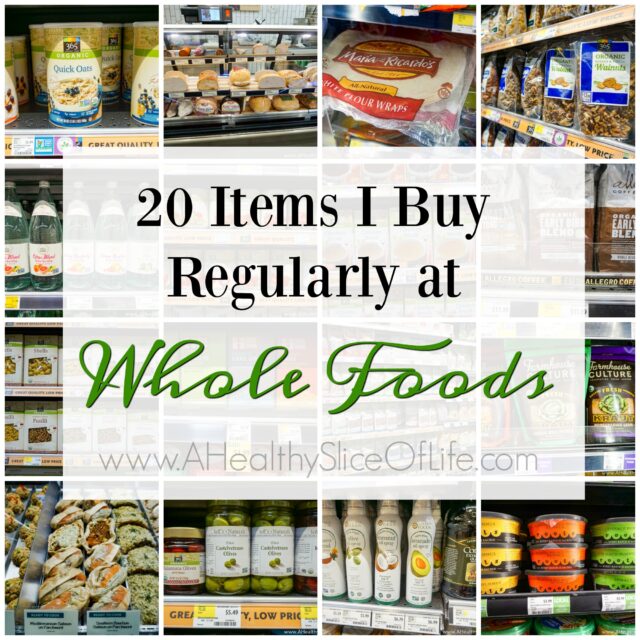 Ready, set, let's go!
Bulk Nuts and Dried Fruit
You will pretty quickly pick up on my love for bulk items. These packaged nuts are priced the same as the ones you will find in the bulk bins, so snagging these off the shelves is a short cut. I use my nut-of-the-week on salads, oatmeal, mixed into muffins or pancakes, or mixed with raisins or craisins for snacks for the girls and myself.
Oats
Cheap and easy, quick oats are something I always have on hand. I skip buying individual packets because I know how easy it is to make my own.
Sparkling Water
These are one of my favorite things to have on hand for guests and parties. They look fancy in the fridge and are delicious. We always have La Croixs on hand too, but these are a great alternative with delicious flavors to choose from!
Pasta
Add this to the cheap-n-easy column. Their pasta selection offers all sorts of different shapes and sizes and the girls like to pick out whatever they are feeling that week. Almost all varieties have a regular or whole wheat option and all are organic.
Canned Tomato Products
I don't mean to stick with all pantry staples, but I do think it's important to note the good prices they have on organic staples, thanks to their in-house brand 365. While I do often stock up on these basics at some of the discount stores (Food Lion, Walmart), I never hesitate to buy them at Whole Foods either.
Castelvetrano Olives
I'll be honest- I have no clue how the price of these compares to the price of these elsewhere. But I can tell you they are my current favorite olive- so buttery good!! One important thing to note is that in the pickle/olive/pickled pepper section, it's nice to know that no artificial coloring is in any of the products, which is highly unusual. I tried buying pickles at Publix a few weeks back and couldn't find a single jar without artificial colors. And usually the only brand I can find in regular stores without the dyes is the Farmer's Garden variety.
Broths
I do prefer to make my own, but always keep it in my pantry because… life. This organic broth at Whole Foods is the same price as the organic broth at Walmart (as of yesterday when I checked it).
Dried Beans/Lentils/Grains
When you are looking for variety (green, red, and black lentils? Yes please!) and low price, you can't beat this aisle at Whole Foods.
[Tweet "20 must-try products from @wholefoods that are worth checking out from @ahealthyslice #wholefoods "]
Coffee
We still use our Kuerig but have given up K-cups in favor of reusable K-cups. Less waste is one benefit and filling it with high quality coffee is another. $12 feels steep for coffee, I get it! However, this is one area that quality is noticeable and wins out.
Tea
I really love the selection they offer and until I learn more about loose leaf teas and where to get them, this is my go-to section.
There is usually one brand I like on sale and I stock up then, like I did yesterday with this variety:
Oils and Spray Oils
Generally speaking I will buy olive oil for cooking anywhere. However, I'm picky about spray oils and finding the ones I like can be challenging. Whole Foods offers a wide variety beyond just spray coconut oil (which I can use with muffins and pancakes but tastes terrible to me on broccoli and other veggies). I love the spray avocado oil!
Farmhouse Culture Kraut
Are you sick of me mentioning this stuff yet? Garlic dill pickle is life.
Veggie Noodles
I mentioned a few weeks ago that after saying I'd never pay for these (um, I can do it with my own spiralizer thankyouverymuch), I snagged a package to try and am really thrilled with the quality, texture and amount you get! I wouldn't say they are a weekly purchase for me, but a fun, occasional splurge.
Salmon Parchment Packs
I can't argue on price with these. Paying $18 for 2 isn't cheap. However, these Mediterranean Salmon Packs are DELICIOUS and our arriving-back-in-town-after-vacay go-to. If I don't have time/energy to cook and don't want greasy take out, we snag these and devour them.
Vital Farms Eggs
If I can't get eggs from my friends with chickens, these are my current go-to. Brighter yolks for the win.
Wallaby Organic Greek Yogurt
I'm not brand loyal to yogurt, but lately the girls have really taken to this Vanilla Greek yogurt. I get it, it tastes like ice cream.
Immaculate Biscuits
I gave up these kind of pop and bake biscuits years ago because of the hydrogenated oils and other junk in most brands. I freaked (like the food nerd I am) when I saw the Immaculate version. They are so good and a regular purchase for me when I have guests in town.
Applegate Farms at the Deli
Because it has no nitrates and I can ask them to cut it a little thicker so I can use cookie cutters to make fun shapes to put on top of crackers for the kids.
Roots Hummus
Also available at Food Lion (!), this is the best hummus. Period. Made locally in Asheville. Do it.
Maria Ricardo's Tortillas
These are found in the freezer section and are one of the few cleaner-ingredient tortillas that are BIG enough for me to make my freezer breakfast burritos with. I make them weekly, so this is an important buy!
Frozen Convenience Foods
I like to keep a few of these on hand. From frozen veggie medleys to fried rice to riced cauliflower, they have a great selection of freezer basics.
While grocery shopping is my jam, math is not. I think that was 22 items? Oh well. They are all items I buy on the regular and I really appreciate having Whole Foods close by as a one-stop-shop.
Fellow grocery store lovers…
Are you a one stop shop shopper?
What are your favorite grocery stores?
What sets them apart from the others for you?
A note: I don't have a Costco or Trader Joes near me. Sniffle. But this is why they are not included in my grocery love letter. 😉