For more of my simple kid-friendly meals, recipes, feeding tips, bably-led weaning details and more, click here!
It's no secret I enjoy playing around in the kitchen. When Hailey was younger and my only child, I'd spend time experimenting in the kitchen with all sorts of fun kid-friendly recipes for her to try. I could spend nap time mixing, baking and cleaning, resulting in all sorts of creative meals for her to dive into for dinner.
Fast forward to today and life looks a little differently. Hailey's nap times are a thing of the past and my busy little Kaitlyn is always at my feet. I find myself spending the majority of time in the kitchen just trying to make sure they're fed, which doesn't leave much time for playing around with new or elaborate recipes. You won't find food in adorable shapes or made into kid-friendly faces or platescapes around here, but you will find good solid simple meals that the kids eat and I approve of.
If you're in a similar position and looking for some simple meals, check out a few of my favorites for breakfast, lunch and dinner!
…before we get started, I highly recommend buying one of these if you are feeding babies, toddlers or kids. If you are anything like me, you will use it weekly!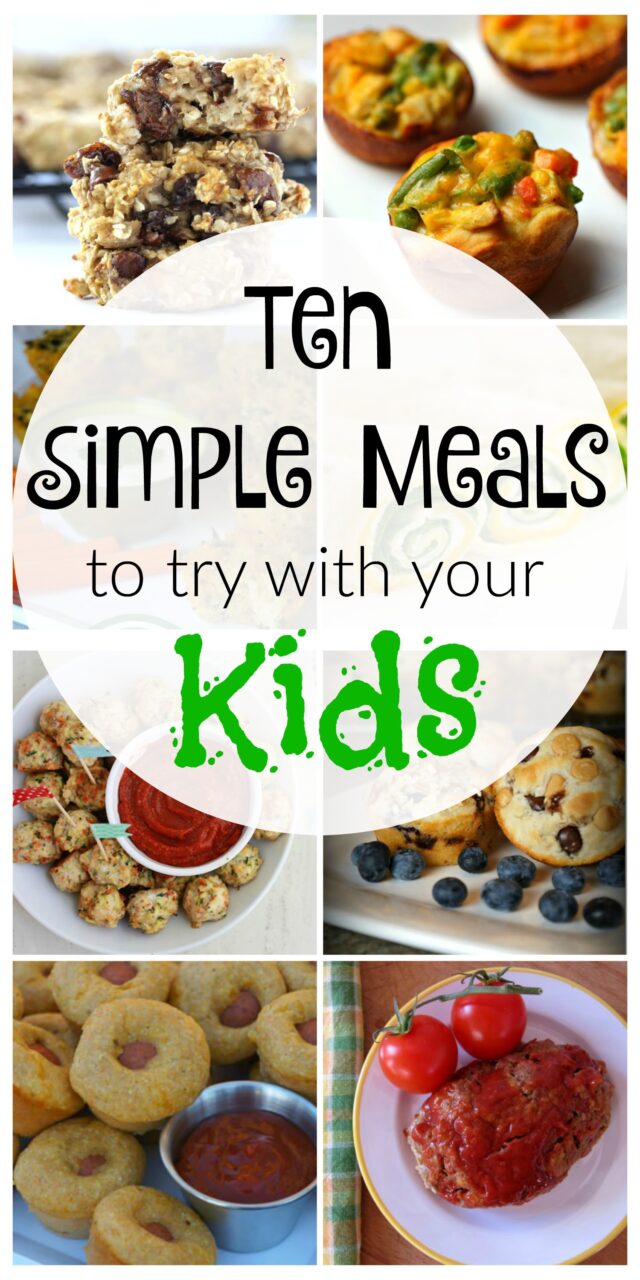 Easy Breakfast Roll-Ups by Brandie- so simple and a great way to keep eggs IN the wrap.
Mini Meatloafs by Charity – healthy ingredients and topped with ketchup, which pretty much guarantees Kaitlyn eats it (the girl loves ketchup!)
Simple Corn Dog Bites – great to make, freeze and reheat in a pinch!
Bean and Cheese Burrito Cups by Jenny – You could also use a whole wheat tortilla as the base – so cute and easy to eat!
Pancake Muffins – love that I can make these ahead of time for easy breakfasts all week long!
Easy Breakfast Casserole Muffins by Thriving Home – because anything made in a muffin tin seems to be a hit for kids, especially if they can choose what to mix in!
Mini Chicken Pot Pies by Budget Savvy Diva – I haven't made these yet because I'm looking to pick up a good biscuit option, but I love the combo of chicken and vegetables for a full meal in an easy handheld shape.
Healthy Breakfast Cookies by Holly – made with oats and bananas and applesauce but you can still call them a cookie and they are delicious!
Broccoli Cheddar Quinoa Bites– perfect for little kids that love to dip!
Pesto Chicken Veggie Meatballs by Super Healthy Kids- make sure to dice the veggies finely and these are great!
I love that several of these are able to be made ahead and frozen, which makes quick weeknight dinners or early breakfasts easy and still healthy. Happy eating!
Do you have a simple go-to recipe that your kids love?
Please post it in the comments, as I'm always looking for new ones to try!