I recently opened up Instagram stories asking for questions related to homeschool. Wow, what a response! Funny enough, most of the questions overlapped quite a bit with the most popular by far asking why we chose to homeschool and how long we plan to do it. My answer is long and I didn't want to try and squeeze it all into 15 second video snaps, so I opted to answer it here instead. So here's how we got to where we are today!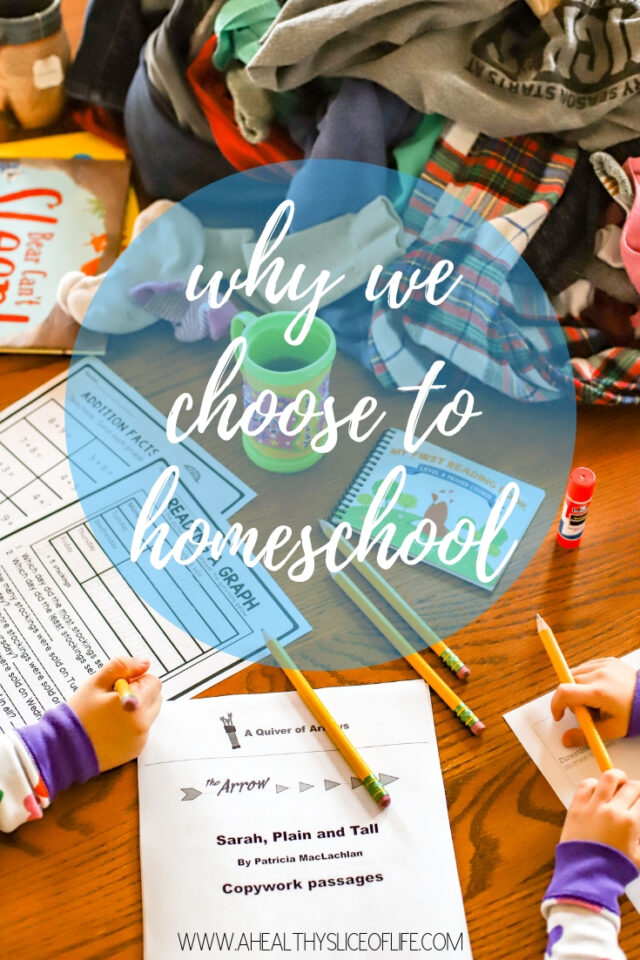 Our Homeschool Journey
When I was growing up, homeschool wasn't something I ever heard about. In fact, I barely knew a thing about private school. It was more like, you just went to the school, the same one everyone else went to. I had a very positive public school experience. I was social, captain of my competition cheerleading squad, and in AP classes. From a child's perspective, it was overall a very positive experience.
When I got pregnant with Hailey I imagined having five years at home with her until I'd send her to kindergarten. I still had barely heard of the idea of homeschooling at that point, much less thought about it myself. We enrolled her in preschool starting two mornings a week at age two, then three mornings at age three. Around this time I remember David telling me about a guy he worked with who homeschooled his two girls. We both were intrigued by it.
At first I was in awe and wondered how this mom knew what to do; I assumed the mom must have been a teacher previously. Then I wanted to know why they opted for homeschool. Then I was curious how they liked it and if the kids were bummed that they didn't go to regular school. Basically, all the same things anyone I've ever talked to about homeschool wonders when they first encounter the concept.
After many conversations about the pros and cons of homeschooling and talking to a coworker of David's and a couple friends of mine about it, we both agreed we liked what we were hearing. We decided to dip a toe in. Hailey was entering her last year of preschool and had a few options to choose from: five, four, or three half days a week. We took the three day a week option so I could spend the two days at home with her "trying homeschool." I alternated the girls' days so the two days I was at home with Hailey would be the two days Kaitlyn was at her morning preschool program,allowing us to have one-on-one time for this trial period.
It went just fine. We read and played in a relaxed fashion, loosely following and enjoying The Homegrown Preschooler program, but I still doubted myself and my capabilities for how I'd do when it came to really homeschooling full time. I researched local schools and found a charter school that aligned beautifully with our educational philosophy. However a lot of people feel similarly apparently because the lottery and wait list for kindergarten usually climbs into the 400's easily.
I decided it was worth a try, despite the low odds. I went to two open houses. I started reaching out to parents that attended the school to get the inside scoop. I even set a meeting with one of the directors of the school where I not-so-gracefully asked if there was a job I could take on from home (because employees' kids automatically get in). I loved this school. We entered Hailey in the lottery and figured this would be the deciding factor; if she got it, great! And if not, we'd homeschool.
I woke up at 12:00 AM the day the lottery results were released, grabbed my phone, and held my breath as I started to scroll. Then I saw it- her number- listed as ADMITTED! My heart stopped but to my surprise, my emotions were mixed. I felt extreme joy and luck, but also a twinge of oh… ok, so no homeschool. I put my phone down and let my mind wander through the possibilities of both paths that David and I would have to decide between.
Then I grabbed my phone just to double check the list- after all it was just grid of a lot of different numbers. I pulled up Hailey's registration number again to double check and realized I was off. She was not on the admitted list. She was number 382 on the wait list.
Talk about an emotional roller coaster in the middle of the night, but it ended up being a fortuitous sequence of events because even though I was truly sad that she didn't make the lottery, I got insight into my true emotions that revealed to me that I did want to homeschool, but was scared to make that jump on my own. I had wanted a reason to be forced to choose it. Now I knew we'd homeschool, and I knew I was excited about it, so I threw myself into researching and preparing.
The trial preschool year had gone just fine, though it really felt more like playing school two days a week than "real" homeschool (whatever that means). Then when the time came to decide for kindergarten, my emotions went crazy again.
All our friends were registering for school. True, a lot of them were splitting into different schools- public, private, charter, the university model school (school 3 days a week, at home 2 days a week), etc. But still, it felt really scary to watch this mass registration taking place and to simply sit it out. It felt a little lonely because I wasn't able to participate in the "what teacher to try for" or "what time does the bus come" conversations.
However, once the rush passed and summer arrived, I got more comfortable with the idea. I stopped saying "I think we might homeschool" and started answering with "we homeschool." I redecorated our playroom to turn it into a homeschool room. I finally chose curriculum and ordered it. I felt as ready as possible.
We started our first real day of homeschool in September so it aligned with Kaitlyn's first day of three's preschool. It was such an emotional day for me- you can read all about it here. But from there, I learned a little more everyday. I learned more about my child's learning style. I learned more about my strengths and shortcomings in both parenting and teaching (which are closely related as homeschooling truly is just a natural extension of parenting). I learned to relax and embrace what I had been told- homeschooling is not trying to replicate school at home; it has its own beautiful rhythm and speed.
The year was so much fun and when time came to decide whether to send Kaitlyn to preschool for her final year or keep them both home, I opted to keep them both home. It was a hard decision because we all loved her preschool, but we were still having to get up, eat, dressed, and out of the house on someone else's timeline. Deciding to keep both girls home was the final piece to our homeschooling puzzle.
And here we are today! Hailey (7) is in first grade. Kaitlyn (4) is in her last year of preschool. We love homeschooling.
We choose to homeschool for the following reasons:
It's a natural and relaxed learning environment. We go at the speed each child needs, not having to rush through the challenging parts, but also allowing us to move forward in the areas that come more easily and naturally.
It enables us to control not only their academics but also monitor the social, emotional, and leadership influences around them as well.
We love the ability to enrich learning through extra experiences. Learning about dinosaurs? We can visit the dinosaur exhibit at Discovery Place. Planning a trip to the beach? Great, we can start studying the area we are going to visit and the things we might see.
I get to learn, too! I can't tell you how much fun I've had learning right along beside them for our unit studies on Japan and China and more.
The flexibility of schedule. We can travel during off-peak seasons. We can start school in early August then take an extended break in December to focus on family and Christmas. We can sleep in when we need it or do school on a Saturday if there is something to cover.
It allows the girls more time to just be kids. They spend a lot of their day running around and just playing and exploring. I believe kids need a lot of movement and creative freedom; homeschooling allows ample time for that.
It allows us to follow and explore their curiosity. When Hailey was asking questions about space, we just went with it! Black holes, planets, solar systems, a planetarium visit, the works.
It gives us the ability to spend time daily on life skills. Cooking, grocery shopping, knowing how to mail a letter, how to look an adult in the eye, household chores, handling money, etc are all skills we work on daily. Can you do this without homeschooling? Of course! It's just that homeschooling gives us the time to make these party of our daily routine.
We just really enjoy being with our kids. I love them, of course, but I really like them, too. We aren't in the trenches of diapers and naps anymore so the time with them is fun and I love having a front row seat to watching their minds work through things.
So the next most popular question after why we homeschool is how long we plan to do it. The answer to that is simply: for as long as it's working for us.
We commit to a year at a time. While some people ask me if I'm worried about how I'll manage to teach physics, the short answer is: I won't be teaching physics. The resources available for curriculum, online classes, online support, local colleges, class offerings from museums, co-ops, etc are incredible. Homeschooling today is overflowing with resources and options. And the one thing I know for sure is that no one cares more about not letting my kid down than me.
Are there any drawbacks? Of course. There is no one perfect path. I'd love my kids to have the experience of language immersion for example, but for us, the pros outweigh any shortcomings at this time.
From our September Poetry Tea Time that we do monthly with friends.
What about socialization?
The joke within the homeschooling community is that we homeschool because of the socialization aspect, not in spite of it. I could write an entire post on this topic alone, but for brevity sake I will say that the majority of homeschool kids I know are incredibly well-socialized (whatever that means) because they are constantly interacting with all different kinds of people, of different ages and backgrounds, out in the real world. The term homeschool is slightly misleading because though it's possible to spend a lot of time at home, we often are outside the home interacting with people in day to day life.
The girls have friends they have playdates with, they enjoy the classroom feel they get weekly at co-op, they run up and make new friends at the playground with ease, and they get complimented on their manners quite often. So I guess the short answer is no, I am not concerned with socialization at this point in time.
I think that covers our personal journey (in minute detail, haha), but I'm writing another post about the nitty gritty details: educational philosophies, resources, inspiration, legalities, how to get started, etc, as I've had a lot of people ask about that.
I hope this has answered the question of why we homeschool. I'm always happy to share our perspective and our choices, but please know that as with everything in parenting and in life, these decisions are complex and personal and by no means do I think there is one right way to do things.
If you have any questions about homeschool, or our path specifically, please just ask below in the comments! 🙂