Finally. After feeling like we've been pondering and researching and planning forever, we're finally in it- homeschool. We're doing it. Yesterday was our first day of homeschool kindergarten and quite frankly, it was a little bit of an emotional roller coaster.
It began early for me, as I hit up the 5:00 AM Burn Bootcamp class. I came home, showered, and realized I had forgotten to draw on the chalkboards for the girls' first days of school pictures.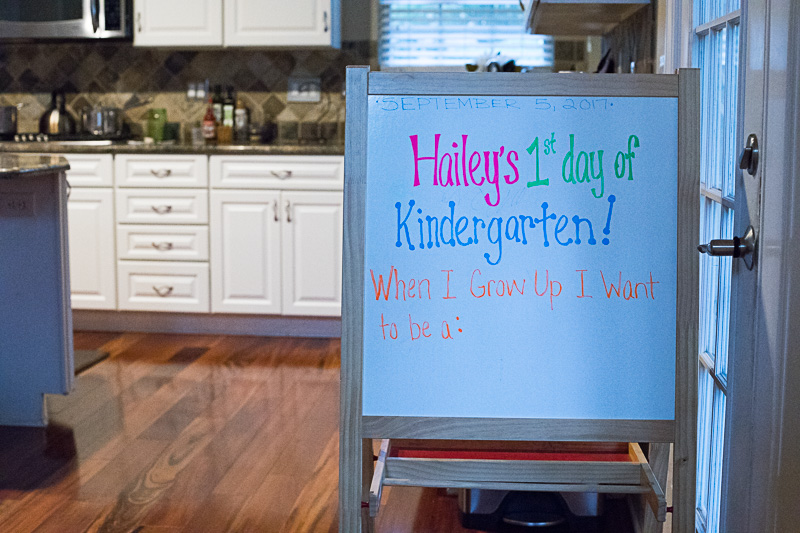 I spent 30 minutes decorating the two boards, which I probably shouldn't admit to since they hardly look like they took more than 5 minutes combined. I laughed to myself, an art teacher I am not! And that's when the worry started.
What am I doing? If I can't teach art, should I be teaching anything at all? What is Hailey going to say when we drop Kaitlyn off and then we head back home? Am I depriving her of all the excitement of the first day of school? Will she miss out? Is taking a first day of school picture silly? Do seasoned homeschoolers just slide into the new year? Am I doing it wrong already?
Doubt, you guys, so much doubt. And worry. And guilt.
I wasn't expecting it because I feel I've over-researched the heck out our choice, but there it was all the same. Am I going to fail my child?
I stirred the steel-cut oatmeal on the stove and decided the day called for coffee.
I heard the pitter-patter of three year old feet and looked up to see a grinning Kaitlyn wander into the kitchen holding her Mimi (bunny lovey) asking "I elp you mommom?" and whoosh, nostalgia. Wasn't it just yesterday that Hailey was the one stumbling into the kitchen with mispronounced words and broken sentences?
Savor it, I reminded myself like I do about 100 times everyday.
Not long after, my big girl wandered into the kitchen with a sleepy smile. "Today is kindergarten!" she said with a happy, but groggy voice.
All I could see was the wide-eyed baby from 5 years ago that TimeHop had kindly reminded me of that morning as I smiled and replied with an only slightly-forced upbeat it sure is sweetheart!
Please don't let me let her down.
The morning went on as usual. I promise brushing hair was a part of the routine despite what Kaitlyn's appearance might suggest.
Both girls buzzed with excitement as we took the mandatory first day photos.
Hailey's career answer (verbatim): When I grow up I want to be a scientist who studies food to make and serve at my restaurant called Sisters' Restaurant.
Dare I say it's quite the deviation from her answer at preschool graduation!
We loaded into the car and shortly thereafter, as predicted, Kaitlyn skipped happily into preschool. I turned the car around to head home and the butterflies began. I felt like such a rebel. All the kids are in school and here we are driving home. Am I breaking the law? This feels crazy!
We got home, filled our water bottles, and headed into our homeschool room. "Ok, here we go- kindergarten!" I said with forced enthusiasm through my nerves.
We started with math. I gathered the computer, the worksheet, my manual, and the manipulatives. As I took a deep breath I put on the 2-3 minute video segment of the man explaining how we count 0-9. It's math way below her level, but I wanted to start the year with confidence and Hailey obediently played along, answering the video man's rhetorical questions. She completed the worksheet in under 3 minutes.
The process felt dry. It felt rocky. It didn't feel fun. It took a whopping 10 minutes and I stared at the clock thinking what. the. heck. Do I do another lesson? How are we supposed to do for the next 2 hours? Can she tell I'm making this up as I go? I'm totally screwing this up.
Screw. This.
Then the words I've heard from so many veteran friends entered my mind: if it's not working, STOP. I decided to follow their advice. Hot chocolate. And marshmallows. It was a copout, I knew it, and I did not care.
Because guess what? It did the trick. Hailey lit up. I chilled out. I saw the morning for what it was: a gift to have this one on one time with my daughter; a gift to be the one to guide her, teach her, love her. I saw me for who I am: a mom who has been teaching my child since the day she was born. Why should I start to doubt myself now?
With a new perspective and a lightened mood, we eased into our Brave Writer program. Hailey read this week's book, Hop on Pop, in between sips of hot chocolate. We moved into a little copywork and slowly, things became fun.
I felt the two roles of mom and teacher collide in a beautiful way as I explained vowels, consonants, and capital letters for proper nouns. This is it; I'm doing it!, I thought giddily to myself, as we moved right along into the activity.
With vowels on pink post-its and consonants on yellow, we took turns enthusiastically spelling out words and taking things one step further, acting them out. Oh my goodness, giggles ensued and time flew!
One of Hailey's more daring spellings: OTRSPAS.
Can you guess what it is? Here's a hint, she's acting it out right in that picture. With giggles galore she plopped down into a ball position and proclaimed- I'm a planet!
Her word? Outer Space!
Don't worry, she correctly knocked out plenty of C-V-C words before getting more adventurous. Also, according to a new study, inventive spelling is the strongest causal link to literary skills. Hooray for phonics!
We must have played this "game" for 40 minutes before I brought it to a close. We collapsed on the Love Sac to transition into reading time.
As we opened the pages to Amelia Bedelia's First Apple Pie, Hailey snuggled up next to me and with happy exhaustion in her voice she said "mom, I love kindergarten." At that moment my heart exploded and my fears faded into a quiet confidence.
Am I doing this right? I'm not sure to be honest but what I do know: I will not fail my child.
We're bound to have plenty of ups and downs along the way as we figure this process out together, but I'm grateful, so grateful, to have this opportunity and be on this adventure. I have no doubt our days will continue to change as we figure out the rhythm that works best for us, but at the end of our "school" day (which was at about 11:15 am), Hailey begged for it not to stop. She asked when we'd get to do it again and her eyes lit up when I answered with TOMORROW!
To me, that's success.
We picked up Kaitlyn from preschool and spent 2 sunshiny hours at the playground with friends before the first day of school festivities culminated in celebratory ice cream.
Though the freedom still feels a little crazy and the unfounded fears of socialization float through the back of my mind, I am thrilled.
Thank you for allowing me to share this journey with you, not as an expert (obviously), but as a fellow mom with all the worries, insecurities, and small celebrations that go along with it.