This post has been a long time coming (and as a result, it's a doozie!) as I've been researching curriculum options and thoroughly questioning every homeschooling mom I come across for months now. I know I've overdone it a bit, as any homeschool veteran I've spoken to and every article I've read on the topic says that for kindergarten and first grade (anything before the age of 7 basically) things should be relaxed. In fact, I'm often told to simply read a ton of books, go out in the world to explore, and involve my kids in my day to day. That's it!
Though I'm not super type-A, I need more structure than that so after months of researching and discovering there is a plethora of fantastic options for homeschool curriculum, I made decisions, bought what I needed, and finally am on my way to being set up for our adventure into kindergarten homeschool in the fall.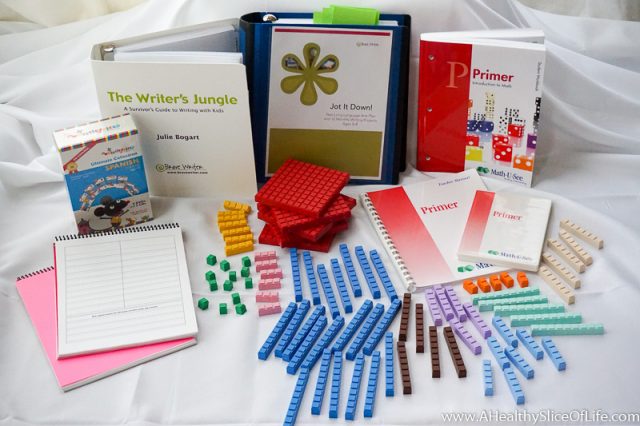 Before I dive into the nitty gritty, I want to share a few caveats:
I'm a total newbie at this! This lineup is what I picked based on what I feel will fit Hailey and I best based on my research. If any of these options are a total bust, I'll be sure to report back.
You can't do it all. No educational plan can. As tempting as it is to want a Chinese-immersion, STEM program, with ample outdoor time, and a deep focus on the arts, eventually you have to prioritize and pick a path. The 'ol, you can have it all, but not all at once applies here.
Our homeschool focus is not to raise the next Einstein. It's to raise enthusiastic, life-long learners and problem solvers that are well-adjusted, confident, and contributing to society.
I've received a lot of questions about why we are opting to homeschool. I wrote about it here, but in a nutshell: I'm excited to spend the extra time with my kids and continue to be the primary influence, have the ability to tailor their education to their learning styles, have more flexibility with our scheduling, and more. I totally respect and appreciate how many incredible education choices are out there and if you prefer a different path, that's awesome! Like parenting, I don't believe there is one right way to do things. This just feels like a great fit for our family at this time.
Alright, let's dive in.
First I wanted to establish what a good rhythm and routine would look like for us. Kaitlyn (3 years old) will be going to a morning preschool program 3 days a week (9:00 – 12:00). I also have a wonderful sitter who comes one day a week to watch the girls (a non-preschool morning). This gives me 4 mornings one-on-one with Hailey (5 years old).
From there, I picked the core of what we felt is most important for our kindergarten homeschool: math and language skills (reading, writing, spelling, grammar, etc). Then picked secondary subjects: science, geography, and foreign language. That helped me develop a basic outline or routine that our days would follow. It is going to look like this (at least at first):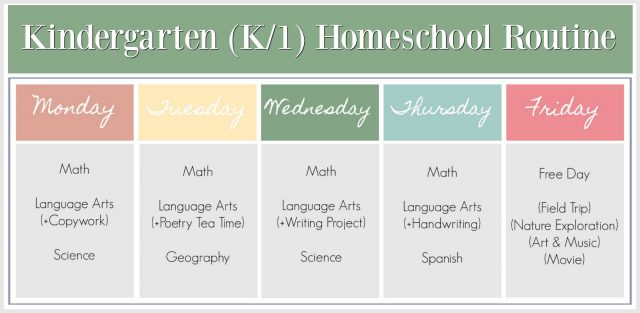 Since we are morning people, we will "do school" starting at about 9:15 am after talking Kaitlyn to preschool. I anticipate wrapping things up by 11:45 am as we go to pick Kaitlyn up.
As for the specifics, here's what we've chosen:
MATH
We've chosen the Math-U-See program. It's an incredibly popular program. It comes with a DVD with lessons, a student workbook, and a teacher handbook. I love that it utilizes manipulatives, as I feel Hailey will really benefit from the hands-on style.
I decided to start with the very first level, called Primer. Although I feel Hailey already has a grasp on most of this content (she does shapes well and can add and subtract small numbers), I want to start with strength and build her foundation and confidence.
Language Art
This arena took me the longest to tackle. I struggled to find a way to incorporate spelling, reading, handwriting, grammar, quality literature, and more into one digestible unit. I was piecing together programs like Handwriting Without Tears and Charlotte Mason's reading lists, and I was quickly becoming overwhelmed. That's when I came across Brave Writer.
Brave Writer is a program that focuses on building writers and encompasses all of what language arts is about in a timeline and style that is developmentally appropriate and progresses with the child. The more I read the site and reviews, the more I understood what people mean when they say it's more of a lifestyle than a program.
There are a lo of moving parts to this program and I won't claim to fully understand all of it. In fact, I think the layout of products is incredibly confusing. However, I read enough to feel that it's a good starting place for us, so I purchased The Writer's Jungle which is the cornerstone of the program and explains the philosophy and the how-to of the program.
I also purchased Jot It Down, which is designed as an intro to writing for 5-8 year olds, and The Wand which teaches the nitty gritty (phonics, spelling, word origin, grammar, punctuation, capitalization, and vocabulary) using quality children books (designed for grades k-1).
If it sounds a little overwhelming, I agree. But I'm also giddy about some of the writing projects and lifestyle aspects in brings (like the very popular Poetry Tea Time). Julie Bogart, the creator of the Brave Writer program, really encourages parents to take a small step at time and not worry about doing it all at once. I plan to heed this advice and will report back once we are immersed in it.
Science
Science is going to be relaxed and based on monthly units I've created that are tied to the seasons. For example, September is about apples and farms. A quick search on pinterest (hooray internet!) will yield plenty of apple science fun (like this apple browning experiment), and add in learning about animals and the working of a farm and we'll have plenty of science to keep us busy.
Geography
This will be pretty relaxed for kindergarten. We'll work on learning about our state, then the other 49. We'll play with globes and world maps. We'll cook up dishes from other countries, find where they are on the map, and learn a little about their culture. I plan for this area to be relaxed and a lot of fun.
Spanish
I wish I was fluent in Spanish. I certainly remember bits and pieces from high school (enough to impress a 5 year old), but am in no way able to teach it in any real way. This is a challenge I've looked into. There are online language programs for homeschool kids, Rosetta Stone even has a homeschool program, many suggest finding a mentor or sitter that speaks the language, etc. My goal for kindergarten is simply exposure so after a lot of searching and forum reading, I came across Whistlefritz.
It's a Spanish immersion (the entire show is in Spanish) program for kids that teaches the basics (seasons, home, animals, etc) to children in a fun and engaging way. I bought the Ultimate Collection in Spanish (they also have French) which contains 5 DVDs and 3 CDs. I don't have any intention of this teaching her to speak Spanish, but I believe the exposure will be good and she is really excited by it!
I intended to share some overall thoughts I have on the school year ahead including what I'm most excited about as well as our extra curricular thoughts (music, soccer, dance, etc). I also have a list of quality books for Hailey and I to read aloud together, but I am going to save all that for a future post.
I am so excited share this journey with you and will be open about our successes and struggles. If I've learned anything from my homeschooling friends, it's to relax, make it fun, and adjust as needed.
Fellow homeschooling moms, what curriculum are you using?
How did you choose it?
There are so many amazing options and I would love to hear others' thought processes!
If you have any questions about our homeschool curriculum, please ask away and I'll answer to the best of my ability!