I hope you are feeling good on this Monday. I am feeling happy. Not giddily excited, but also not as restless as I've been either. Maybe the word is content? I'm not trying to overthink it in fear that it will flutter away, but I'm enjoying the peace while it's here. I think the weekend helped with that feeling.
I started the weekend mentally on Thursday by thinking it was Friday, so a full Friday after a pretend Friday was quite the happy surprise. We called the productive part of the day around when the sun set (so what's that, 4:45?). Poured a glass of wine, ordered Indian delivery, cranked up some Christmas tunes, and put up our tree.
Long time friends will know we were dedicated real tree fans, searching to find the best 10-12′ LIVE trees we could. It was always a giant mess, but I really enjoyed the process for a long while.
However, last year we made the switch to artificial after a December (2020, go figure) that brought a real tree into our home with thousands of tiny black tick-like bugs, loads of sap, and needles that dropped everywhere. I thought I would miss the real tree, at least a little, but I don't. At all. We have this tree and love that it's pre-lit, is full after some light fluffing, it doesn't make David sneeze his head off, and most people that come in still think it's real. Plus, we can put it up at anytime and know the needles will make it to Christmas. Fa la la la LA baby.
The kids went to bed early (ish) around 8:15, which gave David and I a chance at an at home date night. We turned on Planes, Trains, and Automobiles (a David must watch), sipped our beverages, and discussed all things Christmas and even touched on 2023 dreams and plans a bit, too. In one word? COZY.
Saturday was beautiful. We worked out, put up the Christmas village, and met friends at King Canary, a local brewery, to celebrate Anthony turning 40. We set up the Georgia Tech game on the iPad, brought games for the kids (Math Dice are amazing because they travel easily and engages kids in math in a fun way), and ate snacks.
I brought mini caprese bites, which are great for any occasion, but especially Christmas time because of the red and green! It's half a grape tomato, fresh basil (my countertop gardens are still thriving), half a marinated mozzarella ball, and the other grape tomato half. I brought balsamic glaze for everyone to drizzle on themselves and put them on festive "cupcake toppers" that I got for $0.99 at Hobby Lobby.
Sunday I woke up at 4:15 for no real reason, so I got a head start on the day. Meal planning, grocery shopping, picture organizing, and gift shopping. Sunday filled itself up with basketball skills day for both girls, errands, and putting away Christmas boxes. Hailey joined me for an Amazon Live on my page where we made David's famous chili together. She's such a natural and enjoys doing "cooking shows" so much!
That's a lot of weekend chatter, so let's get to- meal plan! It feels so good to be back in the swing of things meal plan wise. It's COLD here this week, so I went all in on cozy meals.
This Week's Meal Plan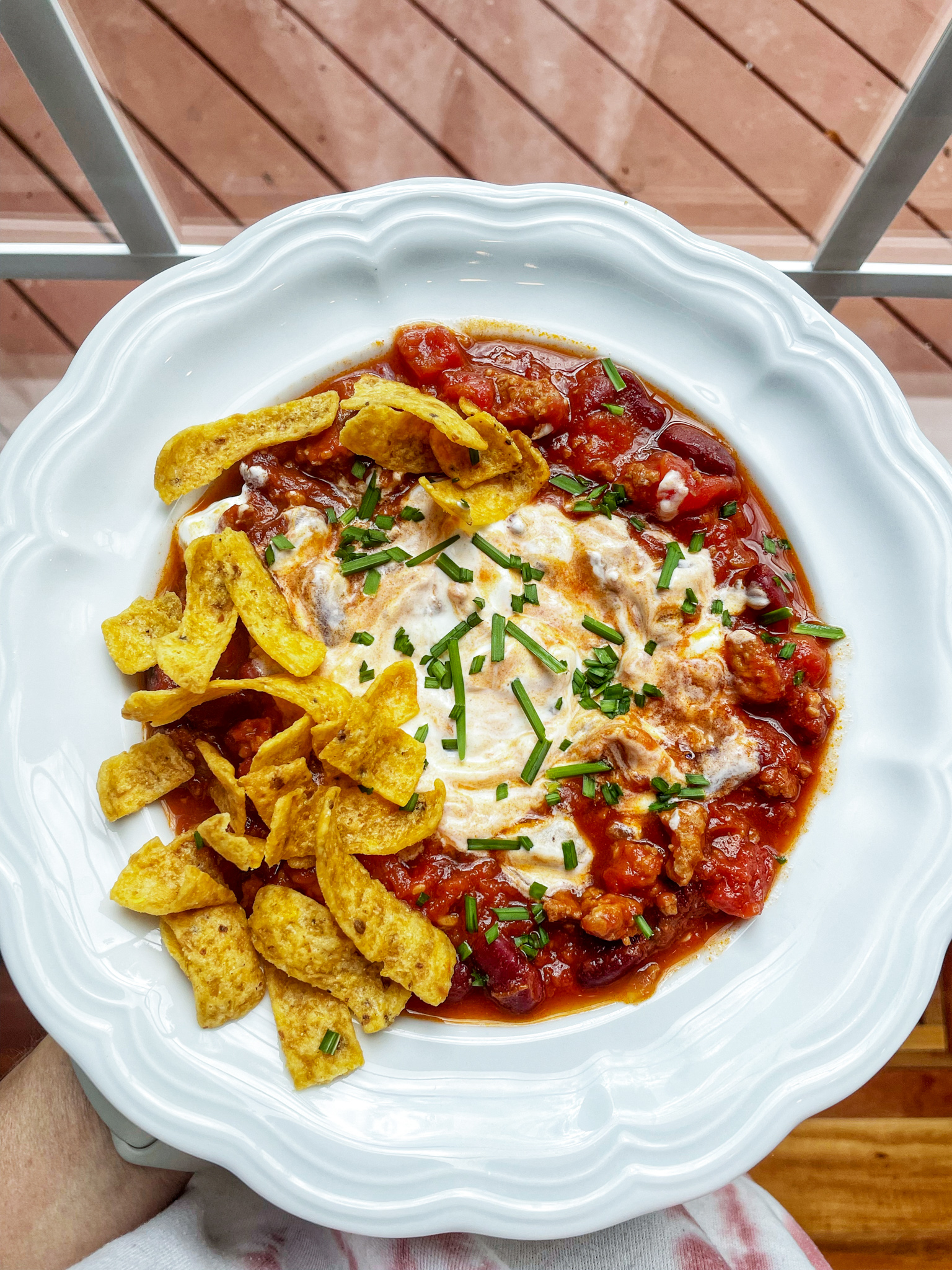 The farmer's almanac says we are in for a cold winter and right at the line where we might get a lot of snow. A lot for us, at least. By the time February hits, I'm always ready for a tropical vacation to thaw out, but for now, the idea of cold days and cozy nights makes me feel warm and happy inside. Bring on game nights and a crackling fireplace!
But first Monday. Time to get rolling, as this week is a doozie- I have a dermatologist appointment, a necessary visit to the DMV, basketball starts, and more. I hope you have a wonderful week, my friend! <3