Most of what Hailey has been eating lately is simple, whole foods. We are still loving baby-led weaning and she is eating a lot of food like broccoli and chicken. Peas and cheese. Avocado and black beans. That's what her meals look like at home, though I do have a few products I keep in the diaper bag for necessary snacks on the go.
Warning, the teething biscuits are wonderful for her little gums, but they get messy and create a paste all around her mouth. Just be prepared with a wet washcloth.
Food at home has been simple and easy, but I'm ready to introduce more creative combinations to allow her to try new tastes and textures.
So I dreamt up a combo of healthy foods and combined them into a Vegetable Quinoa Biscuit for Baby.
These do have eggs in them, but I've already given Hailey whole eggs and am comfortable that she doesn't have any allergies to them.
These also contain parsley, which is a baby super food!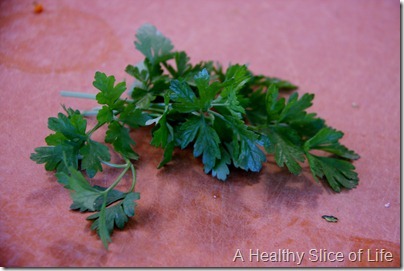 Though babies should only eat parsley that has been cooked until they are 9 months old.
So here's what I used:
-1 cup shredded organic zucchini
-2 cups quinoa (cooked)
-1 cup shredded organic carrots
-1 cup Cabot cheddar cheese
-1/4 cup parsley (from my back porch)
-3 eggs
I mixed all of it together.
Then did 1/4 cup sized piles on a tinfoil-lined pan.
It will be a while before my new ovens are in, so I popped them in the toaster oven at 350* for 20 minutes.
They looked pretty, but for the true test, I needed Hailey.
She immediately grabbed it and stuck it in her mouth. Then pulled it out and looked at it before putting it back in.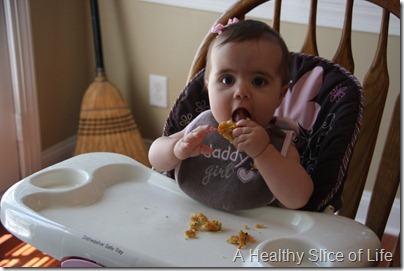 As she proceeded to chow down on the biscuit, it became quite crumbly. She must have liked the taste because she devoured it, but it crumbled all over. So much for a tidy treat!
I'll make these again, but I might try making smaller, bite-sized piles.
*Note: obviously these make a healthy snack for adults, too, but you may want to add more seasonings and ingredients to please an adult palate, as these are more simple to be appropriate for tiny tummies.
Enjoy!
& have a great Tuesday!