My brain is foggy and my eyes are dry and it's all worth it because GEORGIA IS THE NATIONAL CHAMPION! We've waited 41 years for this day and watching Kirby and crew get the job done last night was stressful and exhilarating and totally worth me not being able to fall asleep until 2:00 AM.
I say that now; we'll see how I feel this afternoon…
Anyway, I didn't want my joy-induced brain fog to keep me from sharing this garlicky turmeric rice recipe with you. I've made it once a week for the past few weeks and had requests on IG to share the details.
I make mine in my Tianji Rice Cooker. I've had this gadget for over a year now, and while I wouldn't label it a staple kitchen necessity, I do use it weekly. I chose this one because I appreciate the ceramic insert (versus nonstick that can flake off eventually into food) and it can make 12 cups of cooked rice (plenty for us). I don't follow the cooking directions it came with though, as I found it calls for too much liquid.
Back to the rice. I've been making this turmeric rice recipe because it's tasty and because it's golden hue that makes it so pretty is a result of the power spice, turmeric. Especially during germ season, I try to use more of this inflammation-fighting super star.
You can make it like I do, in a rice cooker, or you can easily make it stovetop. Instead of adding it all into the rice cooker after sautéing the onions and garlic, you'll just add all the remaining ingredients to your pot, bring to a boil, reduce to a simmer, and cook for as long as the rice you chose to use requires.
One last note- you'll need to adjust the salt added based on your preferences and whether or not you use broth or water. I use chicken bone broth (use AHS for 20% off) for an extra nutrient boost, and add 3/4 tsp of salt.
This rice can be dressed up with other warm flavors line cinnamon and cumin, topped with craisins and slivered almonds or fresh herbs, or served deliciously just as is. I can vouch that it works wonders as a base for these garlicky chicken thighs, these lemon and oregano chicken thighs, or baked lemon dill salmon.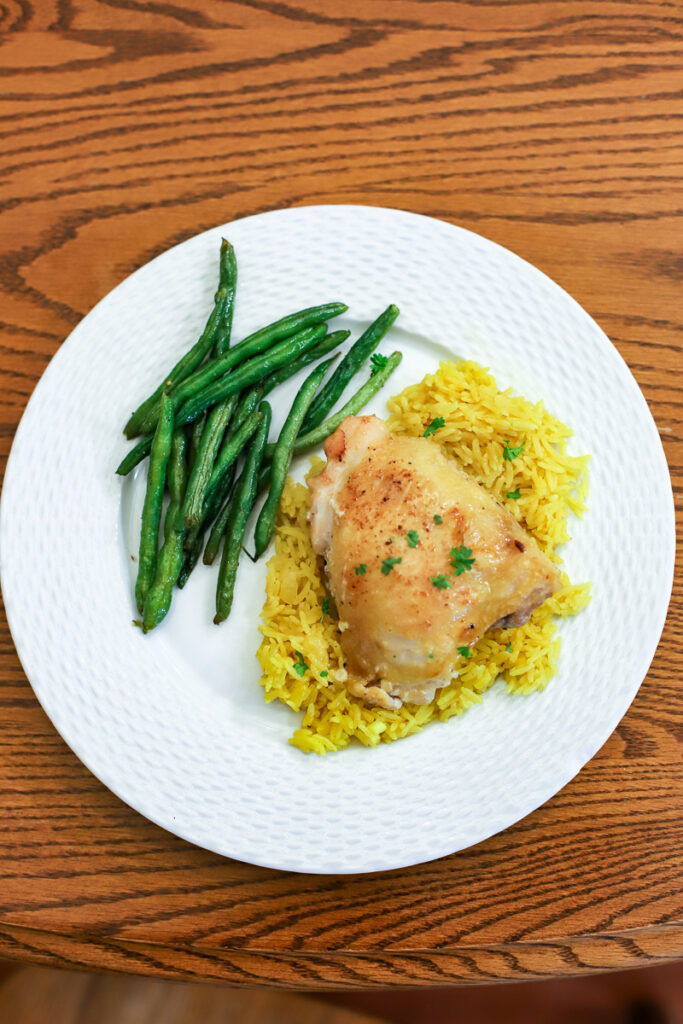 Hope you enjoy this savory side dish as much as we do!
Print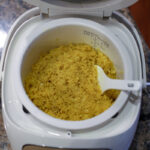 Turmeric Rice in the Rice Cooker (or not!)
---
Description
This savory basmati rice recipe makes a nutritious and delicious base for any meal, warming you up and nourishing your body at the same time!
---
1 Tbsp olive oil
1 small onion, diced
2 garlic cloves, minced
1 1/2 c basmati rice
1 tsp turmeric
3/4 tsp salt
2 c broth (I use chicken bone broth but vegetable will work well here, too)
1/4 c water
---
Instructions
In a skillet, heat 1 Tbsp of oil over medium heat. Add the onion and sauté for 3-5 minutes until soft and translucent. Add the garlic and sauté for another minute until fragrant.
While the onion cooks, rinse the rice once or twice to remove excess surface starch.
In the rice cooker, add the onion and garlic, rinsed rice, turmeric, salt, broth, and water. Give it a good stir.
Set the rice cooker to "rice" setting and hit go. Mine takes about 25 minutes to fully cook.
Once done, adjust salt seasoning as needed and enjoy!
---