Through trial and error I've learned what makes homeschooling multiple kids of differing ages go more smoothly. Here are my most practical and helpful tips!
I am in disbelief that another year of homeschool is upon us. An early August start date is ideal for us because by this stage in summer the heat and humidity are intense and we are starting to tire of the pool. Starting strong now means that we can loosen things up in time for an enchanting and cozy December.
This year is a new milestone for us, as Kaitlyn is entering kindergarten. Last year we did preschool with her and it was a lot of fun, but I think she is looking forward to feeling more "official" and this new title of "kindergartner" is sure to do it. She turned five in May and Hailey will be eight next month (and entering second grade).
Now that we have over a year of being home together under our belts, I've learned (through countless trial and error) some tips for homeschooling multiple ages. Sure, I only have two children to juggle while other families have many more children to manage, but I might argue that two is a unique challenge because while working with a child one on one, there are no other siblings around to help entertain or distract the other.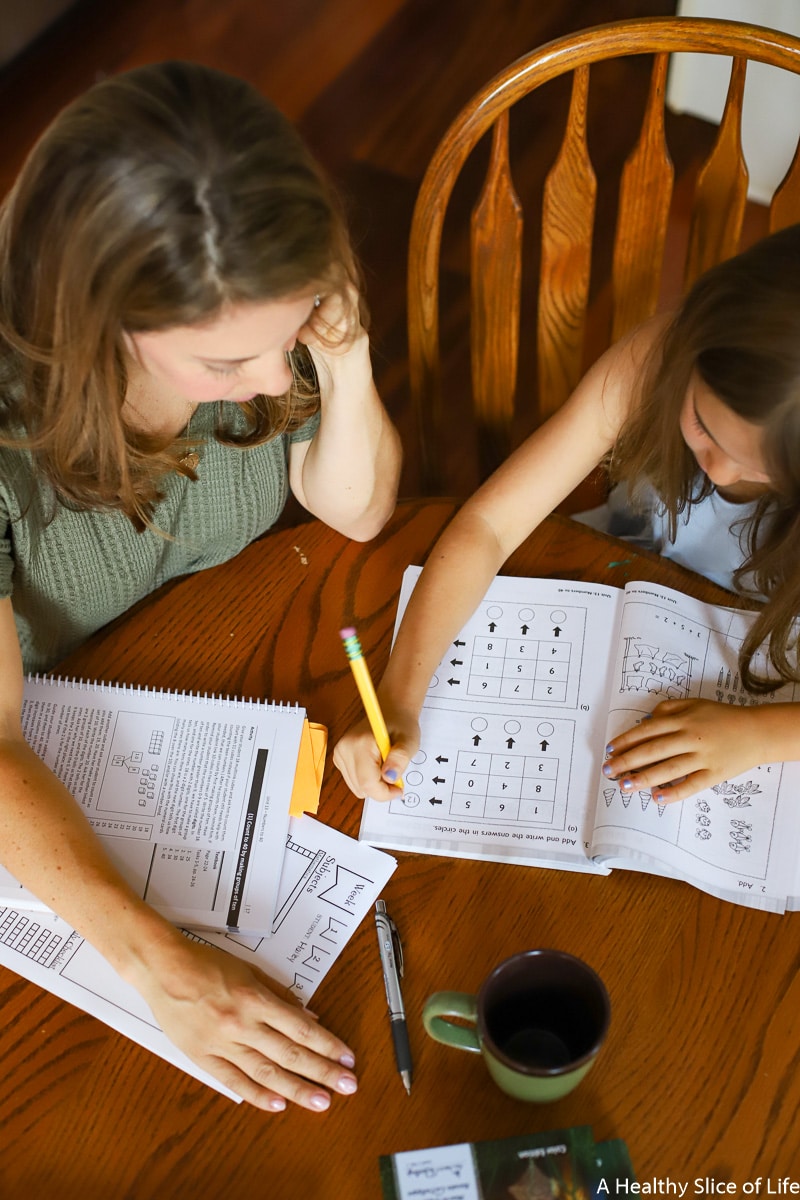 Like many things in parenting, the age of the child makes a huge difference. What works for seven and four year old might not fly for a toddler… but some of it might. However, if you have a baby, here are some ideas that sound like they'd work pretty well!
Now let's get to it. These are my tips for homeschooling multiple ages that have worked in my personal experience.
Tips for Homeschooling Multiple Ages
Start together with morning time.
This looks different for every family I know that does it. For some, it's bible reading. For others, it's coffee and books. For us, it's meeting in our homeschool space after we get dressed, lighting the candle (my favorite ritual because candles are the ultimate hygge for me), then practicing our memorization of the day. This year I plan for it to be mostly poetry, but if you are looking for memorization ideas, here's a great list of 100 things for kids to memorize. It doesn't take long, but it's a nice way to ease into our day together.
Map out a daily routine (not a schedule).
We don't have a hard "start time" because when I tried that, I felt flustered and like I was starting the day off on the wrong foot if breakfast lasted longer than anticipated or if the kids took too long brushing their teeth. And after all, isn't a looser schedule one of the benefits to homeschooling? Instead, we use a general plan or routine for our days. This way we all know what to expect but don't feel tied to a strict time line.
Use time blocks.
We've experimenting with this in the past, and plan to make it more of our everyday routine this year. We have an hour "math block." I rotate my two kids through their lessons in 20 minute time slots, so Hailey has two mini blocks per hour and Kaitlyn has one mini block. You can also use 4 (15 minute) blocks if you want to keep it even. If someone isn't grasping the concept in 20 minutes, I make a note to revisit it later in the afternoon. Frustration usually sets in at the 15 minute mark anyway, so it's actually a good time to take a break whether you've gotten through everything you intended to or not. After one block, we take an active break, then return for a similar language arts block.
The great thing about blocks is while it provides a short but purposeful one on one time with each child, it also means the other child is only "on her own" for a manageable block of time, too.
Assign solo activities.
While I work with one child, the other child can either have free time or an assigned solo activity, depending on the day, what needs to be done, or their attitude. Hailey can read fluently so I am able to assign her worksheets during this time, or handwriting, or a craft (make an owl out of this clay). Kaitlyn is younger and needs more assistance so her solo assignments range from build a castle using all the Magnatiles, to assigning her to listen to two chapter of an audio book, to worksheets of practicing letters or writing her name.
Use a multi-age curriculum whenever possible.
Multi-age curriculum is the best. We are able to all work together on science, geography/social studies, history, crafts, nature, some writing projects, read alouds, and life skills like cooking. Last year we used Around the World in Picture Books from Beautiful Feet. The girls absolutely loved it and we plan to continue exploring the globe with it this year as well. We are starting with India!
Game-schooling is also a fun thing to be able to do together across multiple ages. A couple of our favorites are Sum Swamp and Money Bags.
Get organized.
Every year we homeschool I find that I get to know my kids more. I also find I get to know myself more, too. Because of that, we make shifts each year (and sometimes midyear) to accommodate our needs. For example, I know that Hailey likes to know the plan for the day. She wants to know what to expect and I can't blame her because I'm the same way. To satisfy this, I write out their lesson plans a week at a time and give them to them on Monday mornings. Since I already make a rough plan for myself, it's easy to tweak a customized plan for her and Kaitlyn.
Find the balance that works for you.
I mentioned each year I know myself better, too, and knowing that I needed a little more time to work, I signed the girls up for both offered days of co-op this year. I'll be honest, I struggled with this decision a lot, but am now very excited for the balance it will bring to our weeks. I'll have three days of school at home and the other two days they'll be learning at co-op while I have two structured blocks of time to work.
Simple, quickfire tips for homeschooling multiple ages
Work with the youngest first to start the day while the older one does independent work.
Make some activities and toys "school time" only, and off-limits during non-school hours.
Plan a new activity every 15-20 minutes to keep everyone feeling fresh.
And last, but certainly not least: Adjust as needed.
We don't need to wait until a new school year to change our plan. That's the beauty of homeschooling. If a child decides to drop a nap, or if you find a child needs a little more help in a certain area, adjust! The plan we start each school year out with is very rarely the same routine we finish the year with. I've become a big fan of seasonal homeschooling, as I find it beautifully aligns with our home life.
You May Also Like:
Why We Homeschool and How Long We Plan to Do It