I've already shared why we choose to homeschool and how long we plan to do it, which answered many of the questions I get asked most often. However, I also get inquires about the nuts and bolts side of homeschooling.
I get a lot of questions about how to get started with homeschooling– Is the required documentation? What kind of records do homeschool parents have to keep? Where does one begin to search for curriculum? Are there standards that must be met? Those are all wonderful questions and just what I hope to cover in this post.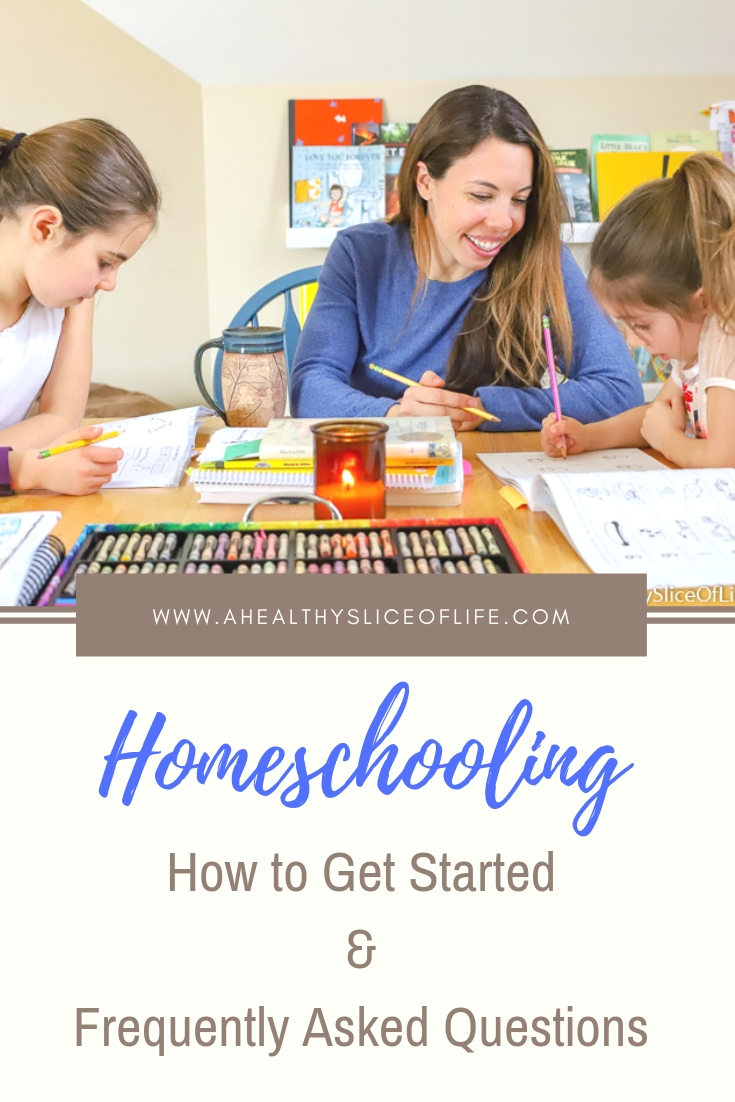 Let's start first with the serious stuff- the legal side of things!
Homeschool Legalities
Homeschooling is legal in all 50 US states, but each state has its own history to tell. North Carolina's homeschool history can be found here but in short, my state's definition of a homeschool is "a nonpublic school consisting of the children in not more than two families or households, where the parents or legal guardians or members of either household determine the scope and sequence of academic instruction, provide academic instruction, and determine additional sources of academic instruction."
States not only have different histories, but they also can differ greatly on their legal requirements. You can see an overview of which states require the most oversight/assessment here and find a complete list of laws by state here.
How to Get Started Homeschooling
Learn your state's legal requirements.
Find nearby homeschool communities. Whether it's a co-op or a facebook group or a library crew, find at least one other homeschooling family for support. Once I found one or two friends, I felt like this whole secret world full of homeschoolers was revealed to me. You just have to find a thread to start pulling on.
Research different educational philosophies (see list below) to see what resonates most with you. You don't have to pick one and stick to it forever, but it's nice to have a general mental picture of what your educational philosophy/goals looks like.
Research the curriculum that fits with your style and your child's learning style. Check out CathyDuffyReviews, attend conferences, talk with other homeschooling moms, go to meet-ups and play dates, and visit homeschool consignments stores where you can flip through the materials.
Educational Philosophies
FAQ About Homeschooling
I receive a lot of questions about homeschooling and here are some of the most common. Obviously I am not able to speak for all homeschoolers, so I am answering these to the best of my ability from my personal perspective. If you homeschool and would like to chime in with your perspective, I'd love for you to add it in the comments so people searching for answers can get multiple perspectives.
How do I start to look for curriculum?
Once you have an idea of the educational philosophy that best fits your goals, you can start there. You will most likely find so much it feels overwhelming (I did!), but remember you can always switch things up down the line if it isn't working for you, so don't worry about picking the perfect curriculum from the start.
My best advice is to start small and then slowly add things in. Needs will obviously differ according to the age/level of your child, but if starting early (kindergarten/1st grade), start with the core subjects: math and language arts. Find curriculum you love for those, then slowly explore how you like to incorporate science, geography, history, etc. Don't try to do too much at once or everyone will end up overwhelmed.
You can buy boxed sets that have every subject for a grade in one set or piece together your own curriculum. I highly recommend finding a homeschool consignment shop, a homeschool conference, or a few homeschooling friends so you can look through materials with your own eyes and hands. Also, many curriculum will offer sample downloads of lessons so you can read through it and try it out before you commit.
For virtual curriculum help, I recommend checking out Cathy Duffy Reviews.
Are conferences worth attending?
We attended two before we started and found them very overwhelming and I'm not sure I got a lot out of them. However, now that we are two years in, I would LOVE to go to one to listen to the speakers, peruse the booths to see what I might want to add to our set up (there are new resources being created every day), and chat with other homeschooling families.
Do you have to have teaching experience?
You do not. A homeschool quote I heard, found to be true, and embraced fully, sums it up quite well: "A teaching degree is to homeschooling as a culinary degree is to grandma's cooking. It just can't touch the love, care and personal standard that only she can stir in."
Is it expensive to homeschool?
It can be, but it doesn't have to be. There are a plethora of free and online resources and I truly believe you could homeschool with nothing more than an active library card. It really depends on what fits for your family.
Do you worry about the non-academic, life-lessons my kids are missing?
Not at all. I don't believe the word socialization means spending the weekdays surrounded by 15-35 kids their own age. And if that is what it means, then I'm ok on them missing out on it. I love that my children can spend their daily lives with adults, babies, and everyone in between and feel they are very healthy, kind, well-adjusted children at this point in time.
Are there end of year test requirements?
In North Carolina, yes, we take an end-of-year assessment test. Some states require more than that and others require little to no oversight. See the list above for state by state regulations.
How far in advance do you choose and order curriculum?
When I first got started I chose and ordered curriculum months in advance to give myself time to read through it and feel comfortable. Now that I'm more in the groove with our days and needs, I sometimes order what we need the week before we need it. It's whatever works well for you!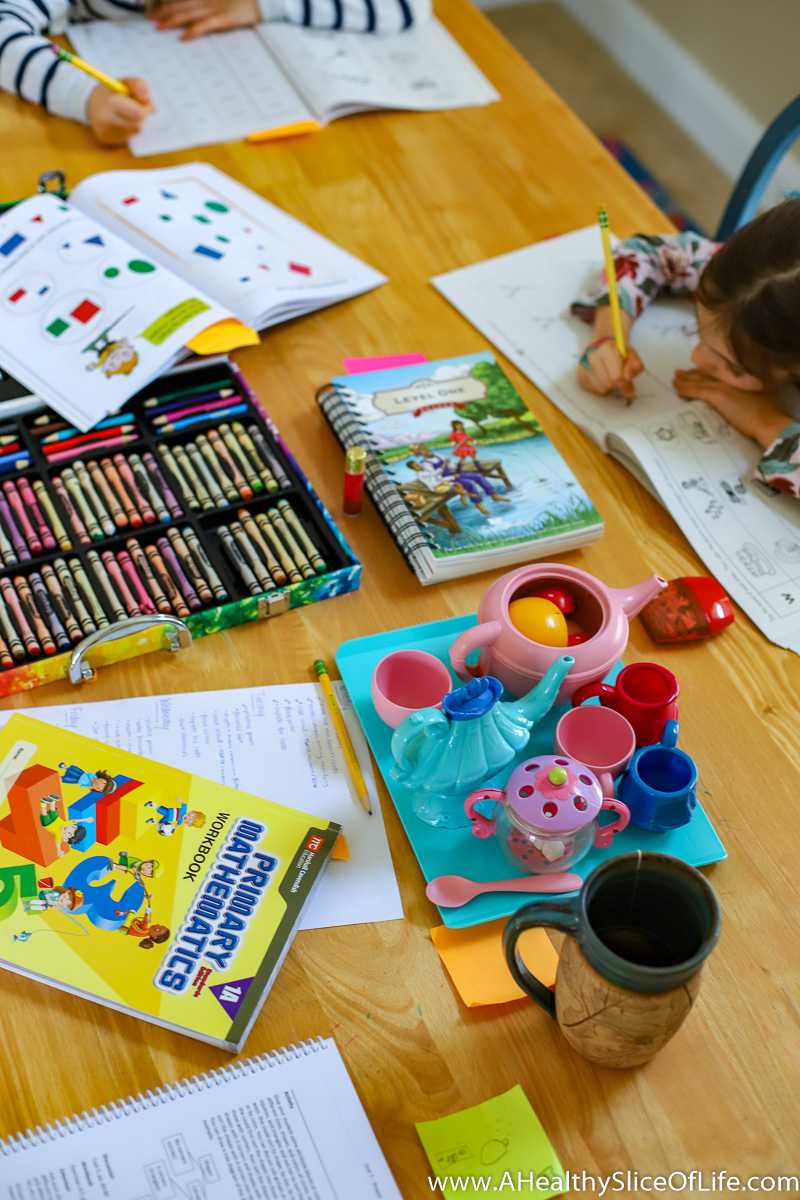 How much of the day is spent on academics versus free time/routines?
To reiterate, I can only speak for our homeschool. We spend a solid three hours a day focused on academics. To some people this may not sound like much and to others, it sounds pretty intense for a first grader and pre-K age child. We generally begin by 9AM and finish up around 12/12:30PM when it's time for lunch. The time after that is for free play and activities (dance, swim, etc). We also add in reading and math throughout the afternoon and evening, so we could add that to our total time schooling as well. I'm sure this will change depending on grade level, but it's working for us right now!
Do you ever have problems with the girls not wanting to do their work or seeming to resent you?
I have never felt resentment, though we've had our share of days that things just don't seem to click. When I first started homeschooling, I'd push through the day at all costs to be able to check off my list of assignments. Now that I'm *slightly* more seasoned, that makes me laugh.
Of course there are times Hailey has to learn to buckle down and focus even if she isn't feeling it, but I know my children so well now that if it's really a rough day overall and the schedule just isn't working, we take a breather. Either I'll find a more fun and engaging way to teach the concept, or we'll just call it and spend the morning reading, playing games, and doing puzzles. That kind of flexibility is definitely a perk.
What is great Pre-K curriculum to start with?
There are endless options out there, but I recommend starting by looking at these 5 solid curriculum choices for pre-k and kindergarten.
Is it difficult to juggle different ages?
Check out these practical tips for homeschooling multiple ages at once.
At first this was really overwhelming to me, but it hasn't been as much as an issue as I anticipated. There are several subjects we can all do together (science, geography, etc) with each child taking away from it what is developmentally appropriate for them. When I need to spend more time focused on my first-grader for math, or language arts, I have a basket of puzzles, Magnatiles (which I HIGHLY recommend having), dolls, and other activities that she goes to play with solo.
It's a win/win- focused attention for my older daughter and autonomous playtime for my younger.
Are there options if both parents work full time?
I'm a believer that there are always options if something is important enough to you. This article does a nice job mapping out some basic considerations and methods to homeschooling while working full time.
Do you feel like you get enough time to yourself?
Yes and no.
No because I'm not sure if anyone in this stage of life feels like that have enough time to themselves. I have a lot of friends, the majority of which do not homeschool, and most of them feel as though there is never enough time in general, much less enough time for themselves. I certainly don't feel as though I have extra time, but one of the gifts of homeschooling is that it allows me to have more hours in play to decide how we will spend them.
For example, you can see how I map out my days in this post.
I say yes, though, because I do not feel the need to be a cruise director. I run the school day, but after lunch the girls run off and play on their own with allows me time to work and them time to just be kids. It works because I only have two kids and they are 4 and 7, which allows for more autonomy. I can't answer this question for how it may look for someone with more children and children still in the more physically dependent nap/diaper stage.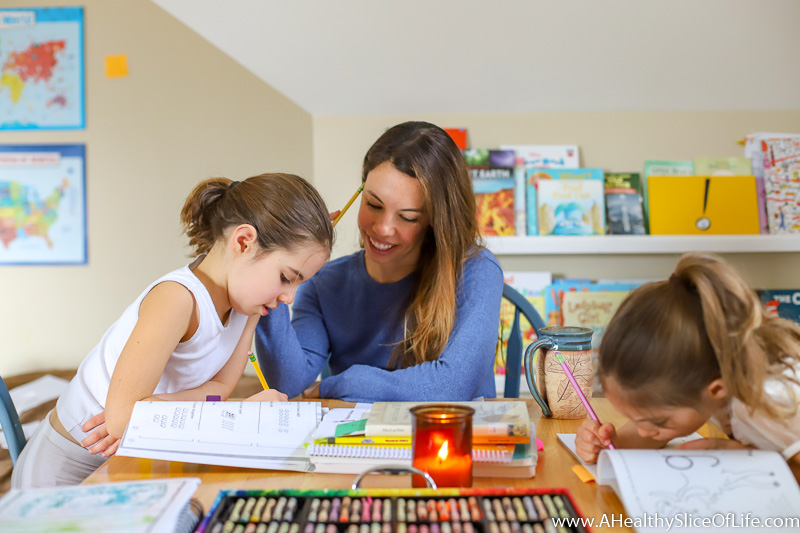 I hope this post has been helpful!
If you have any questions you are seeking answers to that I missed, please leave them in the comments and I'll be sure to answer them.
If you are a homeschooling family and have your thoughts and opinions to add to any of the frequently asked questions, please chime in!