One benefit to homeschooling I've found is the day in and day out exposure to seeing how my child's brain works. I understand the science behind it, but having two daughters with drastically different personalities and learning styles still blows my mind.
Hailey, 8, is a creative thinker through and through. Her EQ is crazy high and her ability to create stories is incredible. I love finding books she has crafted lying around the house. Kaitlyn, 5, seems to have a more engineer-minded brain like David. She's analytical and her ability to pick up quickly on concepts and problem solve boggles my mind.
Both my children are like many sibling sets- different as night and day, each with their own strengths and challenges. While both of them are consistently at or above grade level on their end-of-year testing (which eases my inevitable self-doubt every year), our main educational goal in homeschooling them is to encourage them to be life-long learners. I believe that part of growing that motivation within them is recognizing how they learn, then funneling facts and concepts through that avenue so they feel empowered by their ability to learn.
We've all heard of visual learners, auditory learners, and hands-on learners. Realizing how your child learns best makes such a difference in their confidence level when taking on new concepts. I've learned this first hand as we've tried multiple math curriculum trying to find the right fit.
According to Dianne Craft, 80% of children that take longer to grasp math concepts are right brain dominant. As a right-brainer myself, I totally get this. Our thinking process is just different from left-brainers. However, a majority of math curriculum is geared toward a left-brain style of learning. Worksheets, memorization, timed tests, etc are all better suited for left-brain students.
It's important to note that this is not a weakness. Right-brain students have a plethora of their own strengths- creativity, intuition, and innovation among them. However, for this conversation's purpose, I am focusing on math, specifically the best homeschool curriculum for struggling students, many of which are simply more right-brained than left.
In my experience with my right-brain learner, mastery-focused curriculum works best since typically she learns best in chunks and not in a linear fashion. Because of this, I've focused our math curriculum on mastery style programs.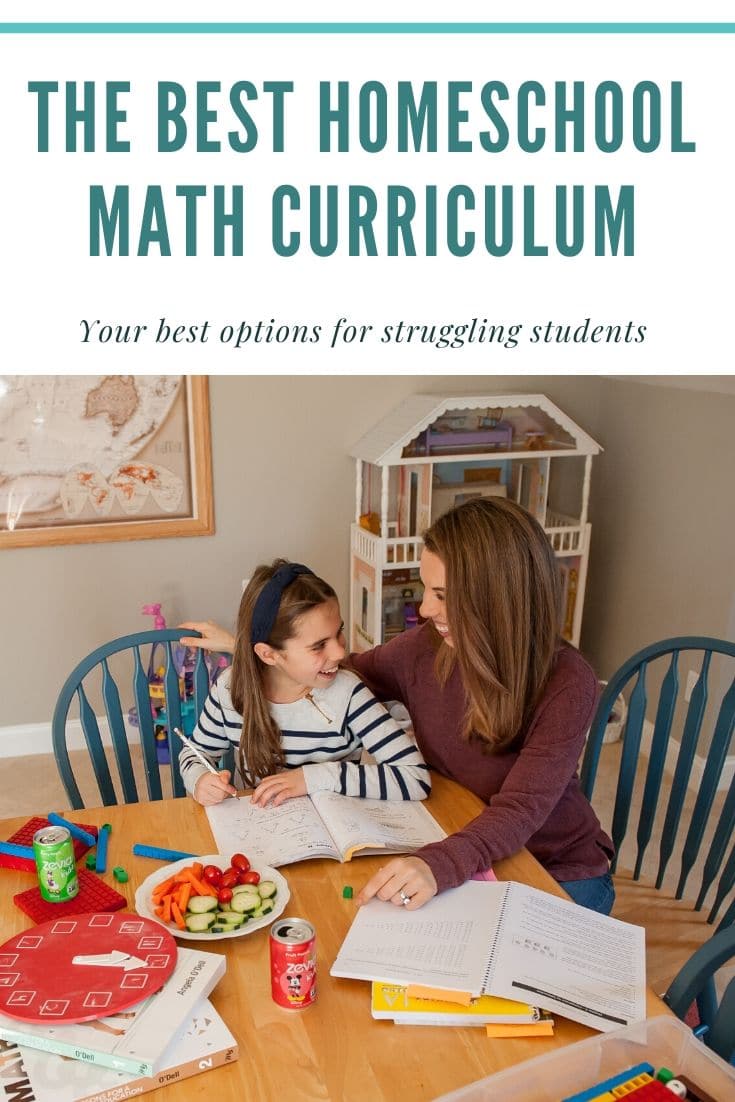 The Best Homeschool Math Curriculum for Struggling Students
A Breakdown of the Most Popular Mastery Math Programs
Singapore Math
This is my personal favorite because it teaches children to think mathematically rather than having them memorize the mechanics of problem solving. It uses a three step process which guides children first through a concrete approach to learning a concept, then through a pictoral method, and finally into abstract learning. It is generally regarded as an advanced curriculum, but we take our time with it and move at a pace that works for us.
Bob Jones Math
Bob Jones math (BJU Math) is a good blend of mastery and spiral methods. It covers a complete topic in a single chapter (mastery) but then returns to the same concept in a deeper level in a later chapter (spiral). In my opinion is takes a traditional, textbook approach to teaching math, which can make it feel a little more dry than Singapore, but still, it's a solid curriculum to consider.
Math Mammoth
Math Mammoth generally gets rave reviews for it's mastery approach to teaching math. It is often compared to Singapore for their similar style, but is not regarded as rigorous as Singapore, as it moves at a slightly slower pace in regards to when it introduces concepts (for example, Mammoth math introduces fractions at the end of third grade versus 1B and 2B in Singapore). Math Mammoth also includes links to sites on the internet for additional practice via math games, activities, and worksheets if having additional practice via a digital route is something that interests you.
Math-U-See
This is a popular choice for many homeschoolers because of its hands-on, manipulative based program. It is a mastery math curriculum but also incorporates systematic review for previously covered concepts. Math-U-See comes with DVD instructions for each lesson that are necessary for each lesson. In the younger grades, it's encouraged for parents to watch the DVD lesson then present it to their children themselves, though in my experience I see most parents have their children watch the DVD lesson, which seems to work just fine. Some people love this, as the lessons are well-executed and engaging, but others see it as a negative as they don't want to be required to use video.
Math Lessons for a Living Education
This is a blended approach of mastery and spiral learning, but I had to include it because of the nature of how they present math through storytelling. It's been a wonderful and gentle way to keep math going when things get frustrating for us or while we are homeschooling in rhythm with the seasons, as it is a simple open-and-go system.
An added tip I learned from Julie Bogart, of the Bravewriter program and on of my favorite books, The Brave Learner, it also helps us to relax a little when taking on the subjects that aren't considered favorites. I like to move our bodies around a little bit first, either with an outdoor walk or a Youtube Cosmic Kids yoga class, then make a tasty snack (here are a few of my kids' favorite plant-based snacks), light a candle and settle it with a fresh mind.
I hope this peek into the best homeschool math curriculum for struggling students was helpful, whether you homeschool or not; happy learning!