Ever since listening to The Rise Podcast's episode on the importance of date nights, we've tried to do better about making them happen. While once a week would be ideal, we are feeling pretty pleased with 2-3 times a month right now. We discovered that while we both love a good meal out, we have more fun when we have an activity to do together. Last date night we went to Frankie's and played laser tag. This time, we signed up for a cooking class at Sur La Table!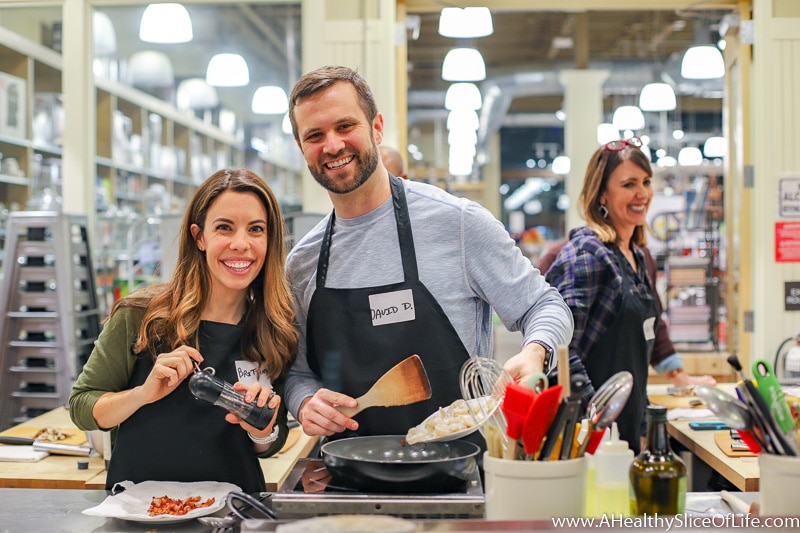 A cooking class is something we've wanted to do again for a while. We took a class with Chef Alyssa six years ago (my, how my photography has improved…) and loved it. Since then I've had my eye on Sur La Table. Sur La Table offers cooking classes that range from cupcake decorating and essential knife skills to Italian pasta from scratch and Thai food.
Originally I had planned on making it a Valentine's Day themed date, but their classes book up quickly, so it got pushed back for us until March. We didn't mind, especially because we ended up choosing a menu we both were really excited about. The class was called Celebrating the French Quarter and the menu consisted of:
Chicken and Andouille Sausage Gumbo
Classic Shrimp and Grits
Bay Leaf Perfect Steamed Rice
Old School Bananas Foster.
Our Sur La Table is right next to Whole Foods so before our class we ran in to snag a bottle of wine.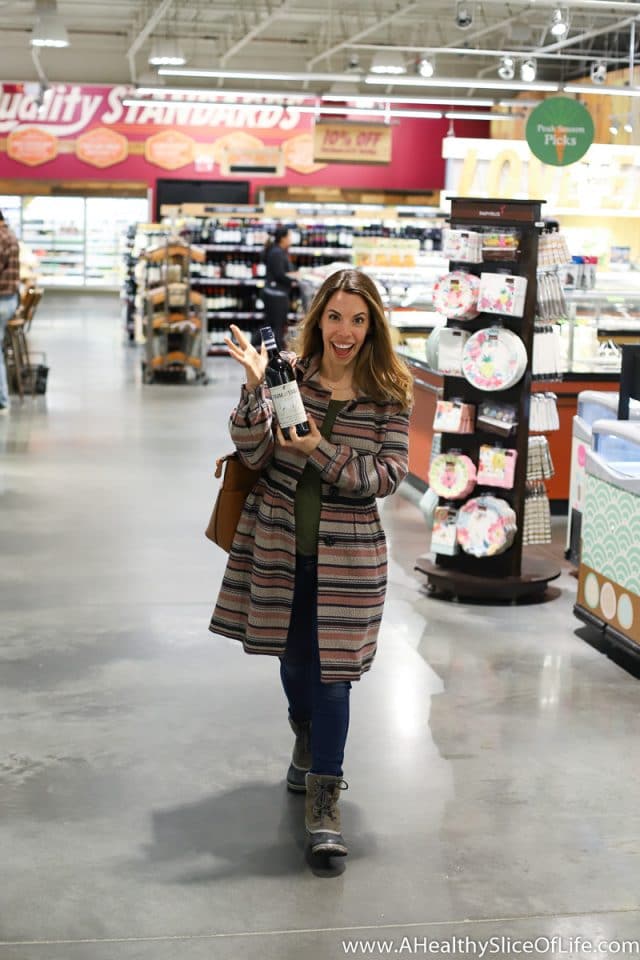 We were not the only ones with this idea. As we arrived and chose our work stations, participants pulled bottles of wine out of their bags left and right. Sur La Table offered a tray of crackers and cheese upon arrival, as well as water, wine glasses, and a Nespresso machine for our enjoyment.
We wasted no time securing a cooking station, introducing ourselves to our table mates (it was their first date night away from their new baby!), pouring ourselves a glass of wine, and tying on our aprons.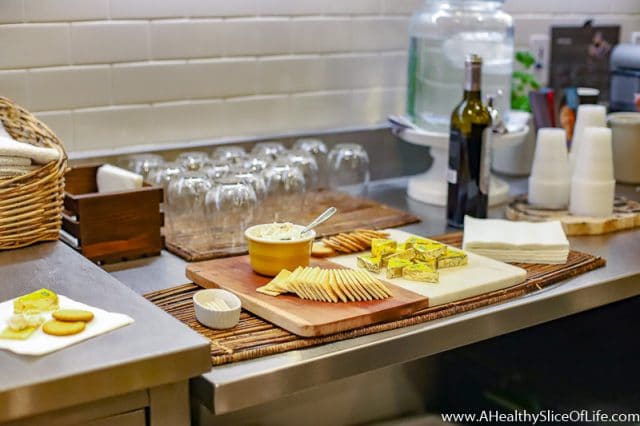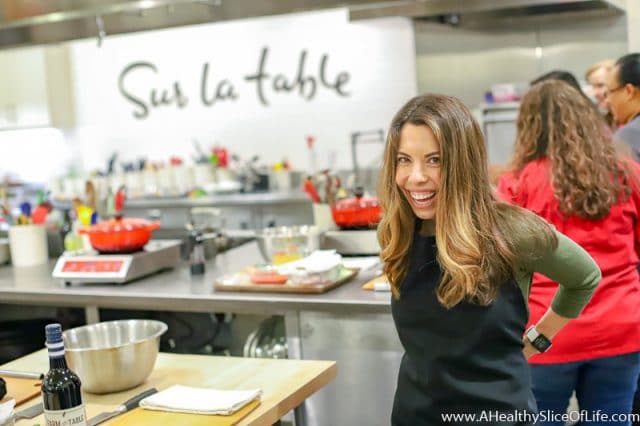 There was a main instructor, but probably 2-3 other helpers on staff that made the experience really easy and enjoyable. The first 20 minutes were spent socializing, pouring drinks, snacking on cheese, and checking out the ingredients. Then we got down to business.
We worked in teams of four. There was a task for everyone, but nothing too overwhelming, so the flow was easy and enjoyable. The instructor walked us through each step and offered tips along the way. For example, when reading a recipe, chopped means large, bulky pieces, diced means small to medium sized pieces, and minced means the tiniest pieces.
Each station had an induction cook top which was a new experience for me. It was amazing how quickly it cooked the food and before long the aroma of sizzling bacon and onion filled the room.
It was such a fun-filled environment. Our table mates were wonderful and it was a nice change of pace to have another couple to chat it up with. It could definitely be as interactive or as private as you want the experience to be, but for us, we enjoyed the jovial group dynamic and bubbly atmosphere.
The cooking took maybe 60-90 minutes, then they offer for you to walk around the store while they plate the meals and clean the dishes. (Cooking with no clean up?! It's my dream.)
It only took 15 minutes or so for them to set up the food. We came back in to dine at our stations and inhaled the delicious meal we had made.
The food was SO scrumptious, but I wouldn't have minded a slightly larger portion. I devoured all of mine and still ate a slice of pizza when I got back home.
But back to the class-
after the main course, it was dessert time. David volunteered to flambe for us, and though he nearly singed off his eyebrows, he thoroughly enjoyed playing with fire. And the bananas foster turned out to be delectable. Of course, I imagine it is hard to really mess up vanilla ice cream, bananas, sugar, and cinnamon.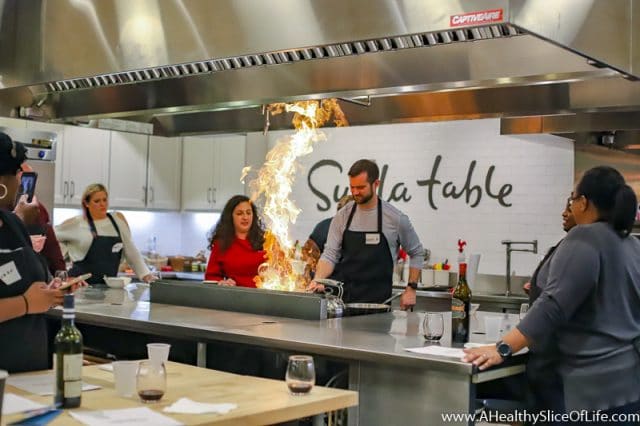 All in all, the night lasted about 2 1/2 hours and we thoroughly enjoyed ourselves. I'd love to do it again with friends and other couples. it would make a great birthday outing!
While in store we noticed the Nespresso machines were on super sale (they still are, FYI!). With the sale and our extra 10% off coupon we ended up buying this Nespresso machine to replace our Keurig. If you've ever tried the Nespresso machine, I don't need to tell you just how incredible the coffee and espresso is. It's next level and we are psyched to have one now.
We also left with a new garlic peeler, which was a tool we used during the class and deemed worthy, especially for as much as I use fresh garlic!
This was one of our favorite date nights we've ever done, so if you've been eyeing it, too, I highly recommend it. My biggest takeaways and tips from our experience are:
sign up well in advanced, as they book up quickly
bring your own beverage of choice (they supply corkscrews and wine glasses)
take advantage of the cheese and cracker plate, as the portions of meals are adequate, but not large
wear comfortable clothes and shoes, as you will be on your feet the whole time
Have you gone on a date night that you absolutely loved?
Please tell me about it in the comments!
We are always looking for new, fun things to try!