Last night was such a treat! Not only did David and I get to head into Charlotte for a date night, we got to experience something new together that I've been wanting to do for a long time- a cooking class at Chef Alyssa'a Kitchen!
Chef Alyssa Gorelick is an incredible chef. She has cooked all over, including in Italy, at the James Beard House in NYC and was appointed Executive Chef at Fern, a favorite restaurant of mine in the Plaza Midwood part of town in 2011. She made Fern's menu what it is today- locally-sourced, healthy, fresh. Now she has transitioned into offering top-notch cooking classes in the South End of Charlotte at the Atherton Mill Market.
Since any night away from home is a special occasion, David and I grabbed dinner first at a spot I've been dying to try- Luna's Living Kitchen.
Their cuisine is organic and plant-based, making for some unique selections. We started with the hummus trio.
It quickly inspired me to attempt a curry hummus at home because I could not get enough! The chipotle hummus was a close second, followed by the lemon parsley.
David knew I was in my element and told me to go wild and pick whatever I wanted.
I chose the raw lunasagna for us to share.
Layers of tender, crisp zucchini noodles, sun‐dried tomato sauce and mushrooms. This dish gets rave
reviews for its velvety, vegan cashew‐basil cheese made in house.
Served with a local green salad.
(From the menu)
I gobbled it up and David agreed it was pretty good, for what it was. Oh, men.
Then we were off to the main event!
Chef Alyssa's classes are held right in side the Atherton Mill Market. Atherton Mill Market features a lively mix of retailers and a high-quality farmers market that has foods sourced from within 50 miles.
The ingredients Chef Alyssa uses in her classes are largely from the market and other local resources. I loved this aspect!
Appetizers were out and ready for tasting when we arrived.
These Brussels sprouts were amazing! After cooking the bacon, she used the bacon fat to cook the sprouts, then topped them off with grape tomatoes she blistered in a garlic olive oil. They were divine!
I scored us a table front and center. Everything you needed was supplied.
After a quick intro from Andrew, the personable and dynamic event planner extraordinaire, we got started.
The format was simple. Chef Alyssa showed us the first steps of each dish, then we would follow her lead. Basically we would watch her demonstrate for 5 minutes…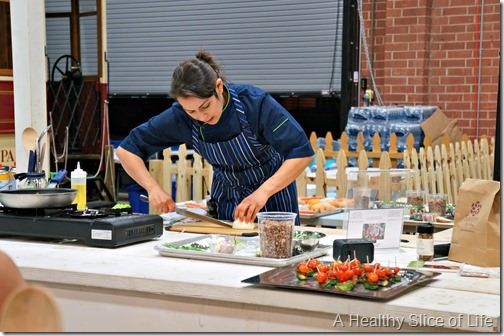 then we'd work on our own dishes, as a table of four, while music played and everyone socialized.
It was really a fun atmosphere and David kicked it up another notch when he realized it was BYOB. He crossed the street to buy a bottle of wine and became our designated stirrer!
We ended up being paired with a great couple and really enjoyed getting to know them while the seasonal aromas started to fill the room.
Among the fun, I also learned a few new-to-me tricks! Forgive me if you know these already, but they blew my mind.
First, when dicing an onion, don't cut off both ends. Keep one side together to hold the slices together while you cut it.
Instead of mincing garlic, use a microplane. I loved how easy this was and now need a microplane!
When zesting an orange, be sure to not get into any of the white part (the pith). The pith will make the flavor bitter.
And finally, I feel like everyone knew this already except me, but use a peeler for the butternut squash!

I always tried to just cut off the sides. I'm such a rookie.
After about 2 hours of cooking fun, we got to enjoy the fruits of our labor.
The Thanksgiving sides were not only beautiful, they were delicious as well. Sadly I left my recipe book behind on accident, but can tell you that my favorite dish was the roasted butternut squash, topped with a citrus hazelnut gremolata.
The gremolata consisted of finely chopped roasted hazelnuts, sage, orange zest and olive oil. It was incredible!
Overall, the experience was a perfect date night. It was interactive, a learning experience, a social environment and really switched things up. We had a wonderful time and really appreciate Chef Alyssa and Andrew for inviting us down for the experience!
I plan on making it back for another class, especially once I can partake in the wine sipping
Have you ever taken a cooking class?
Would you like to?