Two and a half is…
Looking too grown up for her own good.
It's all things pink and dressing herself.
It's stickers and crayons and fairy wings.
It's big girl haircuts…
and then messing it up it the rain with Daddy.
It's playing with friends…
and borrowing their awesome dress up clothes.
It's branching out and doing things on her own…
and savoring the pride that comes with the accomplishment.
It's about mimicking mommy.
It's long walks on secret paths and stopping for a turn on the 'swing go higher.'
It's reading books to her dolls and outgrowing the crib.
It's watching her sing her ABCs to her bedmates while she lines them up before sleep.
It's crafts at the kitchen table
and loving books of all kinds.
It's about her being unashamedly herself.
Two and a half is
running around naked and giggling before shower time
asking for hugs and kisses between bites of food during meals
always wanting ice in her water
asking mommy to please rock, just one more time
clapping and saying YAY school when we pull in
having mom go to bed flat out exhausted every night, and still (usually) being eager to get up and do it all over again the next morning
saying proper sentences like 'I ate my snack' and mom and dad savoring the improper ones, like 'where Koda is?'
saying sorries and hugs after time outs
singing made up songs with the only words being 'pizza dough' (pizza dough, pizza doughhhh, pizzzaaa dooooough)
it's stories like this…
Hailey started crying about 45 minutes after we put her down one night, which is very unusual. I ran up the stairs and into her room. She showed me there was still a small part of her thumb nail that we had clipped earlier attached. I gently pulled it off and she sniffled, said thank you (tank cue), kissed me on my nose and laid back down. I heard her softly say 'ov you momma as I left her room.
Oh my heart.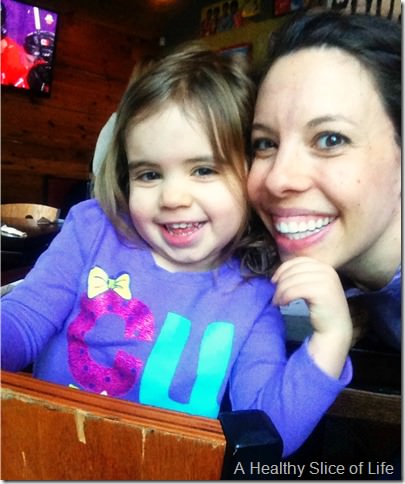 And two and a half is…
well,  it's about mommy crying happy tears and wishing time would sometimes just STOP.
Can life ever possibly be this sweet again?