I switched things up by sharing our meal plan for this week ahead of time, so if any of you tried some of the meals along with me, I'd love to hear what you thought! We've been working on sticking to a monthly grocery budget that fits our family for the past 6 weeks and all it has done thus far is highlight how much we eat. Still, here some takeaways from this week's meal plan.
Hit: Breakfast. David enjoyed bagels and coffee for his quick grab-n-go breakfast. The girls switched between veggies and eggs with me, oatmeal packs, and bagels with cream cheese. Some days I had egg and avocado on toast and others I went the veggie route. Delicious!
Miss: Budget. I think, no, I know, we like to eat good food and keep things rotating regularly. We account for this in our monthly food allotment but it still amazes me at how quickly it goes. I spent $75 at the Walmart pick up, $138 at Whole Foods, and stopped by Publix midweek for more avocados and bagels ($10). Weekly total = $223.
Ideally I'd love to keep it below $200 a week. I do remind myself that this is breakfast, lunch, and dinner for all 4 of us and that makes me feel a little better. We so rarely eat out that it keeps our restaurant budget in check too, which is nice at least.
Hit: Greek night! You can see I switched things up a little from the original meal plan. I ditched the veggies and hummus side in favor of a simple Greek salad of cucumber, tomato, red onion, and feta in a red wine vinaigrette, which we stuffed inside the pitas with mini gyro burgers.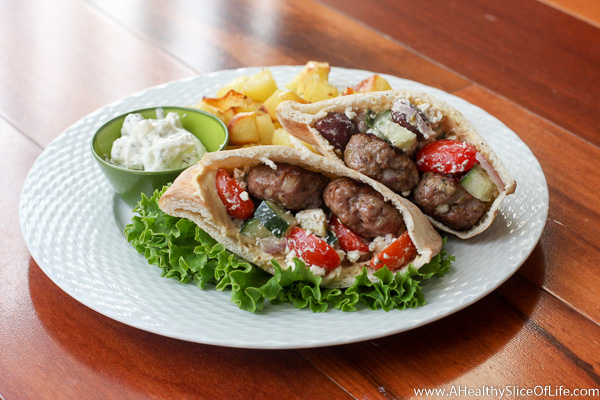 I had some potatoes on their last legs from the previous week so I roasted those too. The girls had a deconstructed version.
We all mmm'd our way through the entire meal.
Miss: The BBQ Chicken Quinoa salad. I hate even saying this since a few people tried it and liked it, so if you're on the fence, try it! It's super simple. I thought it tasted good, as did David, but he probably would have enjoyed it more with some chips since it didn't seem hearty enough for him.
Both girls however, no go. Hailey ate some of it but was underwhelmed, and Kaitlyn literally gagged through a couple bites. I want to blame texture here, or maybe too many components mixed together, but I won't be making it again soon (though I will happily eat the leftovers for lunch today).
Hit: Midweek snack bars. I shared how I make these super simple peanut butter oat bars on my instagram stories. To make it to a 8 am Burn class, I needed a quick breakfast for the girls and only pantry ingredients to use so I made these bars a friend shared with me years ago.
They are super simple: Boil 1/2 cup of honey for 1 minute on the stove. Stir 1/2 c peanut butter and 1/2 tsp salt into the honey and stir. Pour honey and peanut butter mixture over 2 cups of oat, mix quickly, and press into a bread loaf pan with parchment. Freeze for 30 minutes or so then slice. Keep them in the fridge.
Miss: Crockpot Chicken Enchilada Soup. Not a total miss, as David really liked it. I enjoyed the heartiness of the rice and the addition of enchilada sauce, but think I prefer the veggie heavy alternative. Unfortunately it was too spicy for the girls, but they enjoyed rice, guacamole, and tortilla chips.
We'll have the carrot soup tonight with grilled cheeses and roasted-whatever-veggie-is-left-in-the-fridge.
I'm switching things up a little bit and going to hit up a wholesale club with Molly tomorrow to see if buying some things in bulk can save me a little bit overall for the month.
Wholesale club members, what do you recommend?
So far on my list I have wine and laundry detergent. If that doesn't scream mom, I don't know what does.
Also, any favorite cheap meal ideas to share?