Our experience potty training a two year old, complete with what worked and what didn't.
At 4 days in, I'm hardly a seasoned veteran, but before I forget what the beginning was like, I wanted to share our experience with potty training at two and a half years old.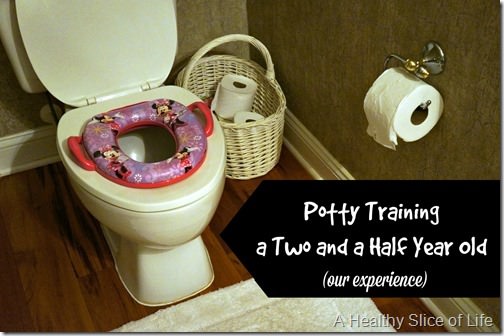 It's not the prettiest subject to discuss, but I'll do my best to keep it tactful. There won't be any shots of Hailey on the potty (too personal in my opinion) and I'll use the language we use (tee-tee, potty and poopie – yes, go ahead and cringe, I still do).
The Lead Up: We've been thinking about potty training for a while and why we chose to wait until I was 35 weeks pregnant? I have no idea. About a week before tackling it, we started talking to Hailey about using the big girl potty like mommy. In doing this she'd get to wear her BIG GIRL undies (this is a BIG deal and we talked it up majorly). She seemed interested, even excited, so we decided to go for it. Up to this point, she had sat on the potty, but never actually did anything in it.
The Set Up: We have two potties: the Minnie Mouse potty (above) where she needs assistance getting on and off and a Baby Bjorn simple small potty, which she can run to on her own. Personally I prefer the Minnie Mouse because I don't have to clean it out, but I wanted her to have options. She uses both.
The Plan: A modified three day method. I say modified because we didn't actually read up on it ahead of time. I just knew when Friday morning came, we'd start off with a trip to the potty and the diapers would be gone for good. The days beforehand, we really talked up about how Hailey would get to wear BIG GIRL undies and how exciting it was that she would get to use the big girl potty like mommy, Nana and Mema (sorry to drag y'all into this too, but I needed all the female power I could get!)
On Friday morning I went to get her up at the normal 8:00am. Her diaper was dry so in my cheeriest voice I proclaimed it POTTY DAY and we went straight to sit on the potty. I explained to her (again) that teetee goes in the potty and she looked at my, smiled and said 'it's coming, mommy.' From there, I learned I needed to be patient. 3-4 minutes later, she went teetee, in the potty and the dance party David and I had to celebrate was nothing less than epic. Pride beamed across her face as she proclaimed 'I did it!'
From there she got to pick out which undies to wear (Elmo was a favorite, followed closely by Cinderella).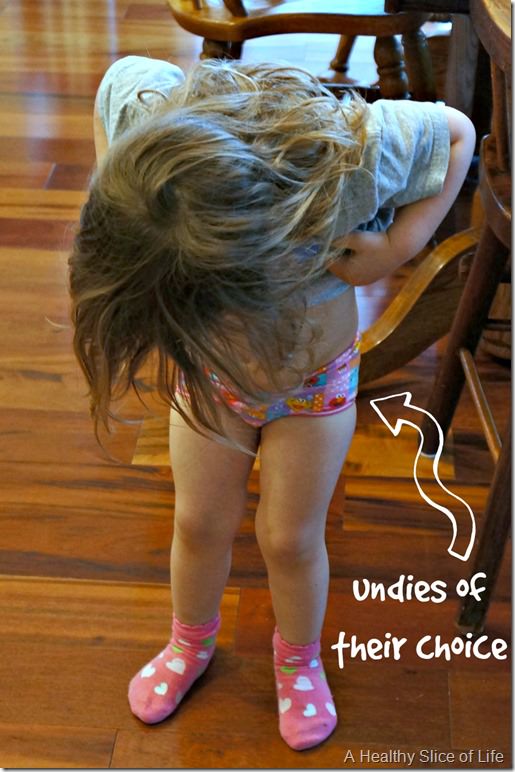 Instead of walking through the three days, which were full of ups, downs, accidents, successes and learning experiences, let me share a little of what worked for us and what didn't.
What Didn't Work for Us:
Forcing her to try to potty every XX minutes. I think this may be helpful at a younger age, but at two and half, she has rather good bladder control. After a wet morning diaper, she'd go hours without wetting it again, so having her sit every 15-30 minutes was futile and frustrating for her. To avoid a power struggle, we did away with this quickly.
Treats. I know many people will roll their eyes (David did), but I really wanted to try my best not to give her food as a reward for going potty. Not only do I not like to use food as a reward in general, but I was afraid it would lead to more trouble than good. I didn't want her running to sit on the potty just to get a treat, so we went with excessive celebration over M&Ms. If we do need to go the reward route in the future, I'll probably try stickers or other little toys, but I'm keeping my fingers crossed that we can avoid them altogether. Again, we are still learning, so I'll let you know.
Poopie: We have yet to have a successful #2 in the potty. I hear this is common. Since we are putting her in pull-ups (not diapers) for nap and bed, she's waited until she has it on to go. It's predictable and not too much of a pain right now, so we are riding it out until we have the rest of potty training down pat.
What Did Work for Us:
Excessive Celebration: I'm talking, over-the-top, best day ever, jumping up and down celebration when she went in the potty. We clapped and told her how proud we were and even called skyped with Mema so we could tell her all about it.
Plenty to Drink: We aren't juice drinkers around here usually, but on potty weekend, we loaded her up with milk, water and juice. The more liquids going in, the more potty tries we had.
Going bottomless: Completely bottomless- naked. This wasn't possible all weekend, but Saturday was sunny and warmer, so she played outside with Dad most of the day, and had NO accidents all day long. She even ran to her little potty on her own to teetee.
Crocs: Comfy and ridiculously easy to clean up after accidents.
Asking her to tell me when she needed to go, rather than asking her to try: If your two year old is anything like mine, they are like mini teenagers, wanting to assert their independence and willing to turn anything into a power struggle. The last thing I wanted was to turn it into a power struggle, but on day 3, I found I had done just that. Asking her to try and begging her to sit on the potty 'just real quick' backfired and she screamed about wanting to GET DOWN. The negativity beginning to be associated with the potty did not sit well with me, so I switched things up.
Instead of asking her to try, I'd very casually say (about 100 times a day), "Hailey, will you tell mommy when you need to go teetee?" I'd make sure she heard me and she'd answer with a 'I will, mom" or "yes" and I'd cheerfully say OK! and we'd move on. This would remind her, but let her feel in control. I was unsure if it would work, but we were at Target yesterday afternoon and I said "oh look Hailey, they have potties here!" (overly excited… yes, it's exhausting) "Will you tell mommy if you need to go teetee?" and to my complete surprise she said "yes, go potty now." We ran in, I covered the seat with toilet paper and held her up on it, worried that would freak her out, but to my surprise, she went! And smiled the biggest smile ever. SUCCESS! I high fived her, told her how proud I was of her and we washed her hands with extra soap as a reward.
Outdoor time: Chalk, swings, pedicures, walks, anything we could do to stay outdoors seemed to work well for us. It kept her happy, entertained and able to run to her little potty anytime she felt the need. Plus, clean ups were no issue on the porch or driveway- a win for mom and dad!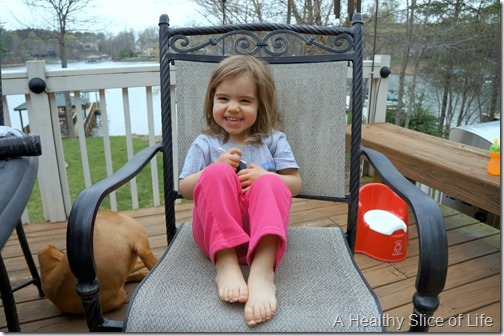 Positive Reinforcement: Again, I really wanted to stay away from any negative association so instead I went the other direction with overly positive reinforcement. Sometimes I'll just stop and ask her if her undies and still dry and she will chipperly say they are, to which I'll respond with high fives and "you're such a big girl; I'm so proud of you!"
Well, that turned out longer than I anticipated, but it's an overview of the past few days. Overall, I'm really pleased that it has gone more smoothly than I anticipated. I now just make sure to carry a spare outfit with me (top, bottom, undies, socks AND shoes) everywhere I go and I feel very fortunate that gym child watch and her school are very pro-active in working with potty training.
I'm keeping my fingers crossed that we keep progressing, but I really think she was ready, which makes a big difference. She had two accidents the first day, none the second and one yesterday. I can handle that. With things like this, it's really tempting to compare. We have friends that had their kids potty trained by 18 months, but I've found it's better to wait until your child is ready, whenever that may be!
Moms, when did you tackle potty training?
What worked for you?
What didn't?