Isn't it incredible that I can stretch one weekend in NYC into 3 separate posts? That's New York for ya. Sunday morning we woke up and it was clear that fall had truly arrived. The air was cool and there was a crispness in the air. I always thought I wanted to visit NYC at Christmas time, but fall is where it's at. It's perfect for wandering and experiencing the city.
I knew I wanted something fresh for breakfast, so we sought out a juice bar.
I walked into Juice Generation and start giggling with excitement. Raw foods in the cooler, a wide variety of juice combos and smoothies to choose from… heaven!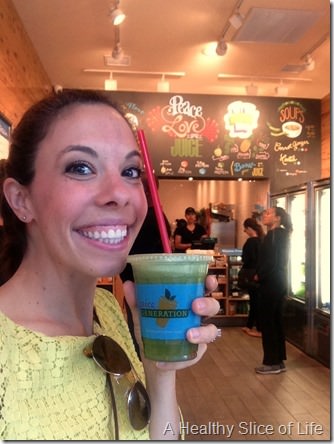 I went with Hail to the Kale, a combo of watermelon, apple, kale and lemon. It was delicious. David added to my sugar high by suggesting we check out the nearby Whole Foods. I was elated.
As expected, it's incredible. The prepared foods section is unreal and I loved the hustle and bustle of people buying just a bag or two of groceries to carry home with them. So city-sheik! David grabbed a latte and we moved on.
Back to the Gray Line buses, but this time for the uptown loop! We played with the zillow app on my phone, gawking at the real estate prices on the upper west side, home to Jerry Seinfeld and more. 15 million for a 2 bedroom? Sure. Need more space? Get three beautiful stories with a view of Central Park for a mere 95 MILLION. Ridonkulous.
We snapped the obligatory pictures of the museums and enjoyed listening to the stories of Harlem.
As much as I love the history of the city, there was one slight more modern landmark I was looking forward to.
Shake Shack!!! My friend, Maria, warned me they were switching from crinkle fries to shoe string, and alas, this location had already made the swap.
Luckily it didn't damper my experience. I thought the burger was incredible and had no problems gobbling down the shoestring fries. It was all I hoped it would be. CHECK!
From there we cut across Central Park…
back to the upper west side. A few miles later, we arrived at the Church of St. John the Divine.
This historic church caught David's eye and we made a point to make it back to peak inside. It's breathtaking. The ceilings are so high that you could fit the Statue of Liberty inside of it with room to spare.
It's quite humbling.
From there we cut through a street fair. Apparently they happen quite often in the fall. It brings people watching to a whole new level. Oh, and the food… mmm…
We savored the grilled corn and couldn't resist a gyro as we perused the booths and I ogled the spices on display. I wanted to smuggle them all back in my suitcase.
Knowing it was nearing our departure time, we made one last stop at the Empire Hotel in a futile attempt for me to track down Chuck Bass.
When he was no where to be found, I decided it was finally time to leave the city.
It really was an incredible weekend. I was surprised that the city felt cleaner and safer and the streets felt wider than I was expecting. It certainly was busy, but I could see how living in certain areas would provide more of a neighborhood feel that was quite pleasant.
It is a different way of life from our current station in the 'burbs and it was neat to experience. I hope to return one day with the whole family to experience the museums, more food and definitely another show!
What city would you love to visit? Why?