Oh man, oh man, what a weekend! After a few plane delays and some nervous sweat on my part, I finally was off to NYC. I can't properly express how proud I was of myself for flying there and getting a cab to our hotel solo. I felt like a real New Yorker! … because they take excited selfies in taxis, too, right?
I arrived around 4:30 to our hotel, The Hudson Hotel on W 58th Street near Columbus Circle (does that sound fancy or what?? Ok, ok, I'll stop).
David and I felt super swanky at The Hudson. It's quite a nice hotel, just checkout the lobby, and it's a happening night spot! The have several bars, a 15th floor terrace bar and an outdoor area called Tequila Park that is packed full by happy hour every evening.
(Picture taken in the morning due to said crowds)
We checked into our room and were updated to a superior room.
Wow. NYC hotels are a whole new (tiny) world! The room was small, but well-aligned, clean and all we needed for the weekend. The AC was flowing and the mattress was comfortable. What else do you need a room for besides sleeping anyway?
The bathroom followed suit. It was "cozy" (that's what realtors use for the word small, right?), but felt crisp and clean (most important to me!).
To my total surprise, I had a special delivery waiting for me.
My incredibly sweet friends, Alexis and Christen, had sent beautiful flowers and cupcakes from Magnolia bakery to my room! I was overwhelmed with their thoughtfulness and we dug right into the (AMAZING) cupcakes while we were getting ready for the night out.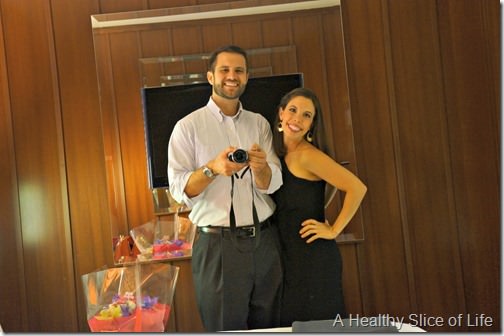 Once we were all dolled up, we walked down towards Time Square and our dinner reservations at The View Restaurant.
The entire restaurant rotated, providing us with incredible views of the city at sunset.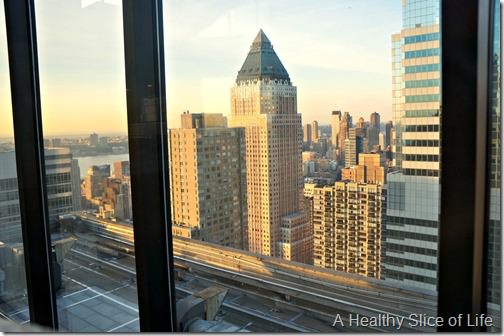 During our dinner, we got in a full rotation and thoroughly enjoyed seeing the city from this viewpoint. However, the food…
though beautifully plated, was simply not good. It was bland and lacked texture. My filet was more similar to pot-roast in texture and taste than a filet. I would recommend The View for grabbing a drink, but eat elsewhere!
No matter, we were having a great time and I was too excited about the show to care much about the food.
After dinner we headed straight for Gershwin Theater to see WICKED!!!
Seeing Wicked was the one thing on my must-do list in NYC and I can enthusiastically proclaim that it did NOT disappoint. In fact, it was incredible. Our seats were on the first row of the balcony and we were blown away by the talent of the cast. They nailed the songs, made us laugh with innuendos and three glorious hours flew by. I highly recommend Wicked if you're taking a trip to NYC!
I also recommend not even packing heels. I know, what a rookie mistake. Let's just say the pedicab suckered me in after the show and I swore to wear flats for the rest of the weekend.
More to come!
What is one thing you consider a MUST DO in NYC?