Traditions. Sometimes you don't even know where they come from, but you stick with them. One of ours is our New Year's Day meal. We always eat black eyed peas, collard greens and tomatoes. Tradition says that black eyed peas bring good luck and greens bring money. Long ago I decided tomatoes brought love and thus began the trilogy or luck, money and love for the year to come.
We usually eat eat all the components separately.
Proof:
However, this year I am considering switching things up with a hearty, comforting soup that incorporates all the key ingredients in a cozy and delicious way.
This hearty soup (adapted from Food & Wine) eats like a meal and already got the preliminary thumbs up from David, so if you are looking for a little luck, money and love in 2015 (and really, who isn't?!), give it a try and report back to me next December with how it worked.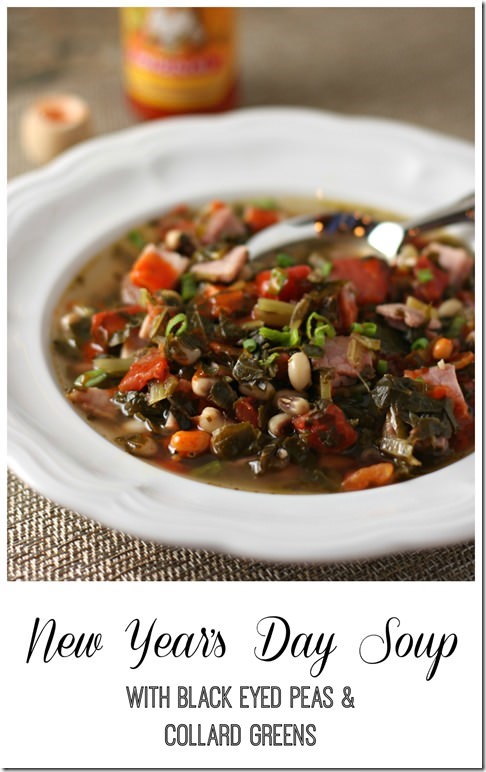 Print
New Year's Soup with Black Eyed Peas & Collards
Prep Time: 5 mins
Cook Time: 25 mins
Total Time: 30 mins
Yield: serves 6
---
Description
This hearty soup eats like a meal and will bring you all the luck, money and love you'll need int he coming year. Guaranteed 😉
---
2 Tbsp olive oil
4 large scallions, plus more for garnish
3 large garlic cloves, minced
12 ounces collard greens, chopped (can use frozen)
12 ounces black eyed peas (can use frozen)
4 cups chicken broth
2 cups water
15 ounces diced tomatoes
1/2 tsp hot sauce
1 tsp salt
1/4 tsp pepper
2 tsp white wine vinegar
1 lb ham, diced
---
Instructions
In a large pot, heat the oil over moderately low heat. Add the scallion bulbs and garlic and cook, stirring occasionally, for 2 minutes.
Add the collard greens, black-eyed peas, water, broth, hot sauce, and salt to the pot. Bring to a boil. Reduce the heat and simmer, partially covered, stirring occasionally, until the black-eyed peas are tender, about 20 minutes.
Stir the ham into the soup and cook until the ham is warmed through, about 2 minutes. Remove the pot from the heat and stir in the pepper and vinegar. Garnish with scallions and more hot sauce if desired.
---
Enjoy!
And add an extra splash of my favorite hot sauce if you're into spicing things up!
Do you have any New Year's Eve or Day traditions?