Hi; happy Monday! How was your weekend? Mine was lovely as I soaked in time with my mom. We watched the girls played soccer, ate at Scratch Kitchen, cheered on the dawgs, booked a spot to visit Bar Harbor/Acadia NP next summer (!) and just had a really nice time all hanging out.
On Sunday I bought pumpkins (and I'm not even going to apologize for it ;)). We're going to have a heat wave in the middle of this week, but then it look like some lovely fall temperatures will be here before the weekend and I want to feel ready for it. I priced out a lot of pumpkins and Aldi had the best price at around $4.00 a pop (it might have been $4.50; I can't remember for sure). Other stores (grocery, Lowe's, etc) were closer to $8-$10 each.
I set the pumpkins up with hay stacks on the front porch and in the front yard and it makes me so happy. Just like my new fall candle that my mom gifted me that I've been burning all the time. Little joys!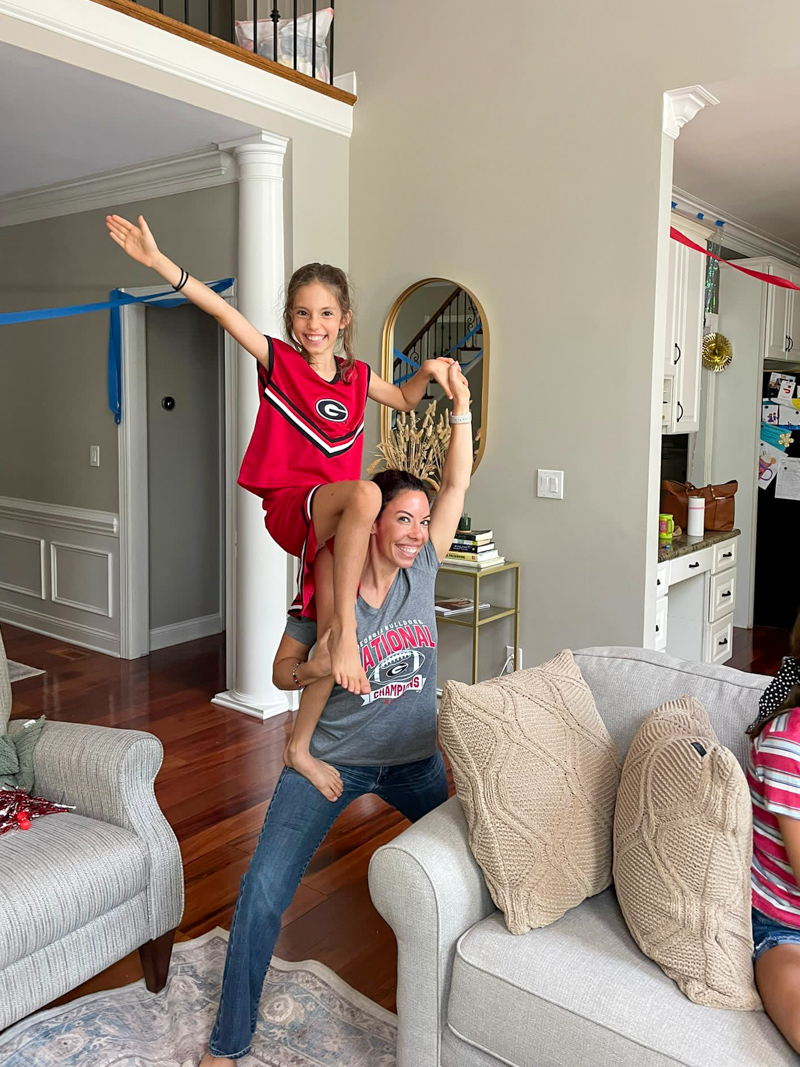 My birthday is tomorrow (39, what?!) so David sent me to get a pedicure while he and the kids prepped birthday surprises and played basketball outside, letting me cook dinner in peace. And the dinner I made was this pork tenderloin marinade recipe.
Pork is always a hit at our house. I marinate it all day, then pan sear and finish in the oven. It's actually quite easy, but the trick with pork is to not overcook it. Thermapen to the rescue; I use this thing almost everyday. You want it to be 145 degrees when you take it out of the oven.
My pork tenderloins are always from Butcher Box (their free chicken for a year promo is almost over, so if you want that deal, hop on it!) and never disappoint. I cook 2 now because we all like it, and it usually leaves me with enough to eat for lunch the next day.
One last tip; when making a marinade I often use a gallon ziplock bag inside a 4 c measuring cup and folder over the edge. Have I considered the Ziplock holder? Yes, I have, but for now this simple trick works quite well for easy filling and clean up. Ok, enough chatter, here's my go to pork tenderloin marinade recipe!
See all my favorite dinner recipes here.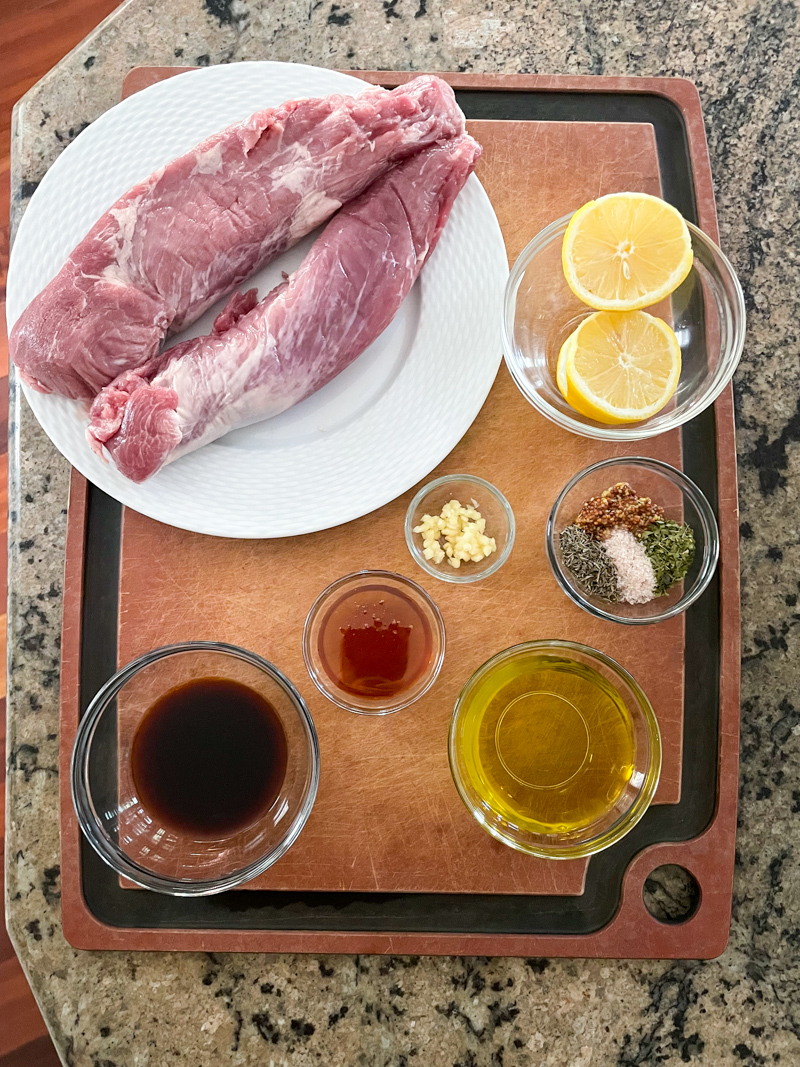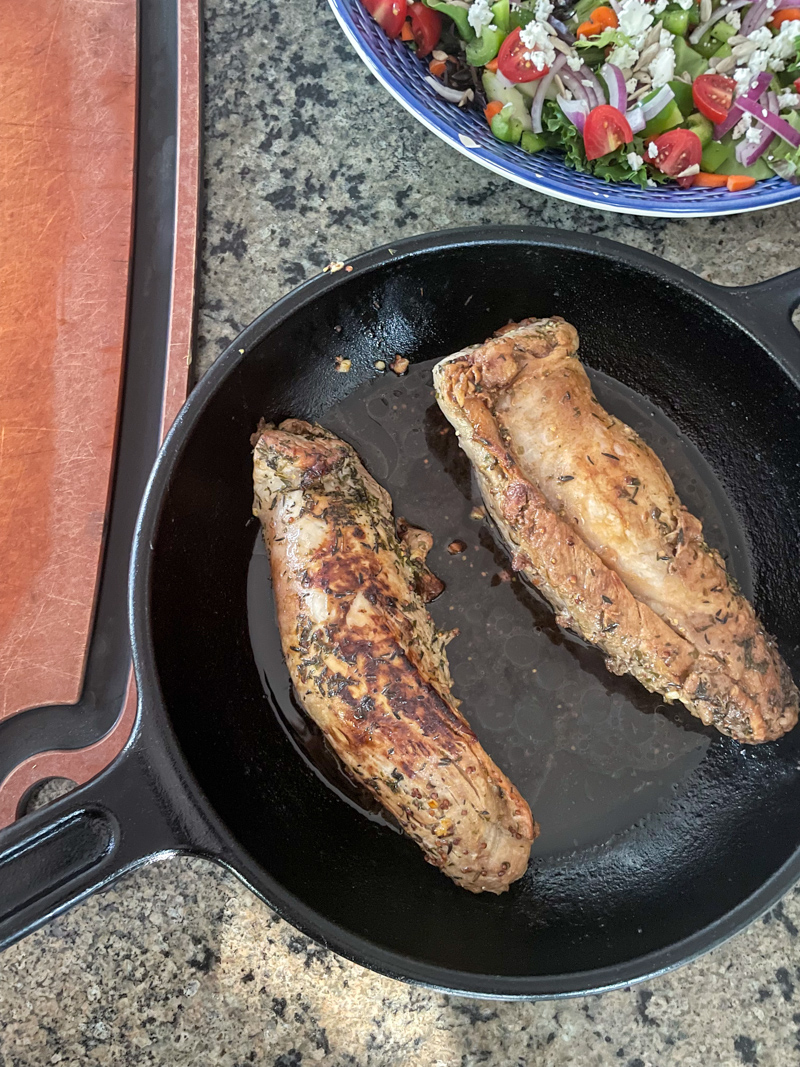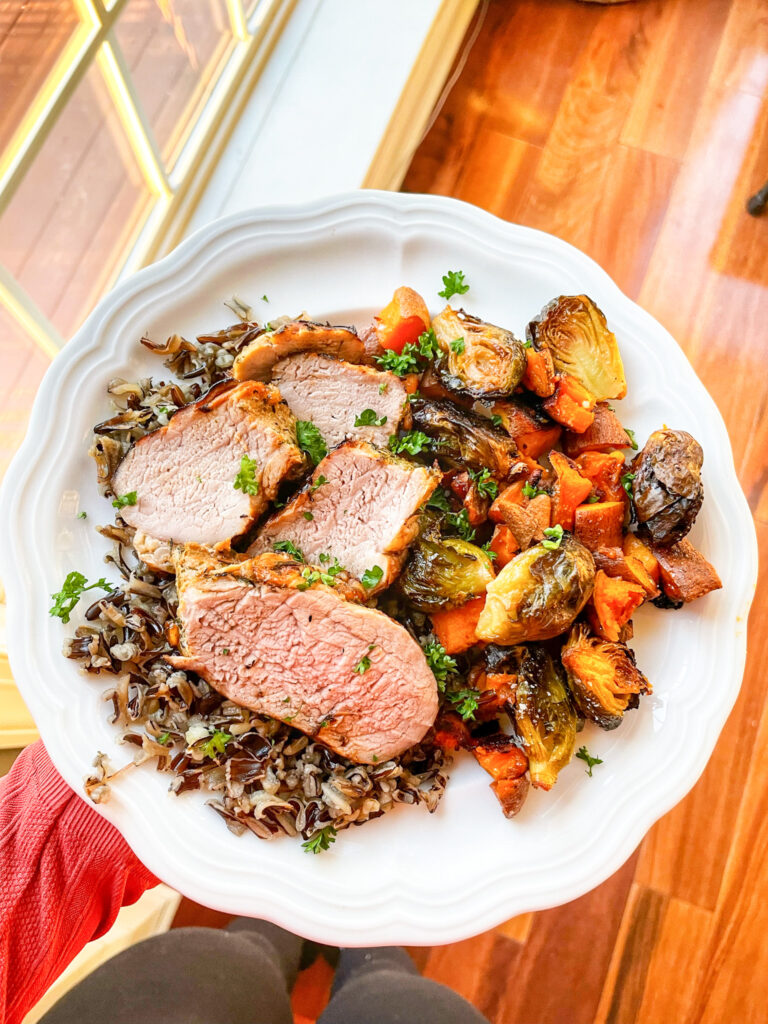 Print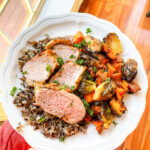 My Go-To Pork Tenderloin Marinade
---
Description
This pork tenderloin marinade is a savory blend of olive oil, herbs, mustard, and garlic with a hint of sweetness from honey. It can be grilled or baked for an easy, family-pleasing dinner!
---
1/3 c olive oil
3 Tbsp honey
2 tsp mustard
3 Tbsp soy sauce
1 lemon, juiced
1 Tbsp dried parsley
1 Tbsp dried Thyme
1 tsp salt
3 garlic cloves, minced
---
Instructions
Whisk together all ingredients in a bowl. Pour over pork (I use a gallon ziplock) and marinate for at least 1 hour and up to 10 hours.
When ready to cook, preheat oven to 400 degrees. Remove from marinade and sear all sides in a cast iron, about 1-2 minutes per side.
Move cast iron pan into the oven until internal temperature of pork reaches 145 degrees. This can take 15-20 minutes depending on the size of your tenderloin. Let rest for 5 minutes, then slice and serve.
---