Good morning! First things first, let me check in with the results from Day 1 of the 31 Day Home Organization Challenge. It started off on the right note with a made bed!
love

{Please know I'm terrible at home design so this is not intended to show off decoration skills, just proof I'm completing the challenge.}
David, Mema and Grandpa all pitched in and before long, Christmas was packed up, neatly labeled and put away.
Even the tree. Aren't the two best days of a Christmas tree the ones that you put it up and the day it's finally gone?
The house is cleaned and the challenge continues!
Moving on…
Today is about food prep for the pint-sized family members. I often get comments on how the meals I make for Hailey look elaborate. Let me assure you that Hailey is a full-on toddler like the rest of them and when she is hungry, I have less than 5 minutes to get food on her plate before we reach total meltdown status. All the meals I make for her take less than 5 minutes. I owe it all to preparation that I try my best to get done on Sunday before the week begins.
It all starts at the grocery store. I admit, I prefer grocery shopping alone. Trying to wrangle a rowdy toddler while filling the cart can be downright exhausting. However, when Hailey does come with me, I do my best to get her involved. She gets awfully proud to find things and throw them in the cart. I get proud that she can correctly identify broccoli.
Fabulous picture, I know.
At home, I take advantage of nap time to do some food prep. I don't always jump for joy at the idea of doing it, but I am grateful everyday of the following week when healthy food is ready to go.
I start with cooking dried beans. In my pressure cooker, it takes only 20 minutes to go from dried bean to edible. No soaking necessary.
I choose a grain for the week. This time is was quinoa, which cooks up in 30 minutes or less.
Then, I make sure to prep a veggie. I don't know about you, but these are the toughest to grab in a hurry. Red pepper sticks and hummus usually work, but other than that I find myself reaching for a more accessible fruit. By taking 30-40 minutes to roast broccoli or another hearty vegetable, I know I'll have an easy-to-grab veggie for quick lunches or dinners.
I also usually create a chopped blend of peppers, onions and sometimes mushrooms.
I throw this blend in a pan with a little butter in the mornings to create a quick veggie egg scramble. Top with cheese (H prefers goat cheese) or add a teaspoon or so of cream cheese to the egg scramble to make it extra delicious for your kiddo!
As for the prepped bean, grain and green, I throw them together is multiple combos throughout the week. The beans are great to add to cheese quesadillas. The broccoli is delicious on it's own as a side.
The grain can be used to thicken a soup until it's a toddler appropriate consistency. Other times, I combine them all into one meal.
Quinoa, black beans and feta mixed with this dressing. Broccoli on the side.
I also keep a few favorite staples on hand at all times.
Frozen berries are often eaten in yogurt or on their own.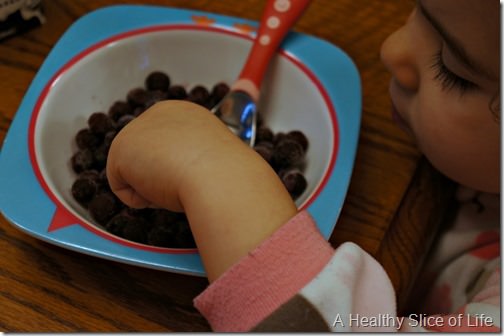 Chia seeds are sprinkled on everything! She gets so excited to add them to yogurt, on peanut butter toast and on Love Grown granola bowls.
The edamame saves me when I'm looking for a quick protein boost for a meal. A sprinkle of salt is necessary to make them disappear quickly.
FYI, she tried the collards and then spit them right back out. I guess she doesn't need any money in the new year.
And there it is! The basics I use to prep for a week of healthy meals for Hailey. For more pictures of mine and Hailey's meals, follow me on instagram or twitter!
I know it's been a crazy couple weeks, but I'm opening the link up in case anyone did post about their child's meals and would like to share! Munchkin Meals will continue to take place the first Thursday of every month in 2014 and check out the MM archives for more great ideas from multiple moms!