Hailey has been an eating champ lately. Maybe it's another growth spurt, but she's been downing some food. Check it out-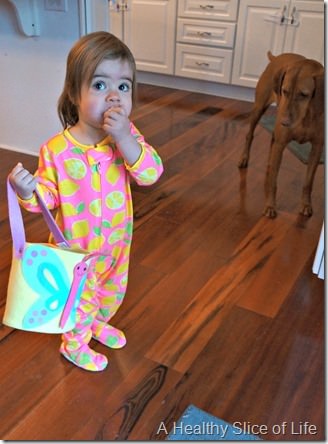 Mornings still begin with bananas. She eats a whole banana, but I only give her half at a time because she usually shoves the whole thing in her mouth. This distracts her for long enough for me to make breakfast.
She alternates eggs or oatmeal. This day was 2 eggs, scrambled with Jacks's fresh salsa and 1/3 of a grapefruit cut up on the side around 8:15am.
This holds her until lunch around 11:20am.
Lunch was a barley, lentil and roasted carrot bowl, warmed up and drizzled with balsamic dressing.
Then she moved onto yogurt.
And once she finished that and still wanted more, I defaulted to frozen peas.
After nap, we usually have something fun to do so snack is on-the-go around 2:30pm. We are still a fan of pouches. They're just so easy.
We're also on a graham cracker kick, though it takes me some time to find some without hydrogenated oils (FYI- Honey Maid does have partially hydrogenated oils) on the ingredient list. The ones pictured above are Harris Teeter brand, which do not have partially hydrogenated oils, but do have HFCS. Next time I plan on trying to find Annie's organic graham crackers which have a much better list of ingredients.
Whew, sorry for the tangent!
Moving on to dinner-
For the most part, Hailey still eats what we eat for dinner, which is so nice. This night she ate a homemade black bean burger with avocado and organic ketchup around 6:00pm. The girl loves to dip.
I should also add she drinks about 14 ounces of whole milk a day and as much water as she wants.
What are your kiddos eating? Link up and share!