Happy Sunday, my friend! I hope you're enjoying a nice weekend. I'm hopping on to share our meals from the week with you, though I'm wondering if it would be more helpful to share these on another day of the week. Fridays perhaps? Or Thursdays? Or maybe what matters most is that I stay consistent, no matter which day I choose. After all, I keep all my meal plans archived here if you ever need some ideas! Ok, let's dive into this week…
Sunday
I was bringing dinner to a neighbor who was craving a hearty pasta dish, so I decided to do with spinach and ricotta stuffed shells. However, I can never find shells anymore in the store, so I cooked lasagna noodles and made them into lasagna roll ups instead. I served it with a salad and roasted asparagus.
Monday
I used my go-to pork tenderloin marinade with two tenderloins and marinated them for around 6 hours. Then I seared them, finished them in the oven, and served them with wild rice and roasted sweet potatoes and Brussels sprouts.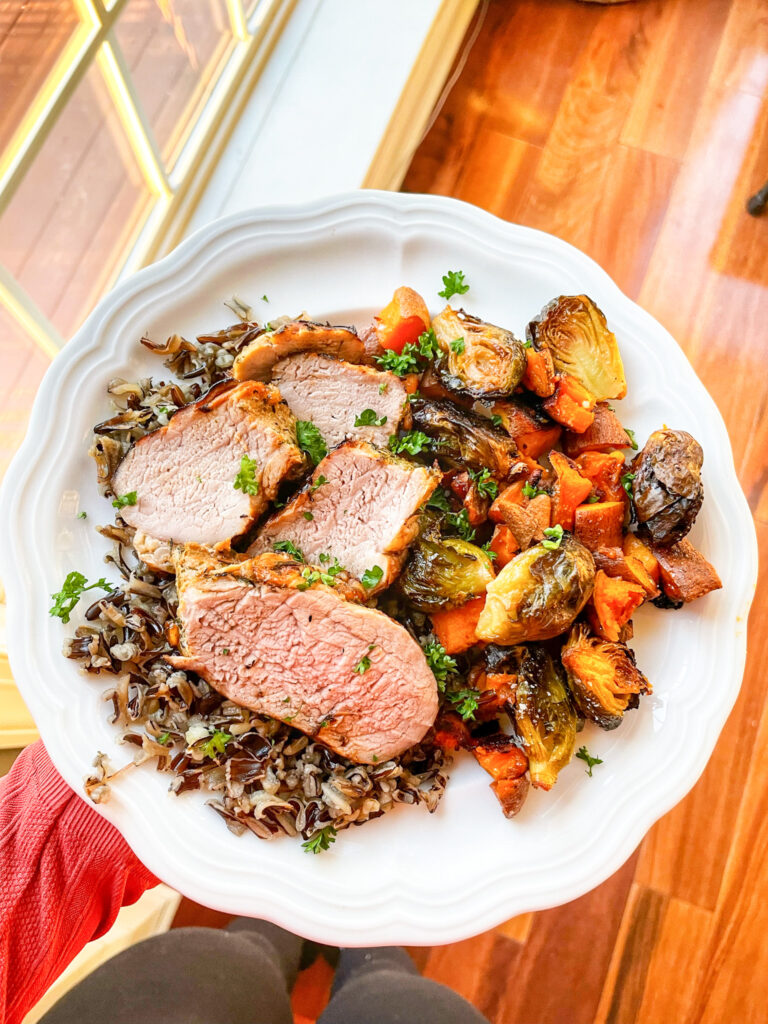 Tuesday
Hailey requested mashed potatoes, so I used this recipe, which was delicious. I actually made them in the morning, added a little extra milk, then kept them covered in the fridge for the day. I took them out and let them sit on the counter for an hour before heating them in the oven at 350 for 30 minutes and serving them. They were great! I roasted a whole chicken in the Precision Dutch Oven and massaged Caesar dressing with kale for a side salad.
Wednesday
The kids had soccer so I made easy lasagna for them to devour when they got home. Served with roasted asparagus and fresh sourdough because I just discovered I can form the loaves (using this recipe) then let them sit covered in the fridge with a shower cap for a longer ferment before baking. I had a loaf that stayed in the fridge for four days last week, then I baked it and it was fabulous. A pretty exciting discovery for me!
Thursday
Mom and I were out all day for a shopping trip to celebrate her birthday! We got home later than we intended so I made a quick dinner of lemon dill salmon with rice made in the rice cooker and cabbage sauteed on the stove with olive oil, salt, and some red wine vinegar at the end.
Friday
Hailey had a soccer game Friday night so after cheering her on we opted for Vietnamese food at Hello Me in Langtree. It was fantastic! Their spring rolls and pho were the winners of the evening, though my salmon was cooked to perfection, too.
Saturday
Saturday we were in South Carolina for the day and had dinner with David's parents in Traveler's Rest at Whistle Stop. We had eaten a large, hearty, delicious lunch at Chicora Alley in Traveler's Rest so I wasn't very hungry. I ordered the club salad. The chipotle ranch it came with was really good.
Breakfast & Lunch
I'm still stuck on eggs for breakfast, usually on a piece of sourdough or over a veggie hash. I also made a batch of energy balls for the kids, who devoured them in one sitting. I need to double the recipe next time. For lunch, I grabbed a bunch of Amylu chicken burgers that were on sale at Costco and they made a yummy and easy lunch protein option, served over Daily Harvest veggie and grain combos and jarred collard greens.
Resources