Here we are, almost halfway through January. This seems to be the time all those aspirations for change start to waver, right? I can see how it trying to happen myself, as I've been SO excited about my return to meal planning that I've broken a few of my meal planning rules, most notably #4. I've eagerly been planning so many new vegetarian meals as we lean into a more plant-based way of eating, but I'm going to try and reel the new recipe exploration back in a bit this upcoming week to avoid burnout. Maybe just one or two new recipes a week?
With more vegetarian cooking I've realized two things. One: I LOVE the taste of vegetarian meals. They  have more intricate flavor profile from a variety of herbs and spices- perhaps because they can't rely on the flavor boost from animal protein? Either way, delicious! And two: in general, they take more time to prepare. It's hard to avoid because there are vegetables to wash and chop, grains to simmer, etc. I will continue planning and making vegetarian meals (my goal is 5 a week), but will be realistic about how complicated those dishes can be.
Ok, on to the past week's plant-based meal plan!
Friday
Friday was date night! We are trying to do more of these. We bought tickets to see The Greatest Showman in Davidson (which was SO good!), so we decided to grab food in the same area. We ended up at Flatiron. I always end up feeling like the food is overpriced for what you get, but the atmosphere is nice and the octopus was tasty!
Saturday
Saturday Hailey had a basketball game and we grabbed a late lunch out with friends. That night David took Hailey to a daddy/daughter dance so dinner as usual didn't really happen. Still, I made the black bean burgers from the How Not to Die Cookbook to eat myself. It's the first recipe from the book that I probably won't make again. They required a lot of ingredients and though they aren't bad, I wouldn't say they wow'd me.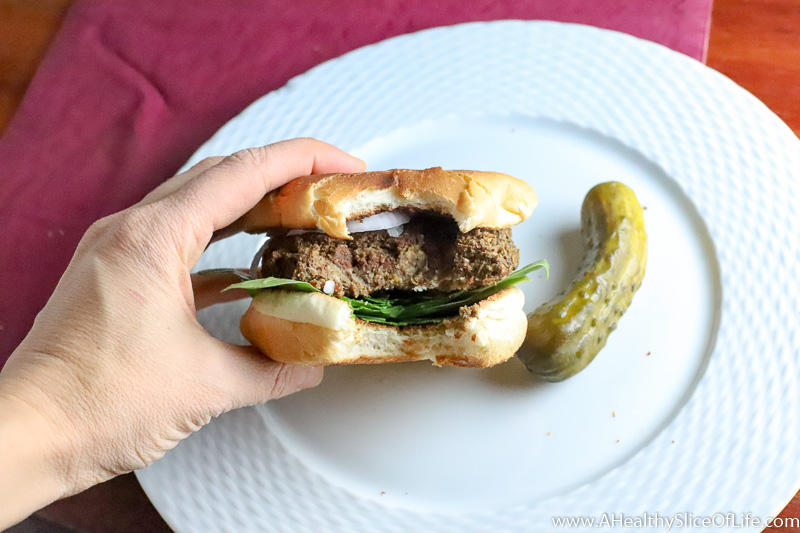 Sunday
Now if you want a wow recipe, I highly recommend these Vegan Enchiladas. As I chopped the vegetables I kept thinking, all this prep isn't worth it, but quickly changed my tune when I tasted the filling- WOW! I used store-bought enchilada sauce (the Whole Foods 360 Brand) and didn't even make the cashew cream sauce that so many people swore by and they still were incredible!
I ended up having extra filling (I doubled the recipe), so I ate that in a bowl for dinner with chips and guacamole and had the enchiladas for lunch the next day.
Monday
On Monday, I cooked chicken in the crock pot to shred. The girls had chicken ranch wraps, David had buffalo chicken wraps, and I made mine into a salad with homemade Greek yogurt blue cheese dressing.
Tuesday
On Tuesday I made these salmon burgers and slaw, but I completely forgot I was supposed to roast potatoes to go with them. The burgers and slaw were delicious! However, I ended up having to toast a heck of a lot of garlic bread to finish filling up David and the girls.
Wednesday
I have to thank you guys for sending me your favorite recipes. When I get a common suggestion from several people, I add it to the meal plan almost immediately. That what I did with these Roasted Cauliflower and Lentil Tacos. These were great! I did have to double the recipe though, and it still didn't quite fill up David. He's being a good sport while I experiment with vegetarian cooking though. Also, the corn tortillas totally fell apart while we were trying to eat them, but the flavors? So good!
Honorable Mention
This Comforting Red Lentil and Chickpea Curry from the Oh She Glows Everyday cookbook is a dinner dish I made last week but didn't get a chance to share with you, but have to tell you how much I loved it. The depth of flavor, the warmth- it's a delicious winter meal! Unfortunately it is not online, but it's worth checking this cookbook out of the library and making it. YUM.
And now the cycle starts over again. Thursday night meal planning with Friday grocery shopping is working well for our schedule. At the risk of sounding like a broken record, it feels good to be back in the habit. I'm placing a lot of value on routines that make life run more smoothly and more simply in 2018. Yesterday I jumped into Emily Ley's new book, A Simplified Life, after I heard so many people sing its praises. I'm excited to see what changes it encourages me to make to my home and routines over the next few weeks.
Has any one else read and implemented A Simplified Life yet? Thoughts?
Please keep your meal suggestions coming; I appreciate them so much!