Last Friday, after breakfast, hugs and a few tears (all mine, not Hailey's), David and I took off to the airport around 9:15am. Our flight was at 11:50am and we needed to be there at least 2 hours prior to our flight. We were set to arrive in St. Thomas at 4:15pm.
We made it on the plane with time to spare and I relished in the peace and quiet of the plane seat. (You know you're a toddler mom when…)
Our flight landed on time at 4:15pm.
We had exactly 45 minutes to grab out carry-ons, get off the plane, take a taxi to Red Hook (20 minutes away) and catch a ferry that left at 5:00pm to Tortola.
We hustled.
I stared anxiously at our watch as Rudy, our driver, gave us a tour of the mountainside and ran into a bit of traffic. The clock ticked to 5:00pm, then to 5:10pm. Rudy tried radioing the dock to hold the ferry. No one answered. I knew we had missed it.
I was wrong. Luckily everyone in the islands operates on island time- a foreign concept to me. The ferry didn't end up leaving until 5:45pm and in perfect time to catch the sunset on our hour ride over.
Just gorgeous, I remember thinking while stealing a glance at the clock.
We arrived and went through customs (The US switches to Britain when you cross from St. Thomas to Tortola) around 6:45pm.
From there we hopped in a cab to take us to the opposite side of the island, to a small adjacent island called Beef Island.
After diverting our route due to an accident, scaling a road that was, I'm certain, 90 degrees to the island and watching the minutes tick by, we arrived at a small gate and a gravel road.
We had made it to Surfsong at approximately 8:00pm.
We were greeted by a friendly man named Simon, who had helped me orchestrate the journey from St. Thomas to Surfsong Villa Resort. He offered us wine, took our bags and showed us around. Immediately I began to relax.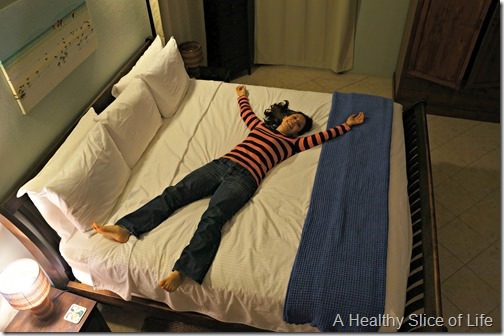 We had made it! It was dark, but from what I could see, the grounds were beautiful. Our villa, which had its own private pool, was the epitome of simple elegance.
Since we arrived late, food had been prepared for us and placed in our room. We wasted no time consuming the cheese platter… and more wine.
Excited to explore, we grabbed our wine and headed out, where we ran into Cate, the owner. I'd been in email contact with Cate and she had been the one who offered to host us for the night before we jumped on our boat. I was so excited to meet her face to face and express my gratitude for her and Simon's superior customer service and my awe of what she and her husband have created.
Cate is wonderful. Surfsong is paradise.
We spent the night walking the beach and swinging in hammocks, giddy that we were finally on vacation.
I have no idea what time we went to bed, but I know we slept like teenagers (who I'd argue from personal experience sleep MUCH better than babies).
I don't know what time we woke up either, but I knew breakfast sounded great.
We wandered the road in awe of the beauty sunlight unveiled. In the light, Surfsong came to life.
We made it to breakfast where we were escorted to a table nestled by giant boulders and tropical plants. Surfsong is home to 7 private villas, which made me feel like Richard Branson, like everyone was catering all of this luxury exclusively to me.
Vegetable and bacon omelet, seasoned potatoes, fresh fruit and toast
David and I enjoyed our leisurely breakfast, then scooted over to the best seat in the house to sip our coffee.
If you think that looks nice, just check out the view from my seat-
Not a bad place to wake up
We ran into Cate again who showed us around in the light. We recognized the well stocked honor bar from the night before. Wine, beer, liquor, sodas, espresso, tea- all at your finger tips. We simply took what we desired and wrote it down in a little book on the counter.
The beauty of Surfsong, though, is that it seems the resort simply grew out of the island. Everything blends in beautifully with nature because it is nature.
Plus, everywhere we went, this was our view.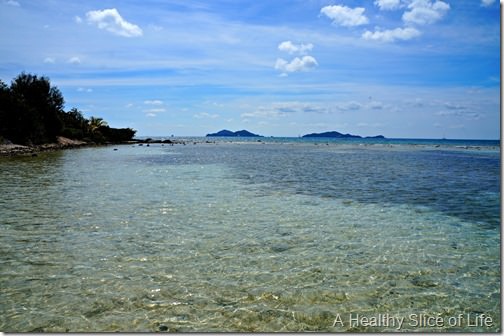 Not. Too. Shabby.
I'm glad we brought plenty of sunscreen because the sun shone brightly and I didn't want to end up like the tourist tree, named for its red and peeling appearance.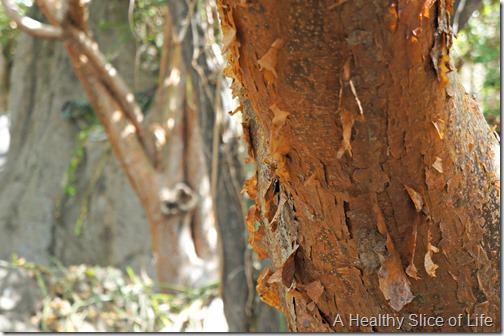 Every hideaway felt as though it was sitting there waiting for us to come enjoy it.
There were candles with matches, clean white cushions and hammocks to be found everywhere. David and I spent the morning hammock-hopping and soaking in the beauty.
We were to leave around 2:00 to head to the marina, but decided we'd just leave after lunch, which would be whenever we got hungry.
We had no need for clocks anymore. We had finally switched over to island time.
To be continued… on the catamaran!