Bald Head Island is a a small island (just under 6 square miles big) off the coast of North Carolina. It's unique in that it is only accessible by the ferry and there are no motorized cars on the island; everyone drives golf carts! Though we have been a few times (2012, 2013, and 2014) this was our first visit when both Hailey and Kaitlyn were old enough to really enjoy it and keep up with their older cousins. We spent the past week there with David's brother and his family, plus Mema and Grandpa, which meant not only beach time, but family fun as well!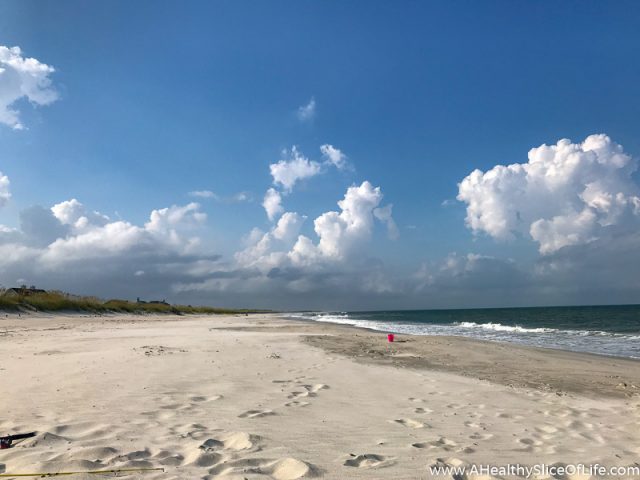 Bald Head Island: How We Filled Our Days
Being there with a crew of six kids, ages 4-13, it was so nice that there is plenty to do. My favorite thing about Bald Head Island is that getting around is half the fun; everyone loved the golf cart rides! Our rental was on the far end of the island, near East Beach, and to get back to the ferry port and marina takes about 15 minutes. The market is about halfway between the two, and has a breakfast place nearby, so between driving between activities, Grandpa having special breakfast dates with the each grandkid, Mema taking the young girls on adventure rides and to climb up the oldest lighthouse in North Carolina (Old Baldy), driving around the island was definitely one of our favorite past times.
We went fishing more than once which was a hit. My youngest nephew was the big winner since he caught the flounder (that got away, but isn't that how every fishing story goes?), but all the kids were able to catch little fish and plenty of crabs, and just enjoyed the act of casting, whether they reeled anything in or not.
I committed to keeping up with my running (I'm working on a post all about the training I've been up to), and was proud of myself that I was able to stick to my Hal Higdon plan. We were set on doing the Wednesday morning Turtle Trot 5K put on by the turtle conservancy on the island, but when it was postponed due to rain, Mema instituted the first annual Mema Fun Run! We charted out a 5k course and all the kids joined in. David followed along with the golf cart playing pump up music, cheering us on, and providing a lift to any runners that needed it along the way. It was one of the highlights of the trips for me to be out there running as a family!
Of course, we spent plenty of time at the beach, as well. The older cousins rented surfboards while Hailey and Kaitlyn stuck to wave jumping, boogie boarding, kite flying, and shell collecting. Until this past week, I couldn't of told you how long it had been since I hit up a boogie board myself, but now that I've been back in action, I see why kids love it so much; I had a ball!
I love that Bald Head is a great size island for a chill beach vacation, similar to Ocean Isle. There is everything you need, but nothing more. There are two clubs with pools (many of the rentals come with temporary memberships), a couple restaurants, two ice cream spots, a turtle conservancy, a light house to climb, and plenty of nature to just breathe in. The have events, like the weekly Turtle Trot 5k and the monthly Howl at the Moon beach party (which luckily fell on our week!), and even open houses to visit (we did that too!), but there is plenty of purposeful white space and downtime that allows it to feel like a relaxing getaway.
The week wasn't all sunshine and rainbows- Hailey got two wasp stings and ended the week by spiking a 102 fever, but neither those nor the slow rainy mornings deterred our good time. Looking back I'll remember all the kids playing board games on the rainy mornings, our family photoshoot on the beach and how we lucked out with perfect weather, and of course, the evenings on the beautiful beach- my favorite time of day!
Thank you Bald Head Island for a great week! Until next time…
Funny enough, I don't really consider myself much of a beach person. While I love the mornings and evening walks on the sand, I prefer switching up the daytime activity and honestly avoiding the heat of the day if I can. Do you consider yourself a beach person?
What is your favorite part of a beach vacation?