If you would have asked me a year ago what I enjoy doing, the list probably would look something like this: eating, cooking, wogging, yoga, writing, connecting with others, hiking, organizing and decorating my house, reading and learning about health and nutrition, planning get togethers, learning to garden and spending time with friends and family.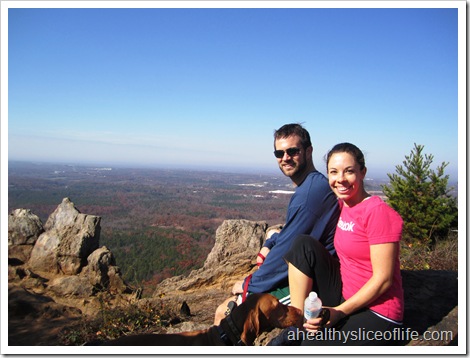 Today, if you asked me the same question, I'd have the same answer, with one big one added in: being a mom.
I couldn't enjoy being a mom any more than I do. Morning smiles, naps on my chest in the evening, watching Hailey grow a little more each day… I kind of feel like I was made for it. I can't imagine my life without her.
However, as much as I love my new title as MOM, I'm struggling with how to not let it define me completely. I'm still the person I was a year ago, too.
I still want to be a supportive, loving and attentive wife, without always discussing how many dirty diapers the baby had today. I still want to have a glass of vino (or 3 ;)) with my girlfriends without talking about how the baby ate only 5 times instead of 6 times today and should I be worried? (you moms understand). I want to be able to play in the kitchen, try a new pilates class and read for pleasure… but there isn't time for all of that anymore.
Without babysitters or family around, it's all me, all the time. I love it, I really do, but I also am struggling with how to not lose what makes me, me.
So until I figure it out, I'll continue experimenting with dinner while singing and dancing to entertain Hailey and occasionally breaking to hold her or sticking the paci back in her mouth. I'll continue squeezing in my wogs when Hubbs can get home early. I'll continue reading blogs and chatting with you while I'm nursing. Because I need to try and fit some of me into everyday. Not just for my sanity, but also because when I feel fulfilled, I'm a more attentive wife, a happier mom, a more interesting friend and a better blogger.
Have you ever felt like one thing was beginning to define you?
How did you get a balance back?