This topic is one I'm passionate about for a couple of reasons. First, cooking is something I enjoy and getting to share that Hailey has been just plain fun. I look forward to family time down the road with Hailey, Kaitlyn, David and I all playing in the kitchen with a bottle of wine (for the adults only obviously) working to put together dinner (cue up that cheesy movie scene of tossing flour and giggling with each other) before a family movie night.
It's also important to me because I want my girls to be comfortable preparing healthy foods and knowing where they come from. I've seen the Jamie Oliver video of 1st graders trying to identify vegetables and while I'm not shocked by it, I think it would be really cool if more kids could identify the veggies. There also are studies that show kids that help in the kitchen are more likely to enjoy fruits and vegetables and eat more of their meals if they are involved as well.
Though we don't certainly spend all day and every meal prep working together, I do try and get Hailey involved as often as possible, especially while she is so young because she really enjoys it and her mind is such a little sponge right now.
So how does she help?
When she was smaller, I'd give her simple tasks like "rolling out" her own pizza dough.
Or washing and deribbing kale.
If there was no appropriate task, I'd pull out the dry pasta for her to measure and sort.
I've had fun explaining to her how we make foods. It's amazing to watch her mind process the idea of hydrating beans to take them from rock-hard little lumps to something edible for dinner.
There's so much in it for me to, one benefit being how good it feels to seem like an expert in something (anything!)- ha. Even if it's just explaining how grinding up cashews makes them into nut butter, Hailey thinks it's really cool that I know how to do that.
Now that she is getting a little older, she has been able to advance to more complicated tasks, like pounding the chicken.
Or even using the spiralizer (ALWAYS with me helping because those blades are sharp!)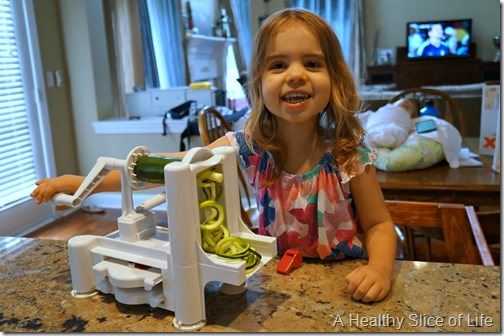 Her giggles over zoodles were pretty awesome.
Our kitchen time is pretty special to me. Not only is it time we get to spend together, but watching her soak it all in is incredible.
Now she'll grab an avocado at the market and ask to make avocado worms (small pieces of avocado I let her smash with the garlic press to create 'worms' which she then licks off the press). She will help me crack an egg and proceed to tell me about the time she went to the farm to get her egg from the chicken. She switches her answer from red peppers to broccoli to peas when I tell her she is in charge of picking her dinner vegetable. She just beams when I ask her to hop up next to me at the counter and is full of pride when she tells Dad that she cooked.
As with anything with kids though, it isn't always easy. As she has gotten older it's become a little more challenging for me at times since she wants to help with EVERY task. I find myself working on my patience because I know it's much more efficient to just do everything myself. I mean, have you ever helped a toddler use a can opener? It's painfully tedious, but I love that she's at an age where she does want to spend this time with me and wants to be hands on. Keeping that it mind, I'm learning a little more each day to embrace the mess for the sake of the memories and teaching her about how fun and delicious real food can be.
Did you help out in the kitchen growing up?
Do you like to have your kids help out in the kitchen?