Getting children involved in the kitchen gets them excited about food and makes them more likely to be adventurous eaters. Using a knife is an important skill that can be fun and useful when approached in a safe manner. I hope you find these tips and food suggestions useful in teaching knife skills to your children.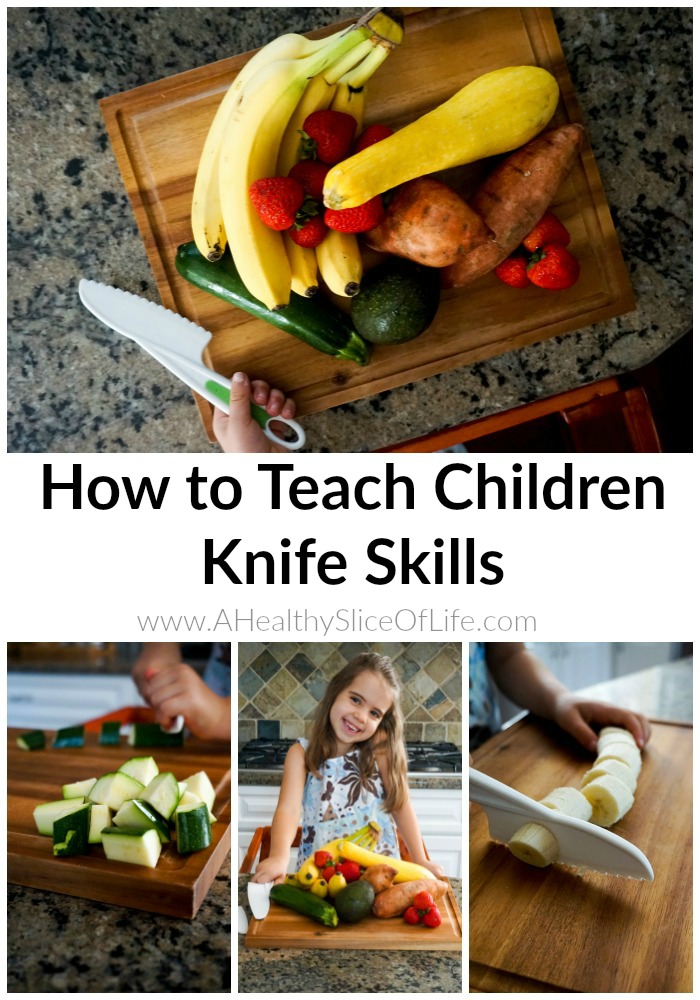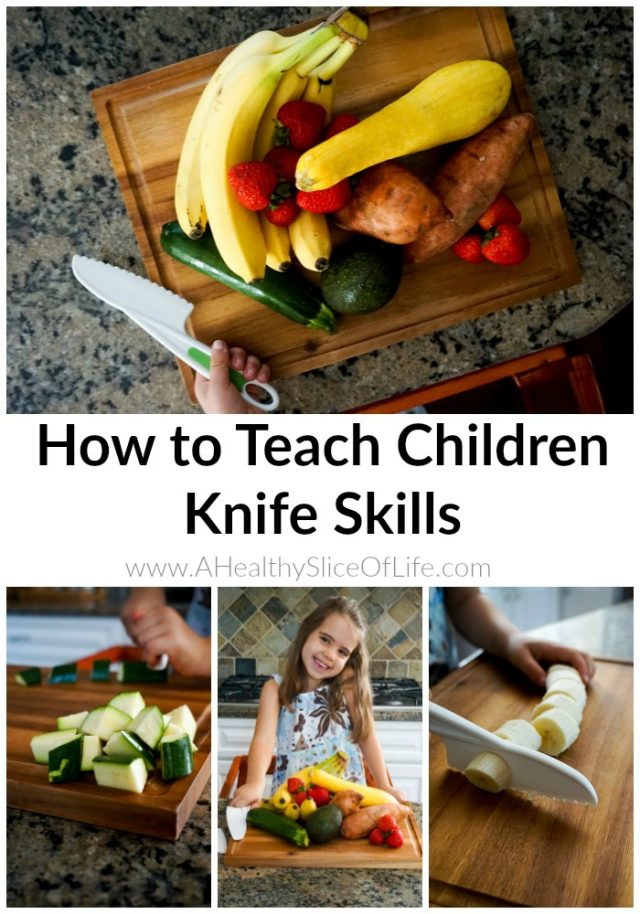 Before we get started, there are a few tips that will make a big difference. First,
Have kids stand at the right height.
You don't want them having to reach or lean when handling a knife, so when at the counter top, it's best to have them elevated. David built us some kitchen stands, but if you aren't into woodworking, I highly recommend the learning tower. We use our stands every single day and have for years. Yes, it is expensive, but maybe a great idea for a grandparent gift, as I guarantee it will get daily use.
Make sure everyone is in a good mood.
It probably goes without saying, but handing a knife to a child who is frustrated with you or a sibling is not the best idea. Make sure no one is too hungry or tired to pay attention to directions.
Start with kid-friendly knives.
Both my girls have been practicing knife skills in the kitchen since about 2 years old. Since I'm not about to hand a toddler a steak knife, I highly recommend buying a set of kid knives. We have this three-piece set and it's withstood the test of time. Bonus, they're very reasonably priced.
Ok, with all that in mind, here are some of the best foods to teach your child knife skills in the kitchen!
Start with:
Bananas
Bananas are firm enough to provide some resistance, yet soft enough that a butter knife, or heck, a spoon, will slice right through them. They are long enough for a beginner to grasp, while still leaving plenty of room to cut the fruit into slices. Since they won't be uniform cuts at first, they are great to freeze for smoothies!
After bananas, move on to
Avocados.
A ripe avocado is smaller and a bit more slippery than a banana, but the the soft fruit provides a similar cutting experience. This will help the child learn to curl their fingers under when holding the food to avoid cutting their fingers, yet the soft texture will still slice easily for relatively easy success.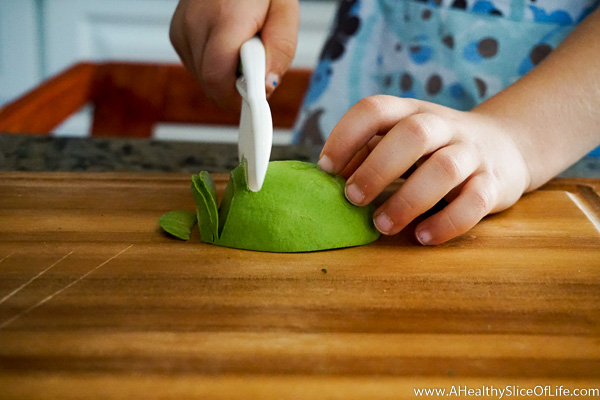 Then upgrade to
Zucchini.
The peel of the zucchini will up the challenge and the firmness of the vegetable will teach the child to either "saw" through it or to use the other hand to assist their chop. Again, this is great practice for keeping fingers out of the way while having a long food piece to grasp and practice on.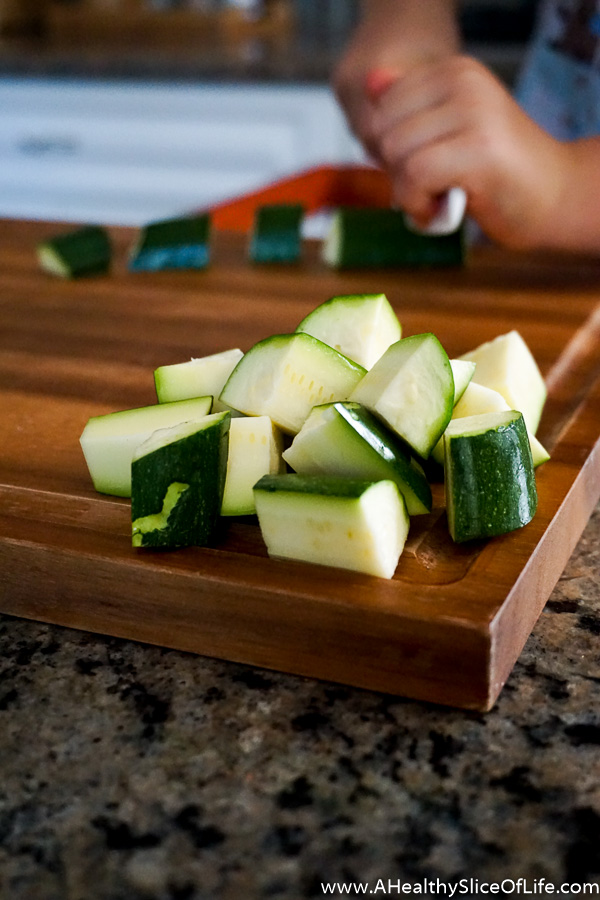 [Tweet "Get your kids chopping in the kitchen with these knife skill tips from @ahealthyslice #kidsinthekitchen #munchkinmeals "]
Next up,
Strawberries.
The small size of the berry will add a degree of difficulty, but the excitement of a true task (chopping off the green end) will prove to be motivating. Again, great practice for small foods and keeping fingers out of the way while using a relatively soft fruit.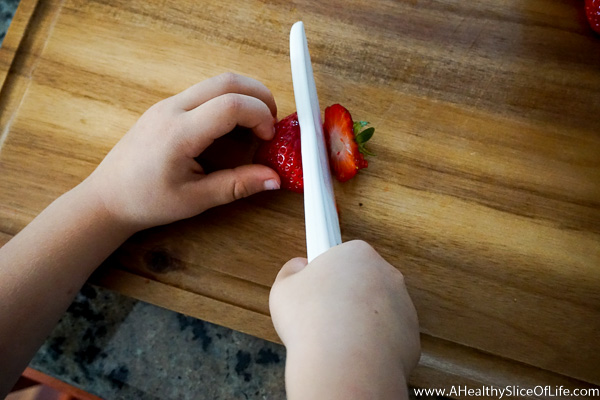 Last but not least,
Sweet Potato.
It's best to assist by peeling the sweet potato and cutting it into long strips. However, the firm nature of the potato will require a more firm chop or the use of both hands. It's a great food to teach the "rocking" method of cutting and is probably the most firm food the kid-friendly knives can handle before upgrading to the real thing.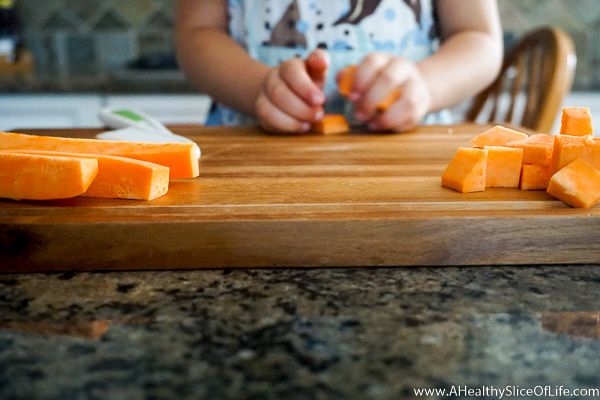 Looking to get a younger child involved in the kitchen? Don't underestimate the versatility of the garlic press!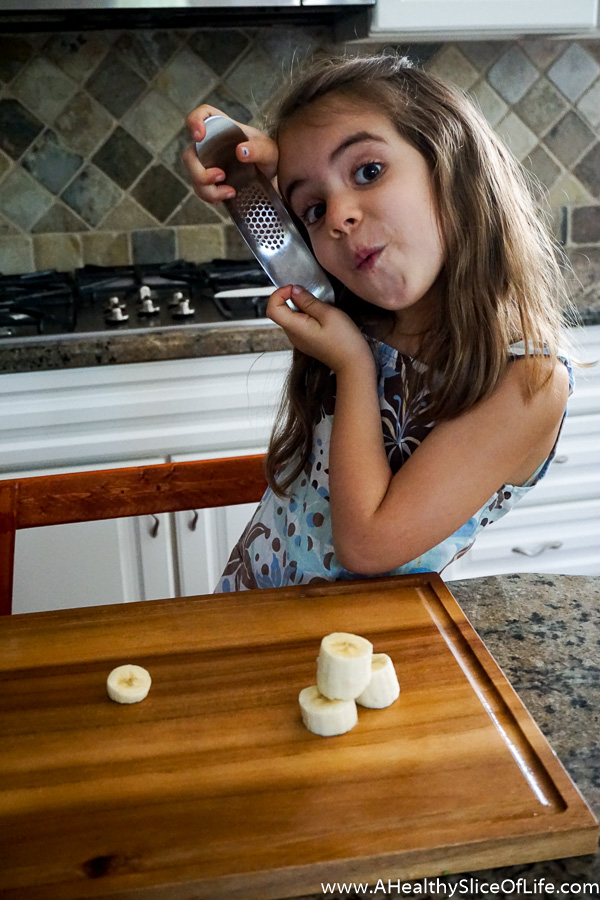 Both girls have loved playing with the garlic press since they were young toddlers. We began with the open/close variety. I recommend one that is easy for little hands to grip, like this one (not pictured).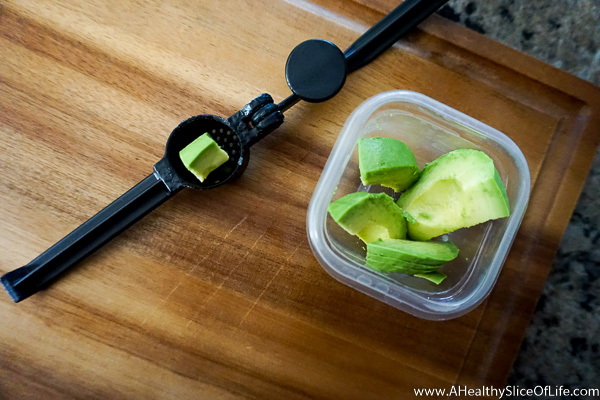 You can let them cut a small piece of a soft food (avocado, banana and cooked black beans all work well), then have them place it in the press and create "worms."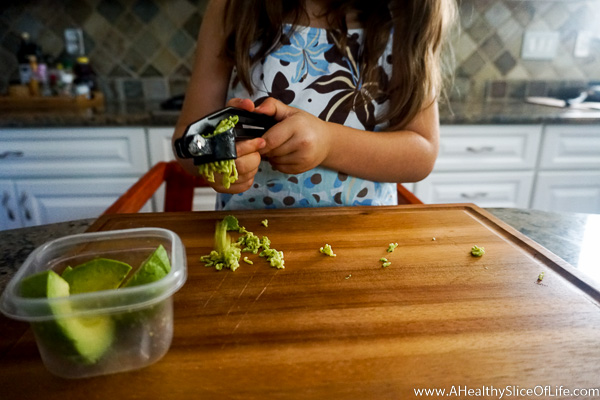 I can almost guarantee a giggle.
Similarly, you can use a rocker-style garlic press to help young children practice for more challenging tasks, like real garlic.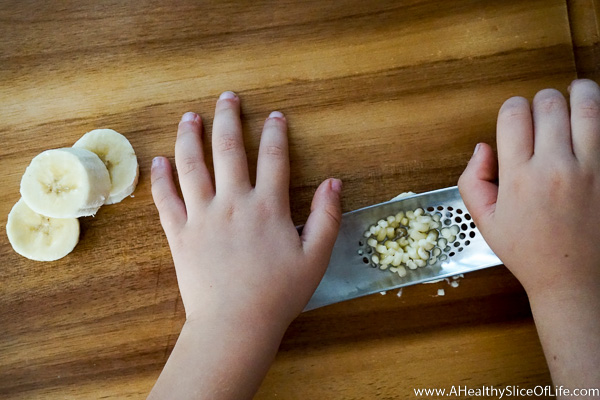 Happy chopping!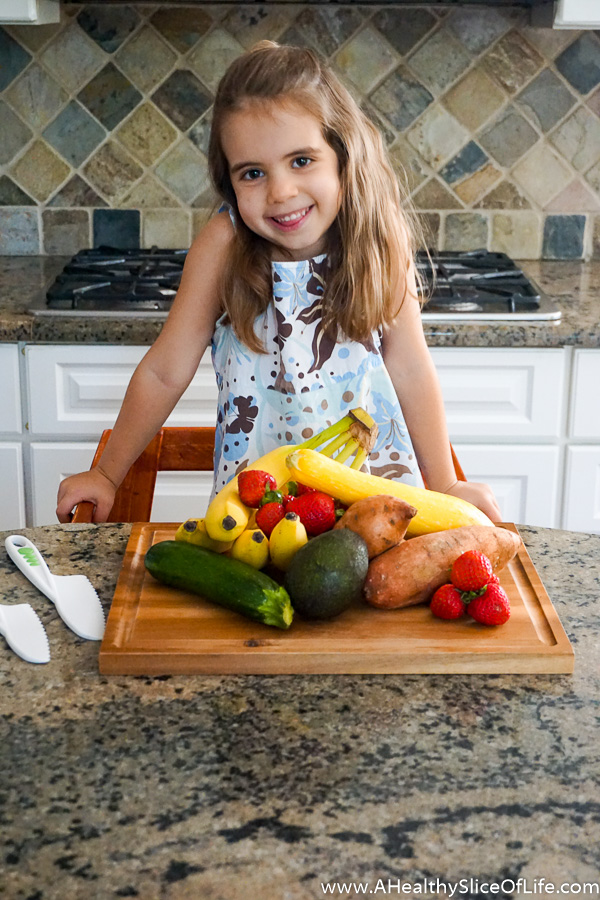 If you like this post, you may also like 10 Kitchen Tasks for a Three-Year-Old or 5 Simple Kitchen Tools Every Mom Needs.
What is your favorite way to get your kids involved in the kitchen?