Spring has sprung here in North Carolina. I'd put every wide-smiled emoji right here if it weren't for the pollen that comes with the sunshine and 70 degree weather, but it is what it is. Anywho, it's warm enough to play on the porch so yesterday I dragged out a tub of water for some of my favorite preschooler games and some kitchen gadgets to play with as well.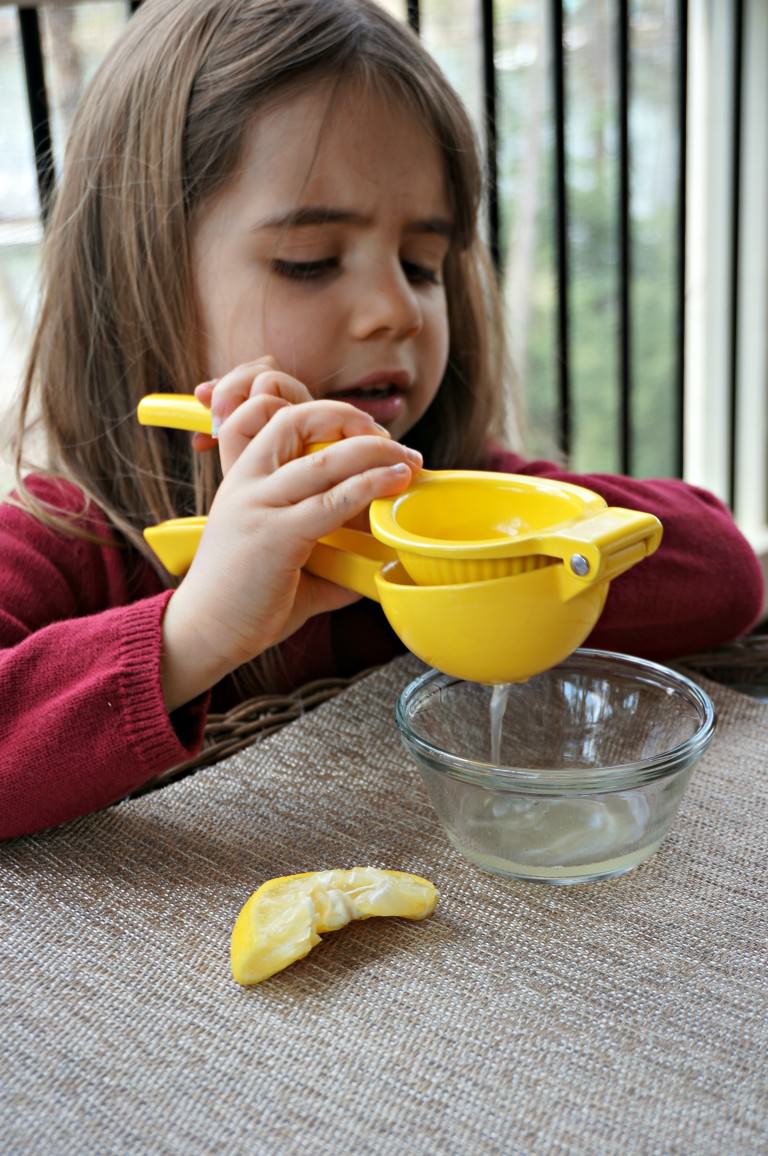 As I watched Hailey take charge of the lemon squeezer (<– I have more than one and this one is the easiest for kids to squeeze!), it made me think of all the simple kitchen tools I have that have become so useful now that I have kids. My mind quickly started making a list of my favorites…
until I was distracted by Hailey's decision to feed her sister straight lemon juice.
Ick!
Guess it wasn't half bad because then she finished it off herself.
No scurvy over here …
Ok, back to it!
I was thinking how it's customary to have a wedding registry for kitchen, home and bath goodies, then a baby registry later on for baby-specific needs. Makes sense, but really, we should be adding a few kitchen items to the baby registries as well because the following simple kitchen tools are things that every mom needs!
5 Simple Kitchen Tools Every Mom Needs
First up…
This gem has many uses I don't even know where to begin. We use is for classic uses like scrapping flour neatly off the counter tops but it also works great for scrapping dough (both pizza and play) off counter tops, easily dividing dough into sections for sibling and friends to play with, cutting sandwiches and more. This one also comes with a free bowl scraper, which is vital in ensuring not a single leftover lick of cookie dough goes to waste.
It's safe and simple for kids to use and I swear my counter tops would be sticky and and grimy without it.
[Tweet "Do you have these 5 simple kitchen tools every mom needs?"]
Grill Press
I have a fancy Williams Sonoma grill press from our wedding registry but a less-expensive one like this will do just fine! I originally imagined using it to grill burgers, but now it's a godsend for making grilled cheeses and other sandwiches for kids. It squishes them down to an ideal size for little hands and mouths and flattens out the fluffiness of over-sized buns.
I also use it when booking bacon to make sure all parts are crispy (toddlers are particular!) and to flatten out any other foods, like homemade black bean burgers or veggie patties. Love it!
Garlic Press
I really enjoy the flat version garlic press I have because it is simple for little hands to hold each side and wiggle back and forth over avocados, bananas and other soft foods. The girls giggle with delight when they get to help press dough into "dough worms" and squish other food for recipes we are making.
A more classic garlic press will work just fine, but do make sure it is easy to squeeze and has soft handles like this one.
Kid Knives
I've learned that kids really want to be in the action. Though they might be satisfied with peeling bananas for a bit, eventually they are going to want in on the real tasks, like cutting. Obviously you don't want to hand them a real knife, but Curious Chef products make products that are effective, yet still safe (this affordable cutlery set comes with three knives!)
Hailey has used hers to cut tomato and onions while Kaitlyn sticks to the softer produce like bananas and avocados.
Ok, this one is totally for mom (and dad), but let's be honest, we all know the kids are behind the need for this too. This little gem easily pops the cork out of any wine bottle in less than 10 seconds, a feat that I appreciate on a weekly basis.
Honorable mention:
This simple gadget can transform a simple cup of coffee into a Starbucks-like experience, thus saving hundreds of dollars a month (I totally made that last part up, though it may be applicable to some coffee lovers I know…). It also can transform simple hot chocolates into a fluffy wonderland of fun. And you didn't think hot chocolate could be improved…
[Tweet "Forget teething toys, these simple kitchen tools should be on every mom's baby registry!"]
Ok ladies and moms, did I miss anything?
Do you have any gadget or kitchen tool that makes your life so much easier?
Please share below!