This post is brought to you by A Healthy Slice of Life Sponsor
With July just around the corner, summer is officially in full swing. I wasn't nearly as concerned about how the summer would go with both girls this year as I was last year, but I still had my doubts that I'd be able to keep them entertained all summer. I looked into different camps but ultimately decided to keep them home with me. They are at ages where they can actually play together on their own for short bits of time, plus I selfishly like being the one with them the majority of the time.
Since we've toyed around with the idea of homeschool, I've started being more purposeful with some of the activities we do each week. For me, the driving force behind the idea of homeschool is to make learning fun, especially at the young age of 3 (and a half). Though I'm not certain what the future holds for our educational plans, we all have really been enjoying these new activities and today I wanted to show you a few of our favorites.
Penny Float Boats
Supplies: A large tinfoil square for each participant, 100 pennies, a large tub of water.
The Task: Each participant gets a large square of tinfoil to build a boat from. Each person guesses how many pennies their boat can hold. Place pennies, one by one, into the boat (one boat at a time) and count to see how many each boat will hold.
Questions to ask: How many pennies did each boat hold? Which boat held the most? What design features allow the boat to hold more pennies than the other boats?
The Fun Factor: Hailey and her friend (ages 3.5 and 4) loved this! Both the adults and kids made boats, then we counted pennies one at a time. Bonus fun points for being able to do this outside in a baby pool to enjoy the summer weather!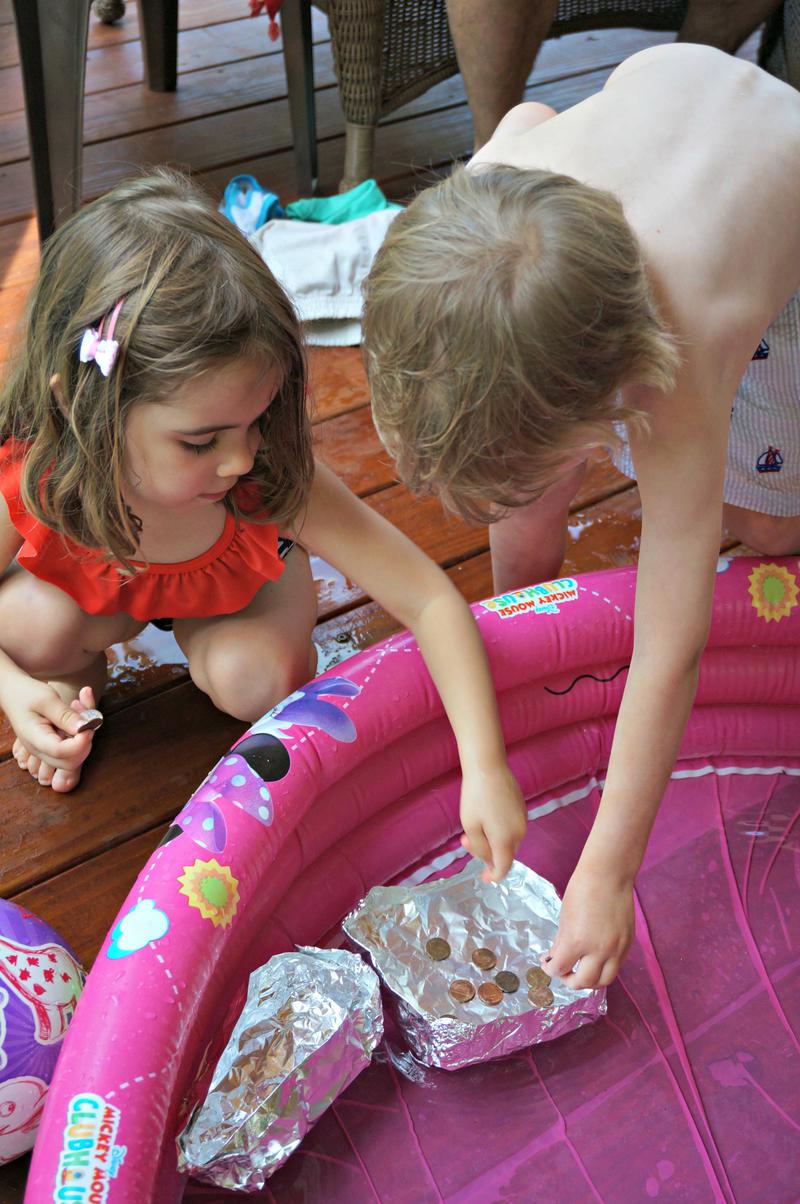 Popsicle Letter Art
Supplies: Popsicle sticks, construction paper, glue.
The Task: Using popsicle sticks, glue and construction paper, let the child spell out his/her name. If time allows, let them paint, color or decorate the sticks too.
Questions to ask: How do you spell your name? (Obviously you can help by sounding out letters, etc) How many sticks will you need for that letter?
The Fun Factor: On a rainy afternoon, this actually held Hailey's attention for a solid 20-25 minutes. She was very proud afterwards too and immediately wanted to find a place to hang it up. Every morning she points out the letters and spells her name for me.
Salt Water Egg Float
Supplies: A large container (gallon size is ideal) of water with a wide mouth, an egg, a large spoon for stirring and 2-3 cups of table salt.
The Task: Fill the large container with tap water. Let the child put the egg gently in the water. Spoiler alert: it will sink. Have them take it out and add salt. It will take about about 2 cups of salt depending on the size of your container. You can do this a little at a time or all at once. Stir to mix well and create salt water. Now place the egg back in the container. Spoiler alert: it will float!
Questions to ask: What did we change about the water to make the egg float instead of sink? The reason for the change is that salt water is more dense than tap water so it is able to support the weight of the egg.
The Fun Factor: Hailey really liked getting to be fully hands on with the egg, pouring and stirring. Her face when the egg floated after she added salt (and after her prediction that it would again sink) was priceless! She actually squealed 'this is so fun!' during this experiment, so I'm trying to find more like it. Since we did it outdoors, I let her go wild afterwards and explore the egg itself. She loved it.
My main goal with my kids is to make the good stuff fun. Bitsy's Brainfood (post sponsor!) shares this mission with me, which is just another reason I love them so much.
Bitsy's Brainfood was started by two moms that believe that learning to eat healthy should be fun. We share the idea that vegetables shouldn't be hidden because we want kids to embrace healthy foods, knowing that yes they are good for them, but more importantly that they taste good too!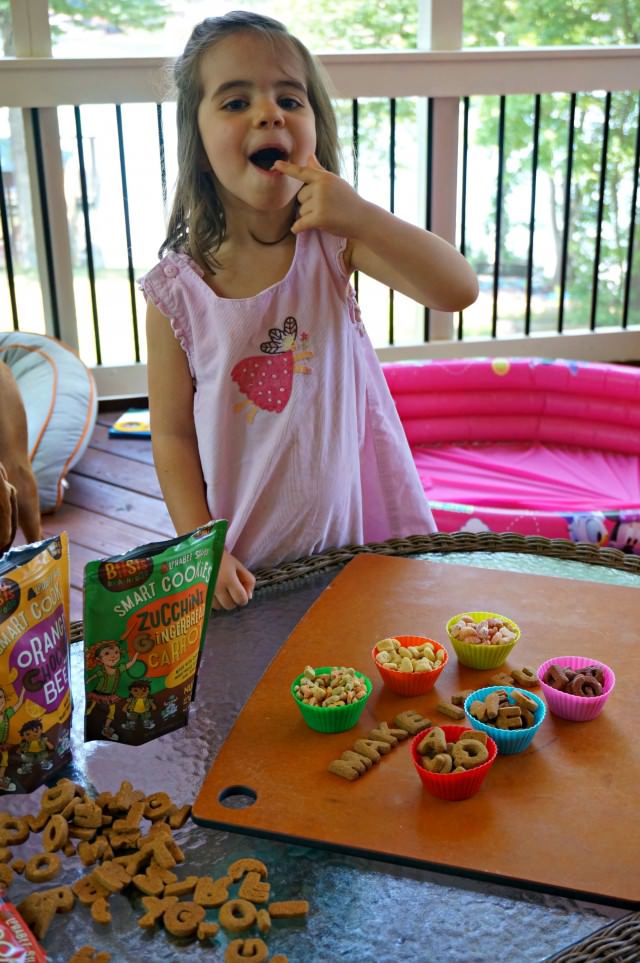 Their cereals and cookies are baked with organic fruits and vegetables, are non-GMO and their Smart Cookies (that you can now find in the cookie aisle at Target!) even have Omega 3 DHA + EPA. Plus, they come in fun letter shapes and Hailey is always on the look out to find an 'H' for her first bite!
I love the idea of not forcing learning or healthy foods, but making them both enjoyable. It's really cool to find companies that share these values with me and make awesome products that I can grab quickly for snacks, road trips or mom's mornings out (like the girls are going to today while I get to go wild by checking some doctor appointments off my list- wahoo!).
Are you a fan of at-home experiment type activities?
Which ones have your kids loved?
What is one way that you make learning fun?