It may be in the mid to high 80s, but my weather app show 74 coming in the not-too-distant future. That, coupled with already cooler evenings, and my birthday being over (thanks for all the wishes!), can only mean one thing: it's now officially fall!
It's no secret that fall is my favorite season. The colors, the breeze, the jeans, the candles, the football, the chili, the pumpkin patches, the overall cozy vibe… all of it just lights me up! So in celebration of this new season, I wanted to share some of my fall favorites with you!
DECOR
I'm loving the warmth of muted colors, cozier textiles, and natural accents, like wood, cotton, and pumpkins. I am not quite on the all-white-everything train, though I do love the feel of this:
And I do like how colorful accents pop against a more neutral background, like this pop of red.
source –> worth clicking to see more- so pretty!
I am really not trying to spend much on fall decor though because I have a feeling I'm going to go all out on Christmas, since we are hosting family this year. So for now, I've snagged a thing or two at Hobby Lobby and off of Facebook's market place (which has been my new go-to to buy and sell locally).
One thing I do enjoy with reckless abandon though is a good candle. Julie wrote a wonderful post a while ago about small indulgences equaling big joy, and she and I are alike in that candles are on that list. I have one lit most of the time when I'm at home and we always have one lit as we get started with our school day. It creates such a cozy atmosphere.
Bath and Body Works had their three wicks on sale this week ($10 off + a 20% off coupon that I got in the mail), but I'm always looking for new favorites, so please share your fall candle favorites with me! I find that a lot of Bath and Body Works candles are too strongly and artificially scented for me, but I do enjoy their Leaves and Autumn varieties. I've also heard great reviews about this one. Has anyone tried it?
RECIPES
My parents are coming to visit this weekend and I'm keeping the food rather summer-focused with grilling and salads. However, I'm looking forward to all the delicious fall food once the temperature drops. Some of my favorites include this Sweet Potato and Black Bean Chili.
I'm looking forward to David making some of his Famous Chili as well and trying a few new-to-me dishes like this Slow Cooker Honey Garlic Chicken and this Nutty Harvest Honeycrisp Kale Salad. Isn't it gorgeous? Jessica is a magician in the kitchen!
I'm giving these Baked Garlic Parmesan Potato Wedges a go this weekend and the girls and I are baking an apple pie (from our apple unit!) this morning, though I imagine we'll be baking up some Pumpkin Spice Blondies soon too. Oh, and I'm totally making these pretzel ghosts in October. I mean come on…!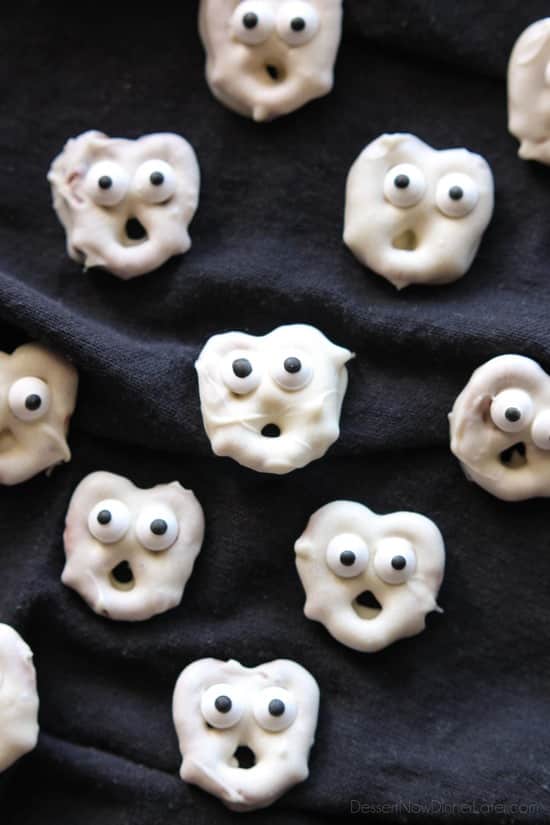 FASHION
Fashion may be a strongly worded term for me, but as for what I'm looking forward to wearing? This cardigan is high on the list! I snagged it during the anniversary sale because all the fashion bloggers told me to and it is the softest, coziest thing I've ever put on my body. Close up it slightly resembles a robe, but I foresee myself wearing holes through it with as often as I'm planning to wear it once the temperature drops.
I bought my favorite heels (below) in black in preparation for fall and winter dresses (and jeans). They're so comfortable, thanks to the block heel, and the ankle strap makes them easy to walk in if you're looking for a go-to pair.
I'm looking to add a neutral scarf to my closet, tassel earrings that aren't heavy, and a simple bar necklace and Y necklace too. Can you see that I like to buy a single item that works for almost any outfit? Ha. I'm not much into accessorizing, so I like to buy one nice thing and wear it with everything instead. Plus, I love how Megan wore these necklaces in tandem!
Finally, this dress. I might buy it in both colors because I think it's casual enough for weekday wear, but could also be dressed up. The sleeves make it appear "in style" but it's simple enough for my taste. Love it! I have a little jingle in my pocket in the form of birthday money and I think I'm going to put it to use in this category.
REFLECTION
Maybe it's the candles or all the Brene Brown I've been listening to, but I feel like fall is a great time to reflect on life (while cuddled up under a buffalo check throw). I've read some great articles lately (below) and have been working on a few posts on my own self-reflection I look forward to sharing soon. Here are a few posts and topics that have intrigued me:
9 Signs You've Outgrown a Friendship and What To Do About It
Here's What This Self-Made Millionaire Does Every Day (and Says You Should, Too)
To the Mom Whose Husband Works Long Hours
Finding Food Freedom…And The Journey of Getting There
15 Traits of an Emotionally Mature Person
Please Stop Telling Me It Goes Fast
Share with me in the comments…
What lights you up in the fall?
Have you read any good, thought-provoking posts lately?